There's been a lot of crying this week. They've been good, cleansing, hopeful tears. But today let's lighten up, Frances.
This is one of my favorite little miracles, because it reminds me how creative and playful God can be. It reminds me that this world we live in, this world that seems soooo big is actually quite small. It's tiny and all of us are connected to each other in a big glistening messy intricate God-web.
You know that Sister and I went to New York recently to meet with all the fancy publishers. Since you also know me, you can probably guess that I was VERY NERVOUS. I applied twelve layers of deodorant and kept saying, "it will be okay" to no one throughout the whole train ride. I also kept repeating "Be Still and Know" which is my favorite scripture, but I kept hearing Be Still and know that this is going to be INSANE," which is less helpful than the original.
When we finally arrived at Penn Station, Sister and I walked out into the bright sun and THIS was the first thing upon which I laid my terrified eyes. A Monastery.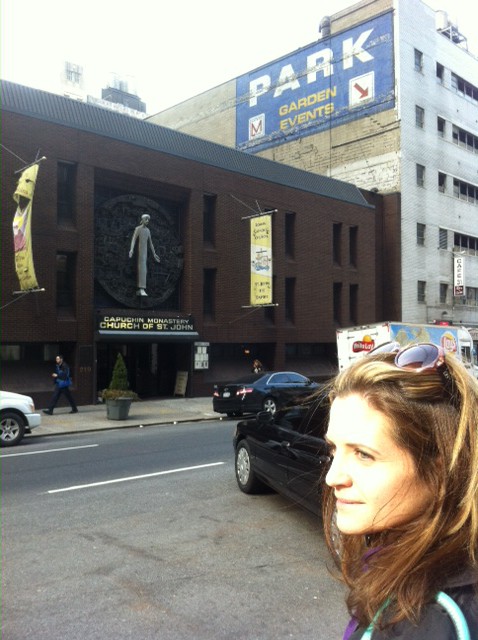 Crazy, Insane, Right? Calmed me. Completely calmed me. Emmanuel. The rest of the week I was like EASY BREEZY….EAAAASSSSY BREEEEEZY. COOL as a CUCUMBER. Which obviously means juts a teeny bit less insane.
But when I came home and wrote about this monastery, all the monkees starting freaking out. They said: LOOK AT THE MONASTERY NAME. IT'S THE CAPUCHIN MONASTERY. IT'S A MONKEY MONASTERY!!!!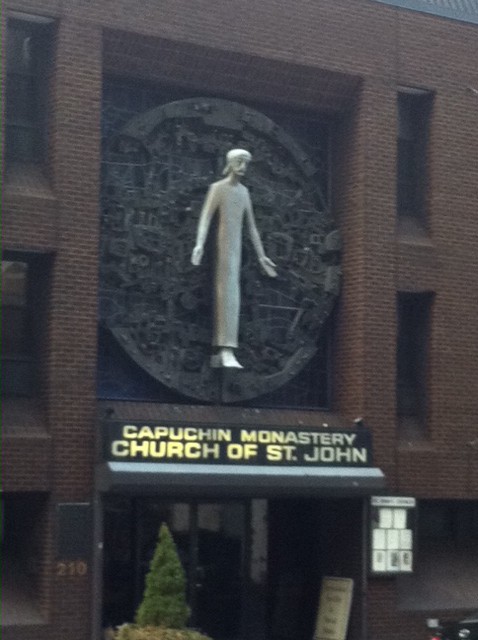 And I was like NO WAY.
So I googled, of course.
Capuchins are considered the most intelligent New World monkeys. With the exception of a midday nap, they spend their entire day searching for food. They are also used as service animals, sometimes being called "nature's butlers."Some organizations have been training capuchin monkeys to assist quadriplegics as monkey helpers in a manner similar to assistance dogs. After being socialized in a human home as infants, the monkeys undergo extensive training before being placed with a quadriplegics. Around the house, the monkeys help out by doing tasks including microwaving food, washing the quadriplegic's face, and opening drink bottles.- Wikipedia
I MEAN C'MON.
–       Super Smart. Naps. Eating  AND Assisting ALL DAY LONG. OPENING (baby or wine) BOTTLES, WASHING FACES, MICROWAVING DINNER??? Are these not OUR MONKEE SPECIALTIES????? Tell me they're not.
Kay. Now here comes the crazy miracle part.
So a couple of weeks ago, my agents called and said, "G, we just got a message from the FRIARS OF THE CAPUCHIN MONASTERY IN NEW YORK CITY. THEY WERE TICKLED BY YOUR POST. THEY CAN'T BELIEVE THERE ARE OTHER MONKEE MONKS OUT THERE. THEY'D LIKE TO RUN YOUR POST IN THEIR MONTHLY NEWSLETTER. IS THAT OKAY?"
IS THAT OOOOKAAAY?????? THAT IS FAN-DAMN–TASTIC!!!
People: The Monkey Monks contacted the agent of the Monkee Mama to ask permission to run a story about the Momastery Monkee Mama seeing the Monastery of the Monkey Monks.
Just, please.
Happy Friday, Monkees. And Monkey Monks.
The world can be such fun.
Love 4-evah.
G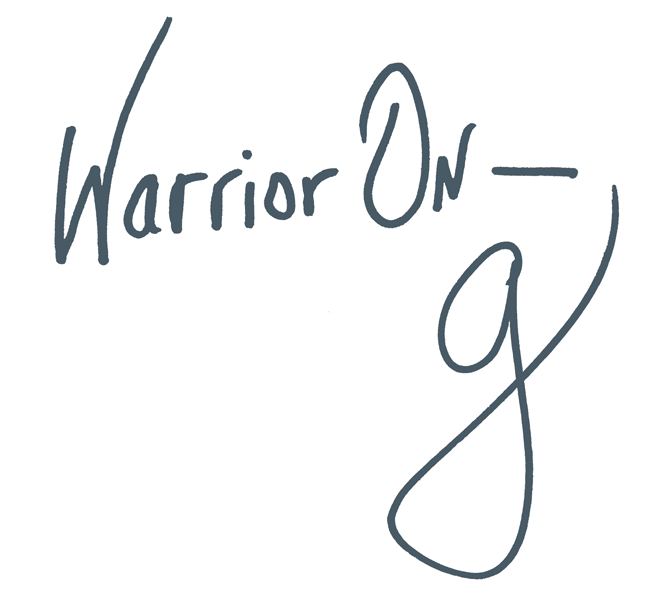 Author of the #1 New York Times Bestseller LOVE WARRIOR — ORDER HERE
Join the Momastery community on Facebook, Twitter, Instagram & Pinterest