*This one's for Laura and her Sister. I forgive you, and I'm sorry, too.
"On Sunday morning, the gospel choir would walk by my cottage in their robes, singing Oh shout it out! The first time I heard them, I ran to the front porch in my bathrobe and started crying. They pulled children in wagons, their voices visible in the cool air. Every Sunday I waited for this.
All I needed of religion, I realized, was the beautiful sound of someone else's faith."
-Megan Mayhew Bergman, Birds of a Lesser Paradise
Sometimes, Love Doesn't Win. Or that's how it feels anyway.
Sometimes we desperately need a miracle that never comes. We pray, we hope, we believe, we KNOW and we are left empty handed and broken hearted. Beloved parents and sisters and brothers and children die. Where the hell is God? We hold up our WTF? billboard prayers to the heavens. We wonder why other people got their miracles and we didn't get ours. When we hear people say that PRAYER WORKS or that LOVE WINS or that IT ALL HAPPENS FOR REASON, we feel, well, a tad homicidal. None of it makes sense. Anybody worth talking to will admit that from the human perspective, life makes no sense. As my minister friend Anna – who lost her husband in a car crash- would promise us,  it's all just ABSURD. GREAT word to describe life, one of my favorites. ABSURD!
For twenty years I knew I would adopt a baby. I tried actively for seven years. Craig and I poured  our hearts and energy and time and bank accounts into this dream time after time after time. We never gave up hope. We trusted in God. We followed the signs. We fully expected miracles.  As you know, our third adoption- this time from Rwanda- fell through last month. We were so close this time that I could actually FEEL that baby in my arms.
After a few weeks of mourning, we decided that maybe our fourth baby would be biological. We talked to my doctor who said, in so many words  . . . "ARE YOU OUT OF YOUR FREAKING MIND? You are chronically ill. You can barely take care of yourself. No. No, no, no, no."
When we left I said to Craig: Hm.What do you think she meant by that?
Honey, he said. You know what she meant by that. Everyone in the office knew what she meant by that. She was YELLING.
Right. Optimism and delusion are sooooo close.
No adoption. No pregnancy. No miracle.  And we know, in our hearts, that it's time to let that fourth baby go. I'm not healthy. It's time to stop obsessing about that miracle- it's time to take off our miracle blinders, and use our peripheral vision.
Because sometimes we don't get our miracle, and that hurts like hell. But the way the world works is- if we turn our heads, we can still find one. We can share someone else's miracle. We can enter into it and claim it as our own. It takes some work and humility and a STRONG WILL, but it can be done.
Look. I'm not going to get that Rwandan baby for whom we all prayed so hard. But turn your head. Use your miracle peripheral vision and CHECK THIS OUT.
Look at her. That's my baby Sister. That's my lobster. Who was crumbled on the floor, three years ago, with no hope, no GLIMMER of hope, facing a divorce that would leave the faith of our entire family in shambles.
She moved in with me after the divorce. I hung a sign on her wall that said, "For I know the plans I have for you says the LORD . . . plans to prosper you and not harm you. Plans to give you a hope and a future." – Jeremiah 29:11
And we would both look at that sign, crying together in a Sister heap on the floor, and we would silently say to the sign, to God – BULLSHIT.  Just, BULLSHIT.
Now please look at her. Eventually . . . . after a while – she stood up off that floor. She trusted the absurd world again. She found her other lobster, John. He is as kind and as gentle and as strong as a human being can be. And he loves her so much that I can finally, for the first time in my life, relax. For the first time in my life, I KNOW that my Sister is cared for by a man in a pure, deep, forever way.
And now she's seven months pregnant. We are having a BABY, MONKEES!
For John's sake, I hope that the baby's not Rwandan. But I'm not gonna lie- it'd be nice for me.
IT'S MY PERIPHERAL MIRACLE.  Do you see? I didn't get my exact miracle, the one in my direct line of vision. But sometimes PERIPHERAL MIRACLES are even BETTER. Because you can love them and love them and love them but you don't have to send PERIPHERAL MIRACLES to college.
I am so in love already.
We're HAVING A BABY!!!!!!!!!
See. Still. Love Wins. Just gotta keep those eyes wide open and sometimes –  turn our heads.
Love you forever.
G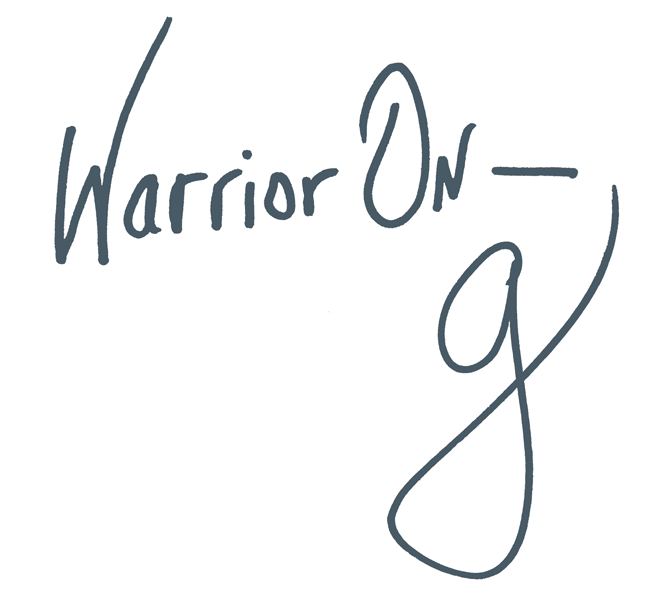 Author of the #1 New York Times Bestseller LOVE WARRIOR — ORDER HERE
Join the Momastery community on Facebook, Twitter, Instagram & Pinterest