Several weeks ago, my friend and fellow Monkee, Lou sent Monkee-See  Monkee- Do a check for $700 dollars. The money had come into her life as extra, and she felt moved to send it to me. The check sat on my desk for several days.
The following week, Lou emailed to say that she was afraid. She found a lump in her breast.  She had an appointment the following day at two o'clock to find out if it was cancerous. I panicked and sweated and KNEW in my heart that this was the end of the world– but said to her, "It's fine. It will be fine. I know it will be fine. I'm praying."
The morning of The Appointment, I started emailing Lou meaningless "I'm thinking of you" messages. I watched the clock. At two o'clock I started staring at my computer- Waiting. Waiting. Ding from my inbox. Incoming mail. I opened it, grateful for the distraction. It said:
Hi Glennon,
I need to first say that I am not a blogger, nor am I a monkee (sorry!).  But my wife is and almost every time I see her on the ipad in tears, she is reading your blog (I mean that as a compliment).  She tells me about the wonderful things that you and your monkees do and that is what made me think to send you an email.  I don't know if you "take requests" so to speak, but I wanted to let you know about one of our neighbors.
They are husband and wife in their mid 30's and 4 kids, ages 5, 9, 12, and 15.  They moved here to Utah about 2.5 years from Ohio to be closer to family.  The wife was at that time recovering from breast cancer and a double mastectomy.  Besides being where they are both from, Utah is also home to the Hunstman cancer institute.  She had made what doctors told her was a miraculous recovery and about 2 months ago was given a clean bill of health and told she was 100% cancer free.  About 4 weeks ago she hurt her leg and was in so much pain that she decided to go to the doctor.  What they found out was that the pain was a fracture due to bone marrow loss and she was told she had bone, lung, and liver cancer, all in Stage 4.  They have been doing a great job the last few weeks of acting as if everything is normal, knowing that the prognosis is that she will likely not survive the year, the 5 year survivability of these is 0%.
All this being said, what I am hoping to help them with is some car repairs, they have two cars, both about 15 years old.  His car, which has 180K miles needed some work done and for the past three weeks he hasn't done it because of the cost.  I saw the car sitting at the mechanic today and stopped in to see if I could pay for it for them, but it was $800, which unfortunately is more than I can help with.  I gave them $100, but would love to have them pick it up today or tomorrow and not have to pay anything.
The man needed $700 for his neighbor with cancer. Not $650, not $800, but $700. And so I immediately emailed Lou and said:
LOU! I KNOW YOU'RE IN THE WAITING ROOM. BUT LOOK! LOOK AT THIS EMAIL THAT  I JUST RECEIVED THIS INSTANT. IT'S A MESSAGE FOR US. YOU'RE GOING TO BE OKAY, LOU. IT'S A MIRACLE. WE ARE BEING LOOKED AFTER, LOU. ALSO- I'M SENDING HIM YOUR CHECK RIGHT NOW, OKAY?
Then I emailed the man back TWO MINUTES LATER and said: I have a check for $700 sitting in front of me with your friend's name on it. Actually, you have to tell me your friend's name so I can write her name on it.
And he wrote back and said: Are you serious? Is this Glennon?
And I said: YES! It's Glennon! I promise! Just trust me. The check'll be there in 3 days. Thank you for loving your neighbor so very much.
And he wrote back and said: "This is the most amazing thing I've ever seen."
And I said, "Yes. It is. It's amazing. I agree. Thank you for allowing me into the amazing."
And he said, "My wife is going to flip. Thank you."
Then Lou emailed and said: "OF COURSE! IT'S A MIRACLE, SEND HIM THE MONEY! AND ALSO …ALL IS WELL. ALL IS WELL! It's just a hormone imbalance."
And I said, "Well I could have told you that, Lou. I mean, they need medical degrees to tell us we're imbalanced? Duh. " And then I silently said thank you Jesus thank you Jesus thank you Jesus.
Last night I got a card:
It says:
4/23/12
There have been many times when I have read and heard about people receiving gifts be complete strangers. I have always admired those who are so insightful to be the angels for those whose lives seem a little too hard to handle at the moment. You are the angels who gave us the feeling that maybe we can handle all that is coming our way.
As we were opening our stack of mail, we received a handful of medical bills, ads, and your envelope. As we opened it, we were both in tears. We were so shocked, grateful, and wishing we knew who you were! We have taught our children in the last few weeks many lessons from your act of kindness. You are in our prayers as we thank our Heavenly Father for our angels in Virginia who sent a gift that came at such a time that we know we are being watched over. Thank you for being inspired and then for listening to that inspiration. With Love and Gratitude.
I mean . . . Lou's generosity, her lump, her need for hope, Monkee See  Monkee Do,the timing, the neighbor, the cancer, the family, the amount needed. Me getting all the credit even though it was all Lou's money.
MIRACLES ABOUND, PEOPLE!
EYES WIDE OPEN TODAY!!!!
Love,
G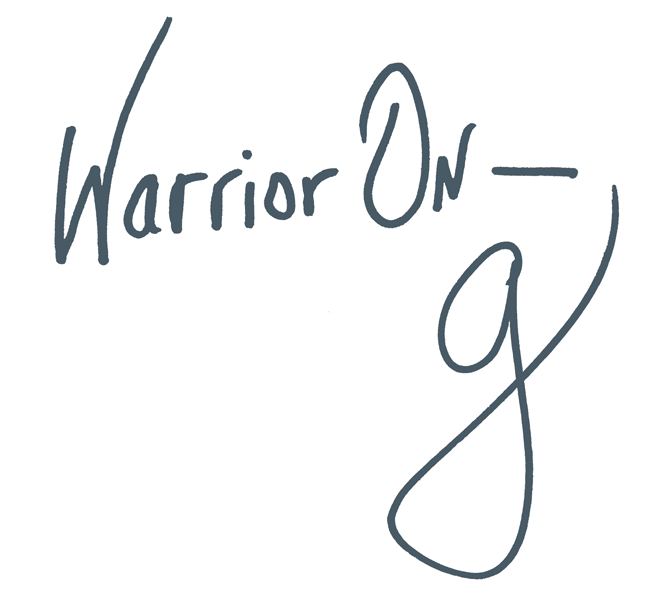 Author of the #1 New York Times Bestseller LOVE WARRIOR — ORDER HERE
Join the Momastery community on Facebook, Twitter, Instagram & Pinterest