First things First, HI CARA!
Have I mentioned yet that my husband is a model? He works for a few different agencies and does lots of print work and now that you know, you will probably notice him around here and there. He was recently in a Snyders pretzels commercial, snuggled up next to his hot pretzel wife, being hand- fed by her. He does a lot of snuggling other models. He once called me panicked from a shoot and whispered into the phone- "They want me to fake KISS this girl! Should I leave?" And I said, "LISTEN TO ME- You get your head in the game, kiss that woman, and bring home that paycheck, mister." True story. Priorities.
Craig never tells anyone about his modeling career. He is very shy about it. His friends tease him a lot and so do mine. My extended family is merciless. Perhaps a better wife would be sensitive to her husband and refrain from writing about things that embarrass him. But it seems to me that there are many acceptable reasons for embarrassment, and being incredibly good looking just doesn't make the cut. Sorry, Sweet Husband. Please consider this post to be an opportunity for character building. Sort of like your marriage to me.
I had a very dramatic pregnancy with Chase. In addition to the whole immaculate conception thing, . . . our doctor found a bright spot on Chase's heart and a cyst in his brain at our first sonogram. These two markers, along with some other factors, led the doctors to believe that Chase had an increased risk for many serious health issues. We had appointments with specialists every week, and we researched and prayed and worried. It was quite a stressful roller coaster for two kids trying to get to know each other. It was like marriage boot camp. Craig and I learned early and fast how to depend on one another, and how to be dependable. We learned that in a marriage, you never crumble at the same time. You wait your turn. And we learned that when it gets really dark you just pretend you can see, or you sit quietly and hold hands until the light returns. It always does, eventually. During that time Craig and I learned that we could do hard things. It turned out to be a hell of a way to start a marriage, actually.
When I was seven months pregnant with Chase, he stopped moving completely. He didn't move for 24 hours. I was teaching at the time, and during my lunch break I ate a candy bar and lay down, sure that the blast of sugar would get him going. It didn't. I became terrified and called the doctor, who told me to get myself to her office right away. I called Craig, but he was in a meeting and didn't answer his phone. I drove to the doctor's office by myself, and sat in the waiting room and cried. I thought for sure that the doctor would tell me Chase was gone. I wanted Craig really, really bad. I prayed "help help help help."
The doctor called me back to the examining room and asked me to change into a robe. She laid me down on the table and strapped the monitor around my belly. She told me that she would need to monitor Chase for several minutes and then she'd come back and meet with me. She asked if I'd like a magazine to keep my mind occupied and I said yes, please. But I didn't really want a magazine. I still just wanted Craig really, really bad.
The doctor handed me a magazine and patted my head which made me both comforted and afraid.Then she left the room. I opened up the magazine with very shaky hands, and this is what I saw.
That's Craig. That's my HUSBAND. POSING as a STROLLER VALET.
In an ad that he'd done a decade before, and that neither of us had ever seen.
And here's what I felt God say to my heart in that cold room all by my lonesome.
Look, sister, it's ok. Craig will be pushing a real stroller soon and your son will be inside it. And no, Craig won't be wearing that ridiculous vest, promise. But stop with the Immaculate Conception story, honey. Nobody's buying it.
Craig busted through the exam room door while I was still staring at his picture in the magazine. He had listened to my phone message and talked to the doctor. He appeared to be completely terrified.
As Craig grabbed my hand, I looked up at him, smiled, and told him not to worry… everything's going to be all right, I said.
It IS going to be okay. I know it. Maybe not today, maybe not tomorrow. But someday it is all going to be all right. For today, we remember to breathe, we treat ourselves the way we want to be treated by others, we drink large glasses of water and we get outside for fresh air every two hours. These things will help until everything is okay.
What else helps? Share your secrets.
I love you all so much.
Love,
G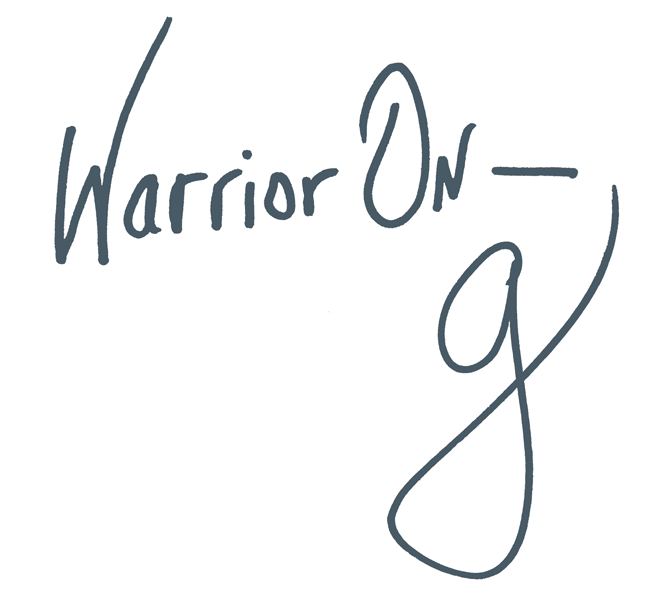 Author of the #1 New York Times Bestseller LOVE WARRIOR — ORDER HERE
Join the Momastery community on Facebook, Twitter, Instagram & Pinterest