Friends. I miss you.
Here is what is going on over here:
I'm writing to you from a new office this morning – Craig's office, which used to be the "baby's room." Since no baby ever came, this room became Craig's work-from-home-office, and I did all of my writing at a desk in our bedroom.
It soon became clear that we were going to need to trade offices. Because the thing is that when your desk is right next to your bed, your bed attacks you. Sort of like the Botox situation. So every time Craig came in to see "how my writing was going," Theo and I were sound asleep in my bed. Soooooo coooozy. So this morning Craig moved all of my things into his office and made me sit in here. It's nice and bright and I like it. New perspectives are always good. I'm still tired, though, and I'm not afraid to snuggle up on the floor. We'll see.
So: Yesterday a Monkee asked me when and how to talk to kiddos about sex.
Oh, my goodness. I don't know.  We haven't really gone there yet. We're easing into the tough stuff.
A few months ago, Chase starting mentioning "bad words" a lot. My guess is that some kiddos in the neighborhood or at school were talking about it and he was getting curious. Maybe obsessed would be a better word. What are the bad words, mom? Why are they bad? How can words be bad?  And my favorite– Mom, are bad words just misspelled words?
Craig and I decided to sit down one night and tell Chase every bad word we knew. It became important to us that Chase understood that there was no information "out there" that he couldn't get straight from us. So we listed all the bad words we knew and we sat together in his bunk bed and we said them each aloud to him. Except for the F word.  Neither of us could bring ourselves to say the F word to our little man's sweet face. So we told him there was another one that started with F, but we couldn't say it. And unfortunately Chase said, "Ooooh. I think I know that one. Is it the one you say when you can't get the front door open, mom?" And I avoided eye contact with Craig and said. Yeah. That one.
We explained to Chase that there was nothing inherently wrong with any of these words, because they were just letters strung together – and because "bad words" are different in every culture and time. We said that they do have power, though, because in our particular culture, these words, along with many, many others, can cause strong feelings in other people. Maybe not all people, but some. You never, ever know who will be affected by them and who won't. Sometimes people will even act like certain words don't hurt them, but they really do. And since we love people and want to be very, very careful with their feelings, we try not to use words that can hurt people.
We also told him that if he shared any of these words with his buddies he was dead meat.
He seemed satisfied.
But sex. IYIYIIIII. Not so simple, to me.
The sex talk scares me, for one simple reason. I don't have sex figured out yet. I really don't.
I know it's not cool or maybe even reasonable to say, but I really do believe that it's best to save sex for marriage. Because I have ALL KINDS of issues with sex, and I think some of them stem from the way that both Craig and I used sex with other people before we were married. Irresponsibly, lightly, recreationally, desperately. Not good. And there is residual damage for both of us.
But then again….how would I tell that to Chase? Sex before marriage is a mistake, Chase. I mean, sex before marriage also resulted in the most precious gift I've ever been given- Chase, himself.
Tricky.
And I know they say, stick with basics, right? Just talk about vaginas and penises and fertilization. But- that's so not it. That's like trying to teach a child about God by describing a church. Or explaining marriage by describing a wedding ceremony. It's just not it, at all.
So anyway, I don't know, is my answer. I have no idea how to talk to kiddos about sex. I don't think I'm the right one to ask.  It's like how scared I am to talk to my girls about body image and food and the like- because- ummm…I've never been an expert at walking that line.
So I was hoping you brilliant Monkees might have some sex talk ideas. Do you?  If so, help us please.
Maybe we can start here. I think this is a brilliant place to start.
And let us remember, there's probably no "right way." Probably just lots of good enough ways. We don't want to be perfect, ladies.  If we are, our kids will have NO MATERIAL. That would suck.
Love you,
G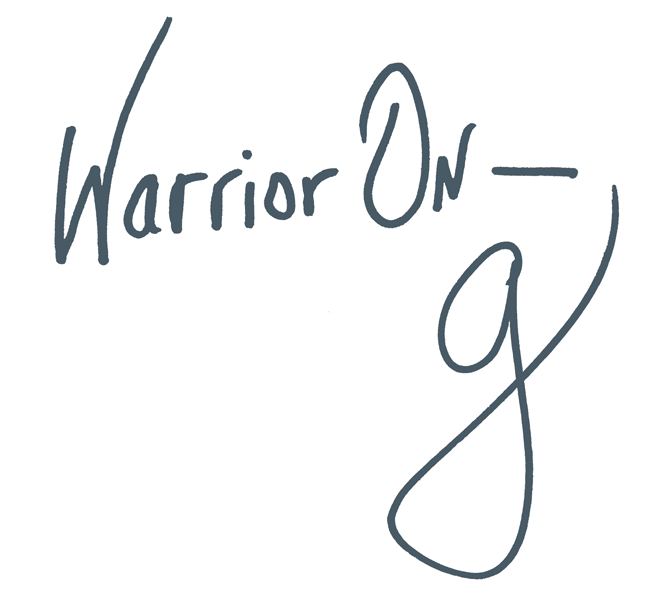 Author of the #1 New York Times Bestseller LOVE WARRIOR — ORDER HERE
Join the Momastery community on Facebook, Twitter, Instagram & Pinterest