"I shall be telling this with a sigh
Somewhere ages and ages hence:
Two roads diverged in a wood, and I,
I took the one less traveled by,
And that has made all the difference"
-Robert Frost
If you're part of our Momastery Facebook Family, you know that this weekend we learned that our Rwandan adoption is done, closed, over. We sort of already knew that, but not completely . . . and that little space in my heart left open for hope sucked me in like a vacuum. I was kind of floored, actually – devastated for myself and the other waiting families, many of them with empty arms, and for the babies who were so close to finding forever families. So close.
It is official. I am officially the worst adopter EVER. Eight years, we've been trying. Eight years. To put this into perspective, we started trying to adopt BEFORE ANGELINA JOLIE started trying to adopt. Pre- Maddox. As a matter of fact, I recently told Sister that if a movie of my life were ever made, I would want Angelina to play me because of our incredible similarities in height and grace and successful adopting history.
Ugh.
I was thinking last night about how we really don't have control over much at all. How even when we try to follow our dreams and do the good we want to see in the world, things likely won't end up as we planned. Strange. We can't even choose who we are going to LOVE. People leave or die or never come at all. Dreams are dashed with the signature of a stranger. Our eager, earnest hearts plan to love the world in some big way- like create a marriage or foundation or raise a child or be a friend and those honorable and right things just fall apart, slip through our hands like sand.
I want a little control. Is this too much to ask? Just a teeny tiny bit. Enough to make a plan and sort of believe in it. But nope, no way. Not the way it works. Like St. Anne says, if you want to hear God laugh, tell her your plans.
But I woke up this morning thinking-  No, that's not totally right.
I do have control over one thing. One thing is ALWAYS my choice. I might not be permitted to choose who or what or how I am going to love this world. But those are not the questions. The question is WILL I LOVE? Yes or No are the only possible answers. Without buts or only ifs.
There is really only one question in this ridiculous life. Will you love or will you not? Will you love THIS place, THIS plan, THIS jacked up situation, THIS wretched person, THIS part of your life that was never, ever in your plan?
Will you love this life, this one that's been put before you?  We can choose to love. That is our only real power, I think. But Love is never  the safest choice. Because we have to follow where she leads, and her path is twisty and turny and narrow and branches jump out from nowhere to try to knock us unconscious and the path is dirty and rocky and that Love, she rarely leads us where we hoped she would. Do we ever even get to the end of her path? Do we get to see where she's leading us? Not sure.
Yesterday, upon hearing the Rwandan news, I said "NO THANK YOU, LOVE. Let me off the train, STUPID LOVE. I don't know where you're going but my family and I are getting off at this stop. Buh-Bye. You suck, honestly, Love. Shame on you, for hurting such nice-ish people. Meltons- OUT."
Then I stayed in bed and watched HGTV for hours and wondered why no one will make over MY ROOM and then I slept more and only woke up to eat SUGAR and CAFFEINE and GLUTEN and everything else I'm not allowed to eat. Then I slept more. Then I watched Bridesmaids. LOVED.  It was a glorious day, really. "Oh, HELL no, Love,"   is a perfectly fine and good answer sometimes.
But this morning, I think I'm done with No. Today, I say Yes. I will love. Without buts or only ifs. If it's the only choice I can really make in this ridiculous little life, I'd like to choose yes as often as possible. Not always, but quite often.
This week I choose to love a Monkee who brought herself to my attention this week. She sent me an email that said- Glennon, You Need To Read This. She was right, I needed to read her message. So do you.
Her name is Jen. She's a wife and friend and mama to two baby Monkees. I will let her speak for herself, because she is also a hell of a writer. Comments are closed here- please, go join Jen and leave a note for her. Let's follow her today and tomorrow and love her for as long as it takes. I'd like for us to join her team, join her fight. I would like her to wake up each morning knowing that there are thousands of Love-ers around the world choosing YES for her. I also think we have a whole lot to learn from her.
Love,
G and J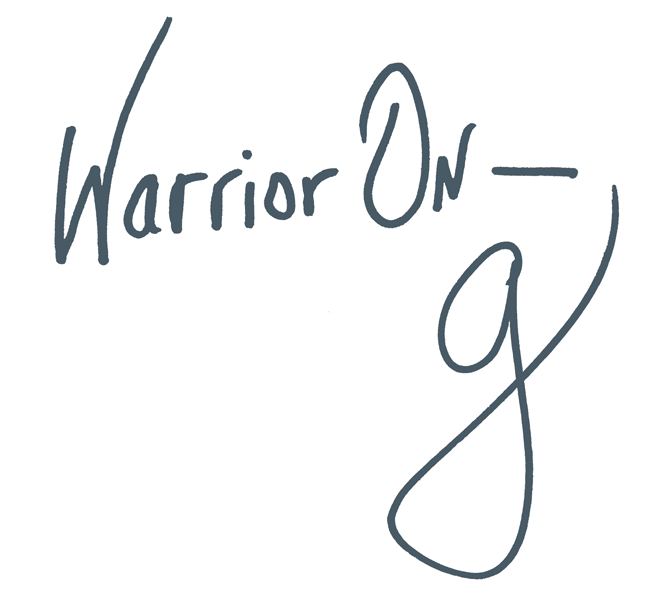 Author of the #1 New York Times Bestseller LOVE WARRIOR — ORDER HERE
Join the Momastery community on Facebook, Twitter, Instagram & Pinterest