"A true friend is someone who will make us do what we can."
 Ralph Waldo Emerson
Today's my  thirty-sixth birthday.
This morning I'm thinking about the most significant gifts I've received throughout the years. My family shows its love through gifts, and so there have been oodles. My mama uses her hands to knit rainbows of love for the girls and I to wear and Bubba uses his carpentry skills to create wooden masterpieces for us. He's like Jesus, but with more Guinness and swearing.
There was the gorgeous antique bed my mom bought me when I turned twenty-one, because nobody thought I'd be leaving the house anytime soon. Then there was the realization that this queenly bed was far too high for my smurf-self to reach. Each night I had to go to the other side of my room, get a running start and LEAP like superwoman into that bed. One night I slid straight through to the other side and off the bed completely, landing on my head on my bedroom floor. And I was SOBER. I remember it hurt badly, and I wanted some sympathy, but it's really not the kind of experience you can explain well to others without a certain level of embarrassment.
But the next day I did mention to my parents that I couldn't really see over my bed, and for my next birthday my dad built me a beautiful step stool. It was my first year as a teacher, and there happened to be an old elementary school in our area being torn down. Bubba went to the construction site and collected pieces of wood from the destroyed elementary school and built my step stool. So I could reach things. Never before and never again will there be a step stool with more soul. I still use it. I'm looking at it right now, sitting next to the bed where Craig and I sleep, just waiting to help me into bed. Turns out most (if not all) beds are too high for me.
My kids give me gifts, but you know, they're still things like play-doh snakes and I'm a little too materialistic to get truly psyched about that stuff. I act psyched, but, you know. Pick up a gift card, Tish, for real.
A few years ago, I was feeling a little empty. Empty because I had three babies, and my littlest wasn't sleeping, and I felt angry and exhausted all day and then I felt guilty for feeling angry and exhausted instead of grateful for my blessings. Because I knew that children were supposed to make me feel full, but I didn't really understand that theory completely since it seemed I was always giving, giving, giving to the point at which there was nothing left. Empty. Not a lot of time or space to fill up.
I know, because I hear from you regularly, that there are mamas out there that feel completely fulfilled and filled by mama-ing itty bitty ones. I used to be mad at you – and secretly believe you were lying – but I know better now. I've read so many of your stories that I realize you don't feel this way just to spite me. It's just that we're all different, and that is a beautiful thing. It's okay.
After reading all your mama stories I've developed a little theory that maybe we all have different mommy times which will be our favorite times. During which we'll feel most capable and comfortable. I know many mamas who love pregnancy (what the WHAT?) and some who are brilliant at handling infancy and other who revel in the toddler years. Other prefer school aged littles and some really shine when their kids hit adolescence. Some mamas are really, really great parents to adult children. They know when to step in and out. They know how to share wisdom without making it feel like advice. I have a dear friend who said she thinks she will be an AMAZING mama after she is dead, when she can finally look down at her children with heavenly perspective, knowing she is no longer in charge. Makes sense to me. I guess my point is, if the stage you're in right now isn't your favorite mama stage- if you feel like you suck at it, frankly, well maybe it's just not the stage for which your mama gifts are best matched. Hang in there. Maybe a time will come soon that feels like a better fit.
As for me – three kids under six didn't seem to fit comfortably. I felt like I needed MORE and LESS at the same time. I felt a little nuts, to tell you the truth.
And one day (everyday) I was crying to Sister on the phone while she was already late for a meeting, and she said, "Sister- what do you think you need? Is there anything that will help?"
And at first I said no, nothing. Because that's what we say, right? We say that because we are too tired to think and also because we think our problem is OUR PROBLEM and we should be able to fix it magically all on our own. But that day I decided to really think about what would help me. Because sometimes it's important to really think about that. And I said, "Sister. I think I need to write. I need time to write each day.
Christmas was the following week, and Sister gave me a brand new, silvery- green (the color of love) laptop. I just learned, last week, that they are not called labtops, Glennon. She wrote me a letter with it. The letter said that nothing would ever be perfect, but that things would be better if I wrote a little each day. She said that I had a gift, and that gifts are to be shared. And she had already talked to Husband about this gift, so he explained that the laptop came with a child free hour every single day that was MY hour. Just for writing.
And so I started writing. From 4:30-6:00 every morning. I explained to Husband that if there was a fire during that time, I would take my laptop to the neighbors and be back at 6 am to help with the children and fire and things. That's how it was going to be.
A month later I started Momastery.
I am healthier today than I was three years ago, and I say that even though during these years Lyme has tried it's damndest to wreck my body. I'm healthier because I am doing the thing that I am supposed to be doing. The thing I want to be doing. The thing that keeps my head and heart straight.And it started with a gift, from my best friend,  who asked me what I needed and then gave it to me, and then believed in me.
And so I just wanted to tell you that story today, on my birthday, and ask you to really think about what you need, and ask someone for it. If you have no one to ask, ask us.
You know, people talk a lot about how they don't want to get older. I could not agree less. Teens- nightmare. Twenties- terrifying. Early thirties- still cared too much what people thought of me. Now…36. I am telling you- I am just starting to relax into life. I am starting to feel comfortable in my own skin. I LOVE getting older. I feel a little less afraid each year.
And I evolve more into a Monkee each year. Which is quite funny, when you think about it.
I love you, Monkees. This was the best year of my life. THANK YOU for being a big part of this year's magic.
Love,
G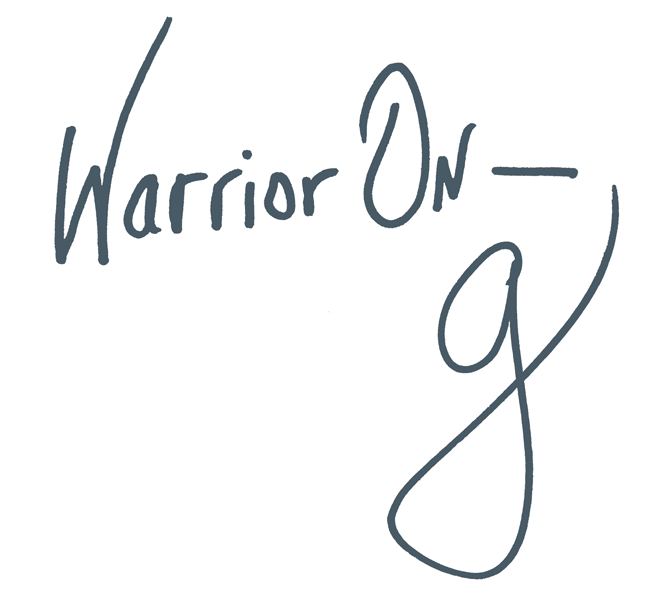 Author of the #1 New York Times Bestseller LOVE WARRIOR — ORDER HERE
Join the Momastery community on Facebook, Twitter, Instagram & Pinterest