Here I am, in a quiet house, with time to write. Aaaah. It's just Theo and me this morning. This is where he sits while I write. On top of me, basically. It makes typing a little tricky, but I wouldn't have it any other way. God, I love my dog.
I have this free time because after three years of writing before six am, we're finally hiring some help with the kids. We're hiring a nanny, which seems so fancy and freeing I could die of happiness.  She will come just a few hours a week, but still: Joy. The thing is that it's been harder than I thought it would be to find a nanny who's a good fit for us. The kids keep saying they want "someone more like you, mom," which is shocking to me on many levels. Okay, I said. So I've been looking for someone who spends most of her time on Facebook and smiles manically all day until she just loses it and yells. YOU HAVE GOT TO BE KIDDING ME. YOU'RE KIDDING ME WITH THIS, RIGHT?
But with standards this high, good help has been hard to find. We have a new friend here today. She seems lovely but quite  peaceful and patient, which might be too foreign and scary to my little ones. We'll see.
Today I'd like to write about something that's gnawing at me.
Lately, I've been receiving comments and emails that go like this…
You're so heavy lately. Momastery used to be funny. Now you talk about God all the time. I don't like it. You should go back to funny.
Yes, really and truly. I've read this criticism/advice twenty times in the last week. To put that in perspective, that's less than one percent of the total messages I read last week, but I'd like to address it because it strikes me as important as Momastery moves forward.
This place, Momastery, is where I share my soul. At the risk of sounding grandiose – I consider myself a writer, an artist. And when I receive these comments, they feel a little like someone is walking through my art gallery, putting sticky notes on my artwork saying – "I don't like this. Can you create something different?" And then maybe writing down my name, finding my address, and sending me a note saying, "I saw your piece today. You should do your art differently. It's too dramatic. Lighten up. You should be a different kind of artist, a different kind of person."
I mean, okay. Fair, I guess. But still a little strange. It's not that I can't handle criticism. Trust me. I have been discussed in VERY public forums as a bad mother and as someone who is going "straight to hell with a millstone around her neck." And more and different and worse than that.  I have learned to either take it in and learn from it or try to keep it out and move on. But this particular type of criticism- my own readers telling me they don't like how I'm feeling that day, they don't like what I write about, making requests like I'm a DJ, asking for better or different entertainment…it hurts my feelings in a different kind of way –  and I thought you should know.
I named this place Momastery.  Rhymes with monastery.  There will be God talk here. Writing to me and telling me that there is too much God talk and that you don't like it is a little like calling ESPN and telling them that there is too much sports talk there and you don't like sports. I don't watch ESPN, but I don't feel the need to ask them to broadcast differently. They are what they are, and they put SPORTS right there in their name. They're not trying to trick me into watching, they're just being themselves. Luckily for me, there are hundreds of other stations to watch. And you know what, even though I don't fancy myself a sports fanatic – when I do force myself to sit and watch ESPN with Craig I often catch a particular story about the thrill of victory or the agony of defeat that transcends all categories and makes me think for days. That reminds me that sometimes, in order to grow, I need to step outside of my comfort zone and keep my mind open. More often, I just need Craig to switch back to HGTV.
I think some of us might be a little confused about what I mean when I say that everyone is invited to Momastery. Everyone is invited here, but I'm hosting the party – and I can only be who I am. I built this place by being myself every day, by not hiding or playing to the crowd or pretending to be anyone other than who I am. I'm certainly not going to change that now. You must remember- Momastery is not a panel of people discussing each morning how to strike the perfect balance between witty and touching and reverent and irreverent and Jesus and agnostic and mommy and sans kids and etc etc etc. Momastery is ME. In my yoga pants. With a chronic disease and a book to write and a husband and three children. Volunteering six hours a day for the past three years to this place, to you, to us. It's just me…reflecting on life as it sails by and occasionally smacks me in the face.
And here's the thing. Yeah, I'm funny. I'll probably always be funny because I'm not sure how you can run into so many things and fall down constantly and lose your car and mind so often and NOT at least TRY to make it funny. I mean, otherwise, it'd be kind of sad.
But those things are my outer life. All the stuff we usually talk about with friends or read on blogs…the dressing and the schooling and the sports and the housework and the career are all the outer life. But to me, the inner life is just as fascinating and important as the outer life. That's why I'm obsessed with monks and monasteries, because they dedicate much of their times to the inner life. To the heart and the brain and the soul, and all that happens there. And how the things that happen THERE are what determine what we do in our outer life. In that way- our inner life is what determines what the entire world becomes.  I don't think we talk about that enough. Or give ourselves quiet time to think about it, even.  I like to take time to think about those things, and here is where I do that.
As a wife and mother I am bombarded every day with one million gazillion ways to become a better mama…it seems like all people talk to me about is being a mama. But I'm a woman too. I'm a human being – a spiritual being – and I have other things to talk about than motherhood, other ways of becoming better and more whole. I want to spend time developing other parts of myself. I want to talk about important things like love and life and death and this "God" we have so much trouble discussing. I want to talk about peace and how to make it. That's just me.
I found this poem last night in my baby book. I wrote it in fourth grade. It's a little blurry, sorry.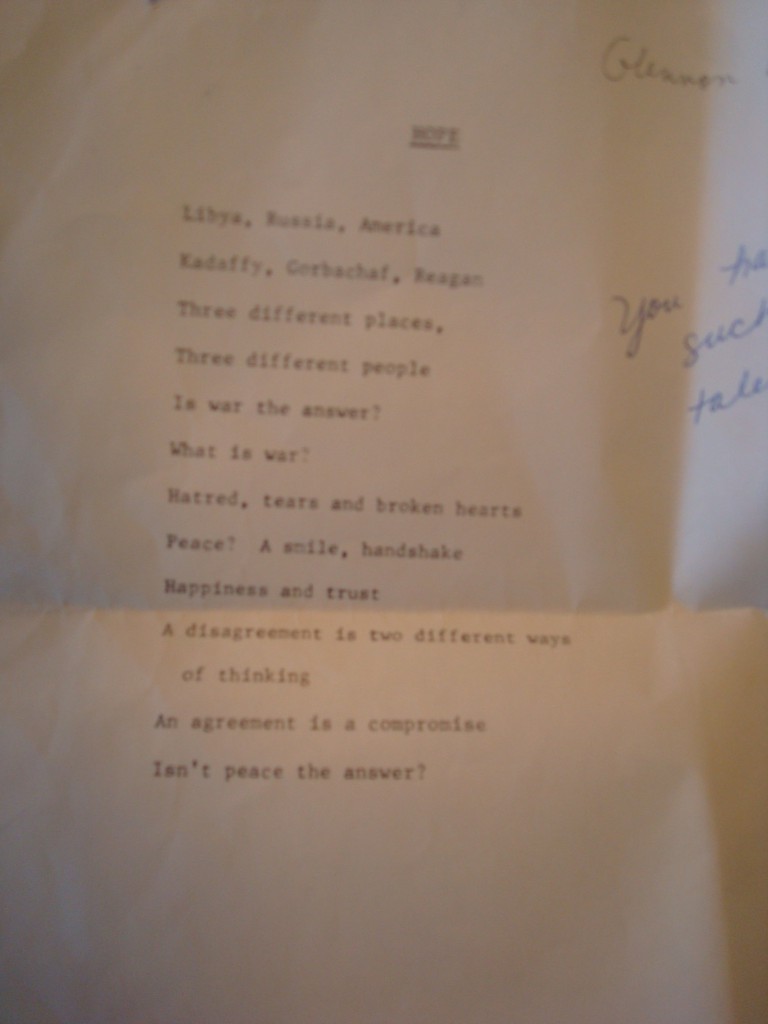 That's just me.
And here's what you should know. If this stuff is too heavy for you, I am going to continue to disappoint you. Because I can feel myself being pulled more strongly toward the God stuff- toward the deep stuff. As a matter of fact- I plan to spend the next year asking myself…Why am I a Christian, anyway? I think it's a good question, and I'm not afraid to ask it, publicly. I think God can handle that question. So right now I am asking some of you to invite me to your faith celebrations. I want to go to mosques and synagogues and ashrams and wherever atheists meet to discuss atheisty things. Starbucks? Poetry readings? See?? I don't even know. But I want to. I want to learn from different people. I want to learn everything. While serving at my church and spending my evenings in bed with my kiddos teaching them everything I sort of know about Jesus. That's what I'm going to do.
The day after I decide NO ADS, and said God will provide, I spent the day wondering if that was the stupidest decision ever made in the history of the world.  I wondered how the helI I was going to make a difference and help people in need with no income. The next day, an extremely well respected international aid group invited me to take trip to Tanzania to see the relief work happening there and write to you about it. Kay.
I was scared, since going to Costco is a huge, exhausting journey for me, and I didn't know where Tanzania was, but I was fairly certain it was way further than Costco. At first I hoped I'd misheard the nice man on the phone and that he was actually asking me to see the relief work being done in Tennessee-ah. But, no. Africa for sure. So I asked God for a sign. Then I started making dinner. Here was the first turkey cutlet I pulled out of the bag.
So I'll probably drag my Lymie self to Africa soon and then write about it. (BUBBA AND TISHA- BREATHE IN AND OUT DEEPLY. I'LL CALL YOU SOON TO EXPLAIN) I imagine my trip to Africa won't all be funny. It'll probably get heavy. Life gets heavy. Art reflects life.
This place is going to change. It already is changing. Soon – there will be fewer stories about my family here – those stories will be in my books. Books! Plural! Yes! That part is happening! My children are getting older and they deserve their privacy. There is a thin but NEON line there, and I need to walk it carefully. This blog is also one of the five thousand most popular websites in the country now – which for a personal blog- is a ridiculous amount of exposure.  Craig and I have some serious internet safety issues with which to deal, and we've been in discussions with wise and concerned police about that. There is more going on over here than whipping up the next funny story.
Momastery will change. Because I'm changing and you're changing and the world's changing, thank God.
Serve – but to thine own self be true.
Love You,
GDo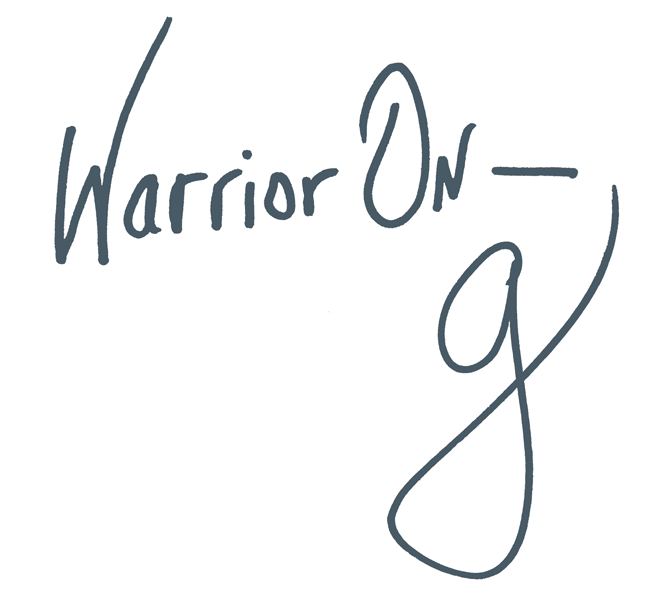 Author of the #1 New York Times Bestseller LOVE WARRIOR — ORDER HERE
Join the Momastery community on Facebook, Twitter, Instagram & Pinterest