I arrived home from Womankind last night, although the whole weekend felt like a homecoming.
I've got some perspective now. And I know, for now, where we are going with Momastery.
My friend Cindy recently sent me a book called "Leaving Church" by Barbara Brown Taylor. It's exactly the book I needed to read right now, right here, this week. Strange how that happens. Grace.
Barbara Taylor was a priest, but she decided to leave the church because in her efforts to serve God's world, she lost her relationship with God. She lost her awe. Service wore her down and rubbed all the shininess off of life. Service can do that to a girl. Service is not God, so it leaves us exhausted, empty and wanting after a while.
When Taylor was ordained, a wise friend told her this:
 "Being ordained is not about serving God perfectly but about serving God visibly, allowing other people to learn whatever they can from watching you rise and fall. You probably won't be much worse than other people, and you certainly won't be any better, but you will have to let a lot of people look at you. You will have to let them see you as you are."
I am not a minister. . . but when I read that paragraph it struck me that THIS was the deal I made with God when I decided to become a writer. I agreed to let people see me as I am, to watch me live and take from my life what they will. In order to do that, I must have time to live. Momastery is not my life, nor is writing. Both are reflections about the life I am living when I am not at my desk.  During the past few weeks I have forgotten this distinction, and that's okay. We are all learning. We rise and fall. And rise again. That's the great thing.
This weekend I learned from so many soulful, brilliant women that I just want to sit and think in a quiet room for six days. But we know that ain't gonna happen. So I'll unpack it all here, with you during the next few weeks. For now I will tell you that one woman spoke about the importance of creating sacred spaces . . . in our homes and our lives and our days. I will also tell you that this place, Momastery, is a sacred space to me.
There is a story in the Bible during which Jesus walks into the church and instead of seeing worship, he sees vendors and traders using the sacred space as a market- as a place to make money instead of peace and relationships.  And Jesus turns all Jackie Chan on them. It's one of the only times in the Bible when he gets REALLY PISSED. He starts flipping tables and yelling and maybe even doing some karate kicks. I can imagine that- even in the sandals and robe. Jesus was angry because the people forgot that there needs to be a sacred space SOMEWHERE. A place where people aren't trying to make money from each other. Where people are not seen as possible sources of income. Where people are seen only as invitations further into the heart of God. We are going to keep Momastery sacred.
When my dad was a soldier in Germany, he met a group of nuns building a tiny church out in the middle of nowhere. Just the nuns – with their habits and shovels and bricks. And so my dad and some other soldiers came to help them each day.  After a while the soldiers noticed that there was no architecture plan for this church and very little money for completion. No money, actually. NONE.  Each time my dad raised this concern to one of the Sisters, she would say softly but certainly. "Richard, do not worry. God will provide." And every day my dad would go back and there will be more bricks, more supplies piled up- exactly what they needed for the day's work. God did provide, one day at a time, and the church was built, without sponsorship from Target or Nike.  And He will provide for us, and show us the way each day, one day at a time.
My job is to keep showing up here, to continue to allow myself and my life to be seen.  Believe me, that's hard enough for me some days.
I have one more job, which I have always known God wanted from me, and was confirmed this weekend.
I want my writing to help bridge the gaps between Christians and Jews and Muslims and atheists and agnostics and Hindus. I want my writing to help us become less suspicious of each other. I want to develop a common language that will help us communicate with each other better. I want us to practice knowing that I can believe what I believe, and also acknowledge the mystery that you can believe what you believe just as strongly. And maybe, we can both say aloud that chances are we're all a little right and a little wrong. And we can also admit, out loud, that it's okay if I secretly believe that you're a little wronger than I am. We don't have to keep that a secret. We can have strong convictions and LEAVE SPACE for the convictions of others. And we can still love each other and listen and learn from each other and maybe even maintain a sense of humor.  We can become family that way. As one of the speakers said this weekend…isn't this exactly what we do with family? We accept differences that we know will never change and embrace each other anyway? Love just finds a way for this? Love is gonna fiiiiiiind a waaaaay……Who said that? Tesla, I think.
Last week an atheist friend asked me to explain my faith to her simply, because it dumbfounded her. So I wrote up some Jesus Cliff Notes. And a few hours later she wrote this to me:
GIRL.
YOU SO CRAAAAZY!
And I laughed and we talked a little more and discovered that we actually believe a lot of the same ideas, but we use different words to discuss them.
God is not found in right ideas- but in right relationships. Taylor said that, too. Smarty pants, that one.
So anyway, I want to develop a common language that makes the crucial discussion about the mystery and beauty and stunning-ness of life and divinity accessible to all.
No problem, right? Piece of cake. But I truly believe that if anybody can do this- it's us.
Also – we are going to hold off on the Love Projects for a bit. Another will arise eventually, organically, but right now – in my work life- I am going to concentrate on being seen and building bridges with my words.
And writing a book, I keep forgetting about that. No problem. God will provide.
As Taylor reminded me . . . . life is usually not about choosing between good and evil- but choosing between good, better, and best.
I hope, for now, I've chosen what's best for us.
I love you.
G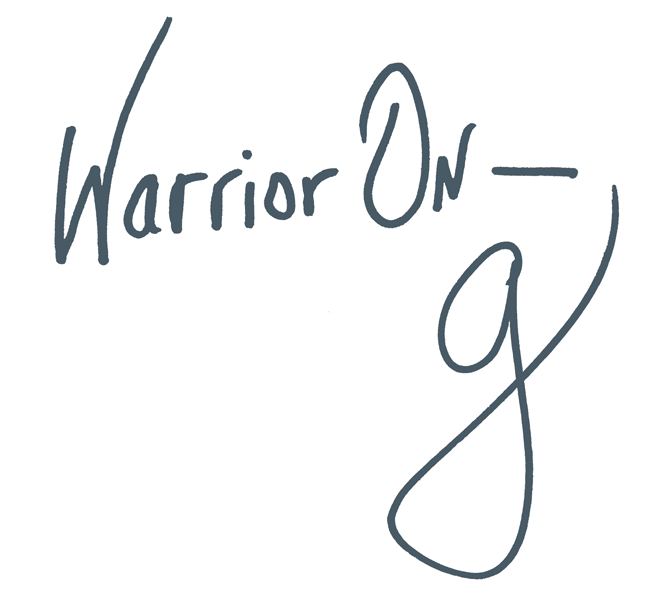 Author of the #1 New York Times Bestseller LOVE WARRIOR — ORDER HERE
Join the Momastery community on Facebook, Twitter, Instagram & Pinterest