"I arise in the morning torn between a desire to improve the world and a desire to enjoy it. This makes it difficult to plan the day."
 – E.B. White – taken from Leaving Church, by Barbara Brown Taylor
Momastery is booming.  It's funny, because we are teaching absolutely nothing new here. We are just offering people a soft place to land and to remember what they already know. That we were put down here to take care of each other. To listen to and learn from each other. To keep our hearts and minds open and allow others in. We have offered people a safe place to put down their guns and peel off their armor with the assurance that no one will shoot. People can breathe here, so they come back.
Because of our growth – beautiful and wonderful ideas are coming at us left and right. Groups of "Monkee Cells" are sprouting up all over the country. These small groups are meeting to tell each other the truth and to practice, in real life, loving each other and their communities. Joy.
Companies are all up in our Monkee business. People are begging to advertise. I've received several emails asking me if I'm insane. Folks have informed me that since Momastery ranks within the top six thousand websites in the country, we could be making tens of thousands of dollars a month through advertising. When I consider the good that money could do for my immediate family and my Monkee family, everything becomes a bit confusing.  So stop sending those emails, people.
And Monkees want THINGS to remind themselves of the Reloveution throughout their day.  Jewelry, more clothes, stickers, bags etc, etc. That will all happen. Not right now, but it will happen.  As Lou reminded me yesterday- Love Is Patient.
Since the Croyle Love Flash Mob, I receive fifty heartbreaking stories per day from lovely folks trying to get help for their hurting friends.  I sit at my computer and cry, knowing that we'll never be able to help all of them, or even most of them. It's okay – the crying. Staying broken hearted is very, very important to our work. People try so hard to keep their hearts intact, but that is a big mistake. Broken hearts are the most effective tools on Earth. Can't change the world without a broken heart – just can't.
But yesterday I had a bit of a breakdown, to tell you the truth.
You see, I started to feel like I was serving the world before myself and my family, and that is decidedly NEVER what I wanted. Because it doesn't work that way, of course. If you put the world in front of yourself, you will end up serving no one at all.
Love your neighbor as yourself. This implies that you're taking pretty darn good care of your own self, no? I mean  – unless God meant that we should ignore our neighbors needs and run them ragged.  Probably not.
I need a good amount of time to myself. When I say time to myself, I usually mean quiet time, which I consider time with God. I need time to listen. Time with no other input than that still, silent voice. "Go to your cell- your cell will teach you everything."  The desert fathers used to say that when the novices came to them with questions. It was their way of saying that there is nothing new to learn that isn't already inside of you. You have all the answers, you just need the discipline necessary to stay quiet long enough for them to emerge. The kingdom of God is within. And so not enough time in my cell leaves me empty and lost and a little confused about what to do next. Stressed, panicky = cell time, please.
Sometimes my God/self/cell time is in the sauna, sometimes it's with my Bible, usually it's with another book,  and often it's heading out for a mani/pedi.  Beauty salons make me happy and God wants me to be happy. But I haven't been doing ANY of this lately. I've been waking up and living and breathing Momastery and Monkee Business and that is putting the cart before the horse.
In order to be a decent writer and lover of folks, I have to spend time alone, and ALSO get out there and live occasionally. Not too often, because- scary. But sometimes. Sometimes I have to turn away from the computer, so that I can experience life and then come back and write about what I noticed. With my face to the screen all day, I'm missing a lot of the brutiful happening behind me.
In a few hours I'm heading to a conference in Richmond called Womankind. I think the conference is about God and women and…kindness? I don't know. I didn't even read the description. A couple precious Monkees invited me and I saw that it included a night away from home and I just signed the hell up. I'm excited. I can't wait to just sit and listen to other women talk about their lives and their faith and their lack of faith and how we can all take better care of each other. Just take it all in. Fill up instead of emptying.  I hope that I'll have a lot to share with you when I get back.
In the meantime, you should know that I am making NO decisions to change Momastery in any way. I have said no to the advertisers, we have not started merchandising, we have decided to SLOW DOWN, STEP BACK, and FOCUS UP. Or however our tagline goes. Something like that.
We are not against growth, but we are not going to be pressured into it in any form.  We will grow slow and steady. We will spend time in our cells, listening and thinking things through. Sloooooow and steady.
For now, I will just think and write and remember that all is well and has always been well and will continue to be well. Love is patient.
Take care of yourselves this weekend, please. Put the horse before the cart. Take care of your baby's parent. Your friend's friend. Your mama's child. Yourself.
I love you Cheeky Monkees.
G
PS. If you are at the conference and you see me, please come say hi and try to ignore the fact that my face is a tomato. I used a face mask last night that my friend warned me NOT TO LEAVE ON FOR LONGER THAN FIVE MINUTES, but obviously, I left it on for twenty. Because if five minutes will make me look good, how much better will TWENTY??? Not better. Not better at all. Thank you God, for the myriad ways you keep me humble.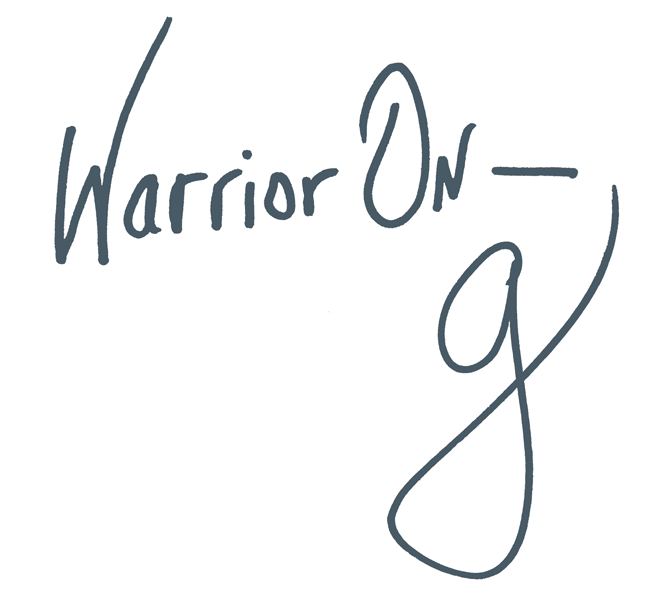 Author of the #1 New York Times Bestseller LOVE WARRIOR — ORDER HERE
Join the Momastery community on Facebook, Twitter, Instagram & Pinterest