Dearest New Monkees,
The original Monkees would explain that you can't really understand the Meltons without reading our adoption stories. Our journey's not over yet – or maybe it is, who on Earth knows.
Here you go. Love you. Really, really mean it.
*******
2007 was a tough year for the Meltons. Chase and Tish were 4 and 1, and Craig and I spent our days and evenings on the phone, interweb, and each others' nerves trying to realize our adoption dream. We were trying to adopt internationally and each time we got close, the dreaded background check would come, and agency after agency would reject us because…well, by now you know I choose to describe my past as festive.
Side note- in the past decade- I have been diagnosed with addictive personality, incompetent cervix, and suspicious blood. My self started to get its feelings hurt. I think words are important, so I have made some minor semantics adjustments. I now describe myself to doctors as having an "excited" personality, "laid-back cervix" and "creative" blood. This feels better.
Anyway, I laugh now, but I wasn't laughing back in 2007. I cried myself to sleep lots of nights, while Craig squeezed me tight and prayed that God would either open an adoption door or take away the desperation in my heart. Then I'd wake up early and start the whole obsessive process over. During one interview, as the social worker asked us questions about the past and we answered them honestly, we could actually hear her voice becoming more distant and cold. When we got off the phone I said "I don't think she's going to give us a baby, do you?" Craig responded by admitting that he wanted to stop doing interviews altogether because he was afraid they'd decide to take away the two kids we already had. As Krystal's family would say, it really, really sipped.
In August of 2007, we found some hope at an agency that facilitated adoptions from Guatemala. The social worker told us that they would find a way to bring a baby home to us, from their orphanage where toddlers and babies were abandoned because their parents couldn't feed them. They sent us packets and pictures of the orphanage and the orphans and I fell in love. Hard.
While our paperwork was being processed, I spent my days mentally planning and preparing and daydreaming. I knew our baby would be a little girl, and I knew her name would be Maria. I have no idea where this information originated, so I assumed it was from God. I never told anyone that I knew she would be Maria, because people can only be expected to take so much. But I knew it. There was a country song out at the time called "My Maria" and I would drive around, belting out the lyrics and fantasizing about how Craig, Chase, Tish, Maria, and I would dance to "My Maria" in front of our family and friends at Maria's coming home party. I am quite sure I planned my outfit. These daydreams are probably why I get lost almost every single time I get in my car. I never really had an explanation for that frustrating phenomenon until this moment.
At the end of September, we got a phone call from the agency. Craig took the call and then he told me gently that the agency had decided we were too much of a risk. The door to Guatemala was officially closed. I sat on the couch and cried and cried, because how can you feel something so certainly and then turn around and accept that it wasn't meant to be? I remember hearing Chase walk in while I was crying and asking Craig "Why?" and Craig said, "She's just sad, honey. Mommy's just sad."
Two months passed and I pulled myself together reasonably enough. You can read about what happened during those two months here. It was a magical and painful time.
Christmas morning came, and after the flurry of excitement and gifts everybody got tired, as people do on Christmas morning. We all rested into the day. Bubba fell asleep on the couch, and Sister and Tisha slid into the kitchen to start breakfast for the kids. I sat on the couch and congratulated myself for pulling off another Christmas. Craig snuggled next to me on the couch and handed me one last gift that he had hidden away. I smiled and opened it, and when all of the paper was removed: this is what I saw in my lap.
After we found out we wouldn't be allowed to bring a baby home from Guatemala, Craig called the agency and asked if he could "sponsor" a child there, in honor of me and of our dream. The woman at the orphanage said they had just the little girl for us. Her name was Maria, she said. She sent Craig pictures of Maria and her orphanage home, and Craig put them together in a scrapbook for me. So on Christmas morning, I'd have something to hold.
I sat on the couch and cried till I couldn't see. Bubba woke up and became alarmed. Everyone stared. I didn't care. I have never in my life felt the presence of God more strongly than I did at that moment, sitting on the couch, with that scrapbook in my lap and my husband beside me. I actually felt God saying, "I was watching, and I was speaking. You were right, there is a Maria for you. Here she is."
Since I couldn't speak, I left my family and walked into my bedroom, found my journal and brought it back to the family room. I opened it to page after page where I'd doodled "Maria Melton" like a lovesick teenager. Craig was shocked, and he cried with me.
We fell more deeply in love with Maria during the next year. We sent her gifts and letters that Tisha translated into Spanish for us. We told her that God loved her very much and so did we and we explained that we prayed for her and for her friends every night. We asked Chase's birthday party guests to donate money instead of gifts and we sent the money to Maria so that she could throw a birthday party for herself that year. The orphanage told us that the money went so far that Maria was able to invite another orphanage to her party too, and that they all played with piñatas and balloons for the first time in their lives. All I have to do to make myself cry, to this day, is to say to myself, "I hope she felt special that day."
We got a letter last year announcing that Maria had finally been adopted by a family in the states. The odds had been against her. The previous year we had been told that the likelihood that Maria would find a forever home were slim to none.
But we know that with God, nothing is impossible.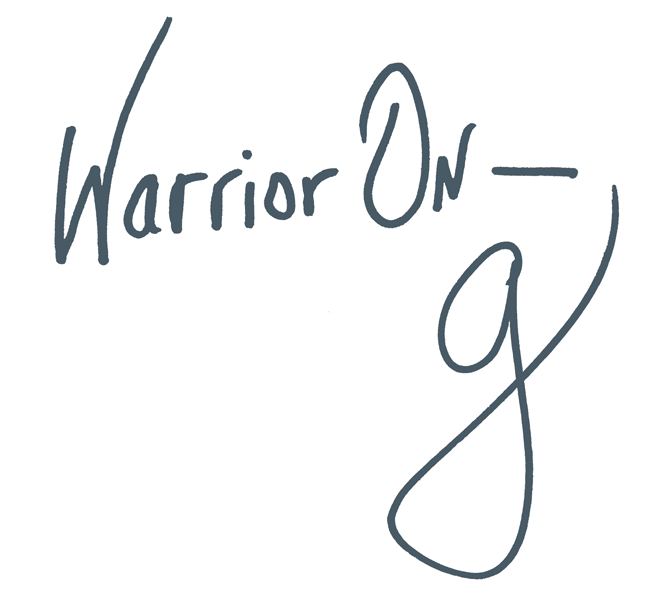 Author of the #1 New York Times Bestseller LOVE WARRIOR — ORDER HERE
Join the Momastery community on Facebook, Twitter, Instagram & Pinterest