Craig: Wait…what are you doing?
Me: Nothing. Nothing at all. Go away.
Craig: You're writing a post! You're writing a post, aren't you?
Me: No. I'm writing a grocery list.
Craig: Okay. If you're gonna lie, you should say something believable.
Me: Fine. I'm writing a post.
Craig: What? You told everyone you quit for the holidays. You are the worst quitter ever.
Me: Hm. Well. Maybe I'm the BEST quitter ever. Ever think of that? Maybe I'm such an incredible quitter that I even QUIT quitting. Done. Just like that. I EVEN Quit Quitting. Who does that? I'll tell you who. Me and only me. Yeah. Blows your mind, doesn't it? That's what I'm talkin' bout. Don't call it a comeback, buddy, I been here for years.
Craig: (gone. watching football)
Anyway.
I'm back because I had an important conversation with my friend, Ashley, that I had to share with you.
Ashley and I were talking about Christmas, and all the presents, and the hustle bustle business and consumerism and excess of it all . . . and the parts we love about that and the parts that leave us feeling exhausted and guilty and a little silly, even. Like maybe we're missing out on something important. It's almost like somebody's purposefully trying to distract us from something happening that is of great, huge significance – and we're allowing ourselves to be dazzled away. And we're left….wanting. It's like with all the stuff to decorate and do and buy and wrap and hide and deliver, there's no room left at the Inn.
Then Ashley told me her plan to prepare her family's hearts for Christmas this year. How she's planned to make room in her life and her home for Christmas. For real Christmas. For the celebration of God, who is LOVE, coming to Earth to be with us.
Cause it's a big deal, when you think about Christmas in terms of THAT, instead of just in terms of Kohls Cash and Black Friday deals and turkeys and where the hell is the scotch tape???? I mean, if you're a Christian, you believe that GOD came to EARTH. And if you're not a Christian, I can totally understand how you'd think we're a little wacky because WOW. I mean, that's WILD. GOD, as a BABY. On EARTH. IN A BARN. But I am. I am a Christian and totally obsessed with Jesus, and so Christmas is a big deal for me. A really big deal. I mean when I stop shopping long enough to think about it.
Anyway I found Ashley's Love idea so do-able and so beautiful that I couldn't stop thinking about it. We prepare our homes for guests, usually. And Ashley found a way to prepare her home for God's arrival.
Monkees, Meet Ashley.
A Mini Mission to Spread a Little Joy…
Every Christmas, my boys and I donate cans, coats, take an "angel" or two from the tree at church, but it somehow hasn't been enough for my blessed boys to truly make the compassion connection. What I needed was a way to drive home the message in a variety of ways in the hope that something will stick. I've heard that it takes at least 21 days to form a habit…so Advent should at least be a start, right?
When my oldest was a baby, my Mother-in-Law gave us a beautiful wooden Advent cabinet with 25 tiny doors. This year, along with the gifties that Granny sends, there will be a note with an act of kindness to be carried out that day. Some will be strategically placed…like on the 10th when we'll be joining my husband's Rotary group to lay wreaths on gravesites at Arlington Cemetery. Or, on the 20th when we'll be volunteering as a family to organize donations at the Salvation Army warehouse. But, others will be less grand…like picking up litter anytime you see it throughout the day. Or, feeding the birds
And there you have it— a simple plan for 25 days of serving, giving, and helping others. A fun way to experience the true MAGIC and JOY Christmas first-hand. My hope is that they get it…and maybe even want to continue beyond Advent season.
Love, Ashley
***************
You know, we all want the same things for our kids during the holiday season. We want them to experience great joy. So we ask them what they want and they think of stuff that maybe they want, or maybe the TV just told them to want. And we buy them as much of what they maybe want as we possibly can. We put ourselves in debt, even. Because we want them to be full of joy.
But we know what bring US the most joy. It's not stuff. It's connection. It's love. It's finding out how powerful we are by discovering what a difference our little selves can make in the life of another little self. It's in emptying ourselves out that we feel full. It's the only way to feel full, I think. Offering yourself. Your insides. Showing up and pouring out.
Pour it all out –and feel full. So weird.
And so we know what we know. And even though we know what we know, we still try to fill ourselves and our kids up with stuff. I do, anyway. But this season, I think I'll take my own advice and Step back, Slow down, and Focus up. Because maybe more stuff isn't what will bring my Littles the most joy. Maybe Ashley's right.
Maybe what brings me joy would also bring them joy. Maybe my kids don't need more plastic crap. I mean, I'll buy some anyway. But maybe they really need to discover the magic and power that's inside them. The magic and power that is just kindness. The magic kindness inside each of them that could change the world. Maybe I just need to show them how to pour themselves out.
Sounds like a good way to prepare for God to come.
I think our kids will decide what Christmas is about by watching what we decide it's about.
If we spend December at the mall, they will learn that Christmas is about stuff. If we spend it gathering gratitude and scattering joy….well, then.
We should also spend it resting. Lots and lots of rest.
Resting, Gathering, Resting, Scattering. Like that.

I am so thankful for you.
Love, G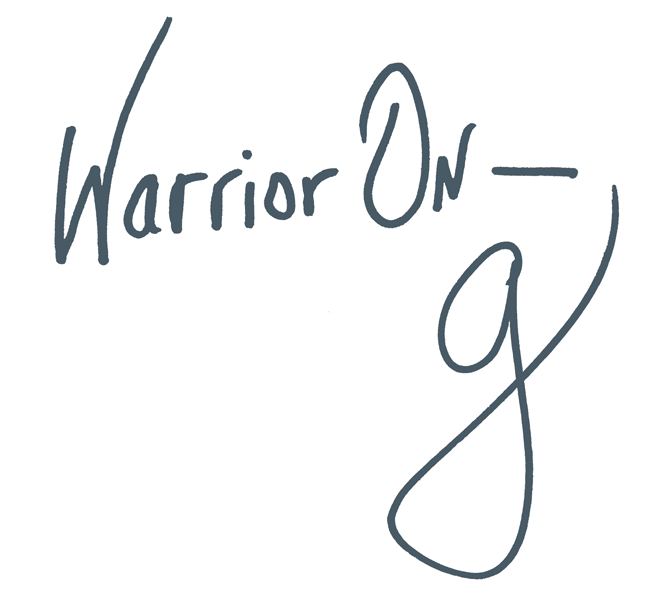 Author of the #1 New York Times Bestseller LOVE WARRIOR — ORDER HERE
Join the Momastery community on Facebook, Twitter, Instagram & Pinterest