"All the believers were one in heart and mind. No one claimed that any of his possessions was his own, but they shared everything they had." Acts 4:32
After reading Tova's incredible essay about her baby Joy, I started feeling a little sad. Because I thought that one day I'd be writing an essay like Tova's about my family's adoption. I had the essay all planned out. I even had our Christmas Card designed. It was going to be a family picture in front of our beautiful LOVE WINS sign and underneath our family of six it would say:
JOY TO THE WORLD! Love, The Melton Pot.
The Melton Pot. I mean, seriously. You KNOW how excited I was when that gem lit up my little brain.
But it was not to be. It is what it is, and it's not what it's not.
One night while I was pouting, Craig said, "Honey, you know, we're still the Melton Pot." And I rolled my eyes and said, "OH, C'MON. NO WE'RE NOT. We're Asian and white. We might be like a Melton skillet of some sort but we needed Africa to be a Pot. We are So Not a Pot.
Kay, fine. Not a Pot, he said. Sorry, hon.
Anyway, skillets are fine, I guess. I'm just saying that adjusting to the recent changes in my life has been a little tougher than I thought it would be.There is something that I really, really wanted that I gave my all for and I ain't gonna get it. Because of LYYYYME. Boo. I feel very five years old sometimes.
Like Tish. Tish is quite dramatic. And I am always telling her that sometimes she is so focused on what she doesn't have that she misses all the wonderful things she does have.
Whenever I tell her this Craig raises his eyebrow at me. SO annoying.
But he's right. I do that too. I feel sad that I didn't get the new person I wanted to love, and so I overlook the hundreds of people God gave me to love. YOU PEOPLE.
It's crazy, really. I have this sickness (it's back, of course) that doesn't allow me to get out much, but God gave me this computer, and this community, so that Ican reach out and STILL offer myself to the world. No matter what, He always gives us a way to stay open. Stay open. This is what I'm learning, Stay Open By Any Means Necessary. Do not allow anything that life throws at you to close your heart. Heart wide open. Always. No matter what. If you can do that, good things will come.
Today I want to talk about Christmas, Hanukkah, Kwanzaa . . . the December holidays.
I know, it's not even Halloween, one holiday at a time, I know it.
But we do Christmas preparations a little differently at the Melton Skillet, and it works for us. It is the Melton rule that all Christmas business . . . gift buying, wrapping, etc. . . is done by Thanksgiving. Yep, we miss some sales. But we also spend the month of December in peace, together, making memories instead of trips to the mall. Our minds are not full of to do lists and so stress is low. And since we tell the kids that Santa stops taking gift requests at Thanksgiving, they don't spend all of December talking about what "they want."
Each of our kids gets three gifts and if there are ever any future complaints, we plan to ask them if they think they deserve more gifts than BABY JESUS GOT. ON BABY JESUS' BIRTHDAY. After that, any further complaining will result in each child receiving actual frankincense and myrrh instead of Wii games and skateboards. Have fun with your spices, kiddos. That's the plan.
Staying out of the stores in December is healthy for our family in many, many ways. This year we're shutting down the computers in December, too. So we have lots of work to get done at Momastery before the shut down happens.
Back to Monkeedom.
I love you. I really do love you, Monkees. I don't express how much because I'm afraid of coming across as a dramatic, crazy, cheesy computer lady. But I really do. This community has saved me and made a believer out of me.This community has made me feel safer and braver and cozier out in the big world. You have changed me, supported me. You are like a world –wide family to me, which is the truth, right? We are a world- wide family. That's how we should all feel. Cozier in the world.
I was watching a news story about the economy recently and there were many families talking about how they were going to have a hard time buying gifts for their children this year. Some said that having their usual Christmas dinner was not an option, because they didn't have the money for the turkey and the stuffing and the yummy desserts. Some said they were worried about paying the heat bill during the holidays. One man said he just wanted to buy his wife a little necklace, a little something to show her how much her work at home meant to him, but he couldn't. There just wasn't any extra. None.
All of this made me want to stick the fork I was holding directly into my eye.
Then I started thinking about how there are probably many Monkee families in these situations, and that made me want to put my fork down and start brainstorming. Because no way, Jose. Not on my watch. Not my Monkees. We might not be able to fix everything, but we can do some things. We can acknowledge each other's needs, hear them, and then help each other in little ways, because we belong to each other.
You know, I'd rather my kids have three Christmas gifts and your kids have three Chistmas gifts, than my kids have six gifts and your kids have no gifts.
And that's the bottom line here, for me. And I bet it is for you, too. I think I know you well enough to know that you agree.
I figure that everyone reading this has a need this holiday.
Some of us don't have enough this year. These Monkees need a hand putting food on the table and buying gifts for their kids.
Some of us have a little extra this year. These Monkees need to reach out to other families and share, in order to wake themselves up and connect and really experience what the holidays mean.
And some of us have just enough. These Monkees need to sit back and witness some miracles, to keep believing in people and love.
We all have needs. When we don't share our needs, out of pride or fear of rejection, we deprive other people of fulfilling their needs. Sometimes we need to receive and sometimes we need to give. Seasons change. So please decide which type of Monkee you are this year, and participate accordingly.
This is how I'm hoping this Love Extravaganza will work:
Craig and I would like to start the party off by offering checks for $75 to six Monkees who could use the money to make the holiday a little brighter for their families.
SO:
If your family could use this money, leave a comment about how you will use it and then email me at momastery(at)gmail(dot)com with your address. Our check will arrive at your home by Nov 1. The end. No strings. Just tell your story, anonymously or not, not so we can judge how worthy you are of the money, everyone is worthy, just so we can know each other and love and understand each other better.
Now.
Obviously, I am expecting more than six requests.
That's where you come in.
If you are a Monkee who has some extra this year. . . read the comments. Find another Monkee who touches your heart and reply to her comment. Tell her you will help. Then you both email me and I'll put you in touch.
**Also…if you are a Monkee who would like to donate money to this cause and let me distribute it….email me. I'll take care of that, too.
At this point you might ask yourself….how is all of this really gonna work?
Well, how could I possibly know that?
I'm going to do this like I do everything else . . . I'm going to ANNOUNCE THAT IT IS HAPPENING and then wait for crazy things to start occurring and then I'm going to become completely overwhelmed with JOY AND PANIC and start crying and hide under my bed and then Craig will try to teach me to make a spread sheet and a Pay Pal account AGAIN and I will yell at him: WHY DO YOU KEEP TRYING TO CHANGE ME?? and he will say I am not trying to change you, I just think there are more efficient methods of record keeping than writing things on piles of used paper towels and scraps ripped off of Chase's homework papers, to which I will reply: GOOD GOD, THIS IS NO TIME FOR A LESSON ON CUTTING EDGE TECHNOLOGY. I AM JUST TRYING TO BREATHE, HERE. And then Craig will take the kids away, for their own well-being, and let me work for a couple days.
And it will all get done, in spite of me . . . the same way that this Holiday Love Project got done and this Holiday Love Project got done and this one and THAT ONE and everything else worth doing gets done. One deep breath and little miracle at a time.
And we will wrap all of this up by Thanksgiving, so that we can rest and celebrate, knowing that our sisters are cared for. And our sisters can rest and celebrate, knowing that their families are cared for.
That's the plan. Help, please. All ideas welcome.
I LOVE YOU.
GDo
PS. Thank You, Bloggess, for inspiring this idea, and so many others.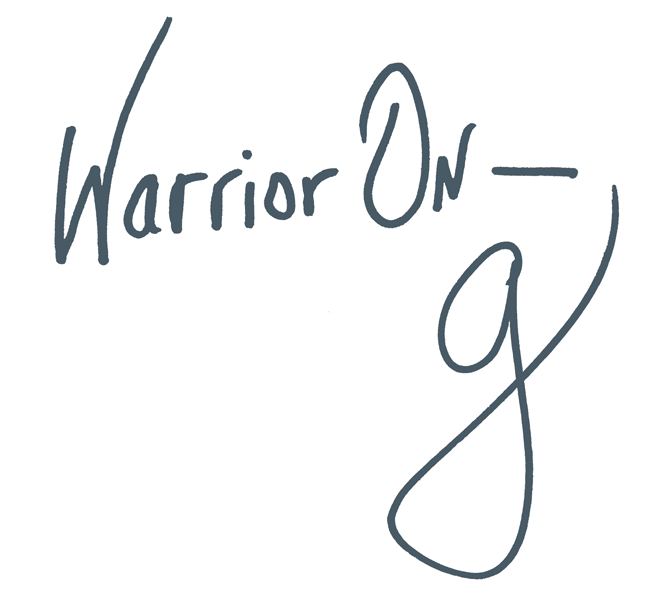 Author of the #1 New York Times Bestseller LOVE WARRIOR — ORDER HERE
Join the Momastery community on Facebook, Twitter, Instagram & Pinterest