Do you remember when Glennon and Andrea started the auction for Joy (Rocky at that time)? And then a friend joined in with a book sale? And prior that a friend auctioned an Ipad for us? And after this auction we raised another $1,400 by selling paperbead necklaces that had been donated. And then, we received an adoption grant of $10,000.
Yup.
That all really, really happened.
You need to understand that adopting Joy was a complete and total leap in faith. I remember emailing with Glennon and mentioning to her that I felt like we had no business starting this adoption because I felt like we had none of the resources needed.
And we didn't.
No savings, no investments, no loans available, no credit available. Heck, we STILL have our adoption loan from our first adoption. We managed to save and fundraise our way through our second adoption. It was such a gift.
I had no faith for a third adoption. I figured we had maxed out our resources. All of them.
We had those moments where adoption payments needed to be made and we literally didn't have the money.
And it came. Every single time. Surprise gifts from friends. Organized fundraising. The grant. This is the first time we are drowning in debt after an adoption. We are flat ass broke and about a month behind, but I am fine with that because it feels so good compared to what we've experienced in the past.
If you think that I was the faithful, peaceful and trusting adoptive mama through this, you are wrong. I hedged all my bets. Did all the fundraising saying that if this didn't work we would give the money to another family or return it to people.
The process of adopting Joy brought pain. Struggle. Fear. Questioning.
As you might remember, Joy has HIV. We were asked by our agency to consider adopting her. They did everything they could to make it possible for us.
We had relatives freak out. People said the dumbest, most thoughtless things. I wrestled a lot. With what we were doing. To our finances, our existing children, our community.
There were two things that kept me facing towards Joy.
1. The question was 'is this harder for me, or is facing the possibility of my child not getting adequate medical care harder?'
2. Can I do this? Can I raise my daughter to be kind and gracious, but firm, in the face of some of the most stupid, stubborn ignorance that I've ever seen? In order to do that, I had to learn to be kind and gracious, but firm.
The first question required more wrestling than I care to admit. But it really was the easy one.
The second one? That required a lot of support. Some from my counselor who walked me through appropriate and allowable responses to different people's comments. This was an amazing experience for me and impacted all aspects of my life. I had friends who let me bitch, whine, complain and rage. And I have this community that tells me over and over to 'look for the good', 'try not to be a jerk', that 'We belong to each other' and that being gracious is a huge gift. That looking beyond the stupidity and ignorance often leads to healing and redemption.
And it's all true.
At one point we had enough reasons to justify leaving our church. People suggested we do that. But I got stubborn. And maybe a tiny bit tired. We stayed put. We kept trying to talk and to listen. It's not been perfect, but the overwhelming majority are supportive and wonderful. That would not have existed if I had left when it was just overwhelmingly horrible. That's what this Monkee community has given me. Stories from all of you to lean on. To hold onto. Stories of staying still, stopping to listen, or just taking that one more uncomfortable step.

Going to Africa to bring Joy home was excruciatingly difficult as I have a PTSD diagnosis that results from a home invasion/hostage situation I was in the last time I was in Africa.
Going to bring her home was the bravest thing I've ever done. I could have stayed at home, but I knew I would regret that more than pushing through the fear.
It was fantastic. Our trip was hard, but I was both strong and vulnerable. I was present for my new daughter. I found a lot of personal healing on my trip. There was a lot of weeping, but so, so much joy. And she is.
Since coming home I have watched my little peanut win hearts, break down big huge grown men, and crumble people's fears and hardness. I literally watched one person who was dead set against her, start to cry when seeing her for the first time.
Our child is so special. This is brought home to us again and again. The nurse at her Children's Home told us that they called her their miracle child because they almost lost her. Her pediatrician here, told us at her last visit, that she cannot explain why this child is alive or doesn't have massive brain damage. That her medical records show three times when most other children would have died. That she does not understand how this is possible.
But she is. She is healthy, happy, thriving, getting chubby, and mentally, emotionally, and physically on target. Not one medical professional has been able to explain her. She is now labeled as technically HIV + but unable to transmit. How's that for shifting people's preconceptions?
This makes my heart so glad. I've learned so much on this journey, grown a tremendous amount, discovered strength I had no idea I had, learned that vulnerability is the baddest ass strength of all, and done so much healing.
Thanks Monkees, wish you could all come over for a cup of tea and meet her.
Note from G: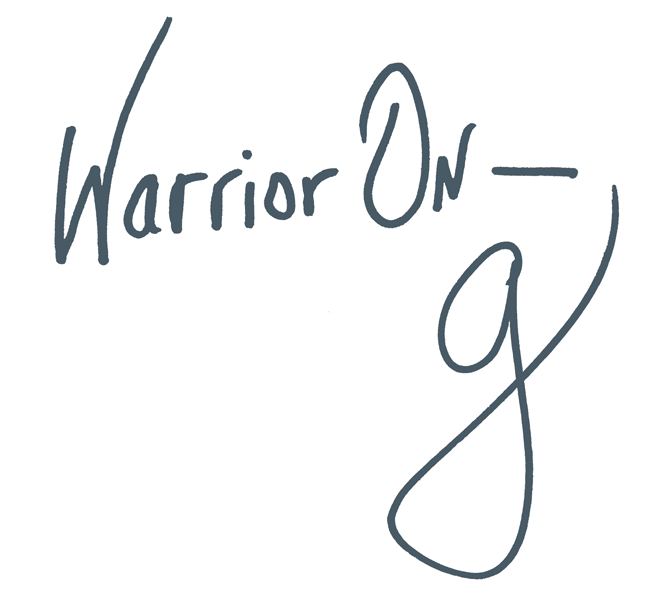 Author of the #1 New York Times Bestseller LOVE WARRIOR — ORDER HERE
Join Glennon on Facebook, Twitter, & Instagram