So – the past month has been pretty bad, I'm not going to lie. I mean, I did lie, like all day, every day, in my cozy bed. One weekend I went to bed at eleven am on Saturday morning and woke up at six pm on Sunday. I was really, really, super sick. Scary sick. We figured that my Lyme was becoming dramatically worse. Craig and I were looking for nannies because I couldn't care for the kids anymore. We let the adoption go. We adjusted to the idea of playing one man down. We did our best to stay positive, but we were scared.
I saw my doctor last week. When she came into the examination room I was curled up in a ball on the table and couldn't even raise my head to say hello. Her face looked pained and she said, "Oh, baby," and she put her hand on my forehead. I thought that was really nice. Doctors should do more of this sort of thing, I think. Then she said, in a nutshell – "You look awful. All your shine is gone. Something is wrong with your medication. This isn't Lyme. Your body is shutting down because it can't process your oodles of antibiotics anymore. Let's stop everything for a few days and see if you feel better, and then if you do, we'll cut your meds in half."
I woke up the next day feeling like a million bucks. Literally. The first thing I did, obvi, was go shopping. Craig came home and saw all the bags in the foyer and said, without gusto, "yay. you're better. yaaaay."
I am better. I mean, I still have Lyme, but I'm my old Lymie self, which is to say that I'm pretty much normal with added confusion, absolutely no depth perception and extreme bouts of fatigue when it's time to vacuum or grocery shop or bathe the kids. And I'm so grateful.


But I'm also extremely grateful that I got so sick for those two months.
Each morning for the past few weeks, I have peeked out my door with giddy anticipation to discover a gift on my doorstep. Candles, inspirational poetry, organic fruit, stationary, gift cards, cozy pink socks that I'm wearing right now. Each gift came with a note that said some variation of . . . You are loved. We're praying for you. Love, Anonymous. My neighbors. They got together and planned a Love Ambush for me. I just moved to this neighborhood last year. It just amazes me. And it helped me. Just to know that I was literally surrounded by all that anonymous hope and love. And that I didn't even have to write thank you notes because the gifts were anonymous. I'm a grateful person and a writer, but I despise writing thank you notes. How'd they know? I was thinking yesterday- if I hadn't gotten so sick, I wouldn't even know where I live. I wouldn't be aware of how beautiful this place is, and the people in it. I might not be bursting at the seams to pay it forward, to find the next hurting mama and plan Love Ambush #2. I now have new eyes with which to look at my neighbors, who are miracles. Thank you, Lyme.
Craig and I started marriage therapy two weeks ago. It's been hard, but good hard. We feel new- like we're starting over. We needed this, bad. Craig's been a single parent for a bit and he's been scared. It's taken a toll on him, but he wouldn't admit it before- he was so busy being hopeful and strong. He's a hero, I think. We are fine, but we don't want to be fine. We want to be great. Like my friend said, we don't want to just be good people, we want to be good partners to each other. And I have a husband who wants this as badly as I do, and who is willing to work and fight for it. But we wouldn't have known this if my illness hadn't forced us to face our fears. I now have new eyes with which to look at my husband, who is a miracle. Thank you, Lyme.
I put my kids to bed last night. I know it's supposed to be precious time – bedtime, but I usually hate it. I read and sing and finally get them down and then they pop up one at a time for an hour and it's like a twisted game of whack-a-mole. But last night I didn't hate it. I loved reading to them and singing to them. Because it was the first night in two months that I'd had the energy to put them to bed. To tuck them in. And it was sort of wonderful. I've been given new eyes with which to see what an honor it is to care for little souls and hearts and minds. Miracle, really. Thanks, Lyme.
And the Monkees . . . Oh, you Monkees. All your comments and love and emails and encouragement and understanding. One of you sent me a book that is saving me right now. And a beautiful sign that says, "Look For the Good" in decadent hot pink calligraphy. I plan to follow directions.
Now – losing the adoption. Trying to get perspective on that one is interesting.
We explained to Chase that it was over a few nights ago. That there was no baby boy coming home. That God had said nope. We explained that we didn't know if it was actually a No. or a Not Yet. But we told him that either way, we were fine and hope he'd be fine, too. We told him we were already the luckiest family on Earth and we didn't need anything other than what we already had.
Chase sighed and said, "Mommy, this doesn't seem to be working out for us. Maybe we should just adopt a highway."
For the record- this is my favorite thing that anyone has ever said to me in my whole life, and I am currently researching whether one must pass a background check to adopt a highway. I can see it, honestly. All the Meltons in orange vests, picking up trash on the side of the road. I might rope us all together like a chain gang. I hope we get our own sign: This highway Has Been Adopted by The Meltons. Too perfect.
There is actually a whole lot of beauty in letting the adoption go, and I'm finding it. Look For The Good, right, Molls? The baby would have taken up all the energy and time and love that I can now offer to the people I already have. The people I've grown new eyes for. My parents, my friends, my neighbors, my husband, my children, my Monkees, myself.
Something about the past two months has shifted my perspective dramatically, for now.
I'm a spaz. I just am. I've lived my entire life, up to now, as a complete spaz. The voices in my head are always going a mile a minute and I'm just all over the place. I'm well intentioned, and sweetly all over the place, but still. It's exhausting to be me, and sometimes I feel like a hamster on a wheel. Like God just gives me projects to use up my energy so I don't explode or drive people too nuts. I don't want to live like that anymore. I need to find a way to channel my energy into peace, because I deserve that.
So. I am going to stop trying to save the world, and instead use my energy to notice how beautiful the world is just as it is. It occurred to me recently that saving the world might not be my job. It occurred to me that my only real job might be to slow down and notice the world, to be amazed by it. It's almost too good to be true, but it might just be true.
So I think I'm going to try, for the next year, to live with the belief that the world is all right. This is a tough paradigm shift for me to attempt. Because I usually think, one million times a day…Oh My God, the world is falling apart, the world needs my help. I MUST HELP. EVERYONE NEEDS ME! AAAAHHHH!!
This, as I reflect upon it, might be the teeniest bit egotistical.
And with the lost adoption and the Lyme and all the confusion and Anna and huh? I just feel exactly like Homer Simpson, in one of my favorite scenes ever, when he's tripping on magic peppers.
I just need to Stop Doing Anything for awhile.
I just want to look around. Love my neighbors. Get to know people. Listen, look, breathe. Appreciate my blessings instead of trying desperately to create new ones.
In short – I need to calm down. Which may be my biggest challenge to date.
I'm excited. But not TOO excited. Calllllmmmmlllly excited.
I'm off to do my yoga and then spend my day soaking up my blessings. Looking, listening, breathing, smiling.
Remembering that the world is all right and that it is my privilege, as a child of God, to soak it all up fearlessly.
The world is a gift to me, not my problem to solve.
Love, G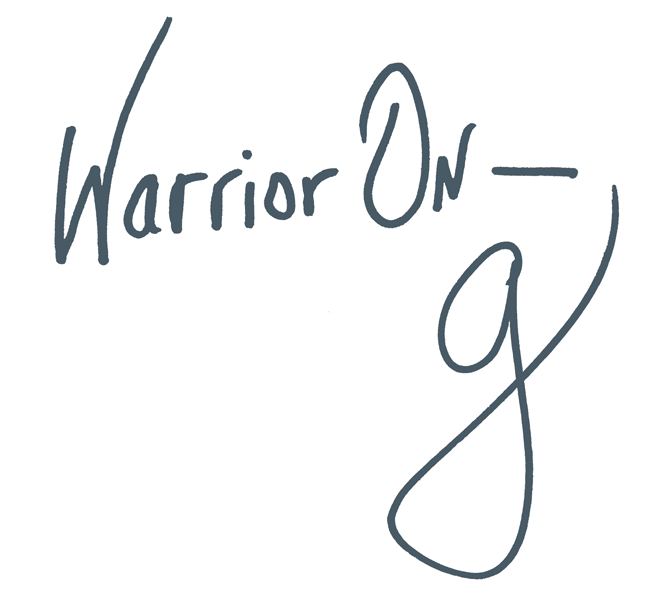 Author of the #1 New York Times Bestseller LOVE WARRIOR — ORDER HERE
Join the Momastery community on Facebook, Twitter, Instagram & Pinterest