I know that you are worried and that you want to know. But I won't discuss Jack, Anna's baby, here. His life and his death are Anna's stories to tell.
I can only tell you my story- what I saw with my own eyes yesterday.
I went to Jack's memorial service. It was as brutal and beautiful as you might imagine, times infinity.
There were hundreds and hundreds and hundreds of guests there. The pastor said that in his thirty year career, he'd never seen the sanctuary so full. Most of the guests – children, adults, teens, elderly- wore teeny Lego cross pins.
And in the middle of the service, we witnessed a miracle.
Anna, Jack's mother, stood in front of the masses of mourners and delivered a flawless, tearless, divinely inspired tribute to Jack and to the power of faith. I have never seen anything braver or more exceptional in my life.
Please, don't respond by saying – "Oh my God. I could never do that."
Because what Anna taught me yesterday is that a mother can do the impossible for her child.
Maybe you could do what Anna did yesterday. Because Anna is just a woman who decided that she would not stop mothering Jack, she would not stop honoring her son just because he left the Earth. And so trusting God to help her, she stood and spoke with power and love and her voice did not quiver, not once. And she honored her boy and proved true his belief that With God, Nothing Is Impossible.
She proved that scripture, her son's life verse, to be true – in front of hundreds of grieving people. Many of whom, like me, had been experiencing a crisis of faith since hearing the news. Many of whom, like me, had spent some time shaking fists at God and then doubting His very existence. Many of whom, like me, walked into that memorial with less faith than they'd ever had in their lives and walked out full to bursting.
As I watched her, in utter disbelief, I thought-
Anna is a Mother. With a capital M. I am witnessing the essence, the transcendent power of motherhood. It seems, somehow, that Jack's death did not rob Anna of her role as his mother, but intensified it. Capitalized it.
Anna Mothered all of us yesterday. She comforted us, she strengthened our faith, she ministered to us in her darkest hour. I don't think she set out to do that. I think she just refused to quit mothering her boy. I think she just wanted to do justice to her son. He was her miracle and so she honored him by performing a miracle of her own. I will never forget it as long as I live. I will never forget her regal posture, her visible resolve, the mixture of tenderness and toughness in her face. Anna, standing on that stage, will forevermore be my mental image of "Mother."
I have been praying for Anna and her family in a million different ways since I heard the tragic news about precious Jack. And I am still praying. But my prayers have changed since I saw Anna speak yesterday.
Now my prayers sound less like "Help them." And more like "Help them. And please help me find the strength and faith that they have. Help me Mother like Anna does. Help me believe like she does. Help my son learn what her son knew. Help my daughters trust God like Anna's daughter does."
It's like, this tragedy had me so afraid. So very, very afraid. I was having so many selfish feelings – if it could happen to her, it could happen to anyone. It could happen to me, to my son. Terror. How would I survive being separated from my only son?
Anna taught me yesterday to quit being afraid, because nothing can separate us from our children. Not even death. I don't understand it, I'm just telling you that Anna proved it.
I know that Anna will hate this, but I have to say it anyway.
All of my other heroes have been bumped down a notch or seven. Anna is at the top of my hero list, now, and forever.
Her name is Written In Blue.
Anna.
If you'd like to leave words for Anna…please head to her blog.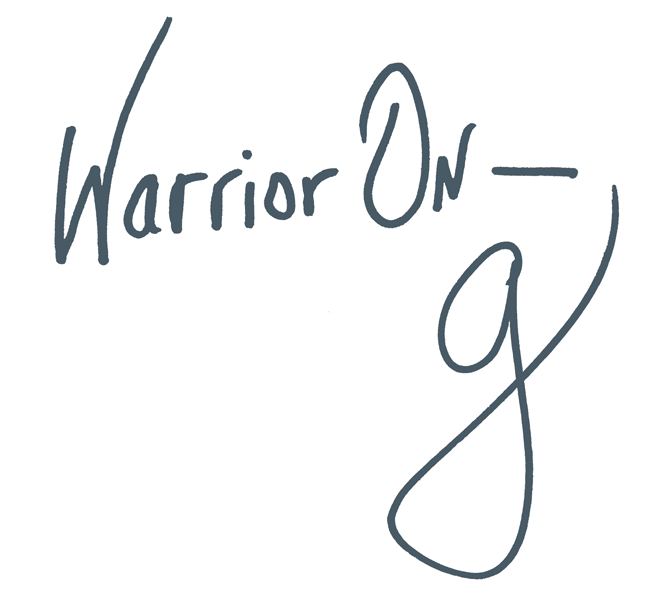 Author of the #1 New York Times Bestseller LOVE WARRIOR — ORDER HERE
Join the Momastery community on Facebook, Twitter, Instagram & Pinterest