I think often about the Monkees with addicted family members and friends. I know how hopeless it looks. How far gone they can seem. How angry and confused you feel.
Early one morning during my drinking days, I staggered home drunk and high, and found my mom and dad sitting in the family room waiting for me. They were as blurry eyed as I was. Bubba looked right at me and said, "Glennon. Do you even love us?"
And my heart imploded into my own chest. All I could do was whimper a slurred yes but I knew how hollow and weak and false that yes sounded to each of us. Because love is as love does and addicts don't love, we destroy. It is hard for others to believe that we can love the things we are destroying.
But I remember that moment vividly and I recall how my heart felt in response to my dad's question. My heart was broken deep and hard with love for my parents. I loved them in that moment, when I was a hopeless drunk and treated them horribly, exactly like I love them today . . . wildly, frantically, solidly, all.
I don't know how that works, I'm sorry. I just know that it can be true. Your addict can love you madly and still keep hurting you.
Addiction just does that. It's evil, addiction.
But addicts are not. As a matter of fact, whenever an addict writes to me about how she is so lost and shameful that she's certain God can never love her I always say, really? Because I think God loves us the most. I really do. I know a whole lot of addicts and outside of the whale, they are some of the kindest, brightest, most creative and passionate people I know. It's the sensitive soul that feels the need to escape the harshness of reality. And so whenever a parent writes to me about her addicted child being "special" I always think, Yep, I know exactly what you mean. I really do. It's like this:
For now, let me say this: measure the hate you feel now, and the shame. That quantity is your capacity also to love and to feel joy and to have compassion.

                                   – I Never Promised You a Rose Garden.
It's true…where there is great pain, there is the hope for great joy. With great shame comes the possibility of great redemption.
Sometimes I think this blog is for families of addicts. I want you to know, mamas and daddies and sisters and brothers and daughters and sons of addicts – that even when I'm not writing specifically about addiction and recovery, I'm still writing to you.
When I write about my marriage, or my children, or my friendships, or this crazy, typical, magical life I'm leading . . . the message underneath, meant for you, is:Look! There is hope! I was hopeless . . . and now I'm so hopeful I'm ridiculous. I'm just ridiculous with hope.
I am not perfect, I am not always well or stable or happy or kind or peaceful or content. And as I may have mentioned…I'm generally a little WOOOHOOOOO!!!
But I am myself. I am living this tough, confusing life as myself. That's the best I can do. That is thrilling. I just want you to know that it is possible.
And I think you need not wait till your addict starts living before you do. It is okay for you to live while you wait. It's necessary, really.
I'll end with this passage from I Never Promised You a Rose Garden. It's a conversation between a therapist and her patient – a young, brilliant girl who is deciding whether to hold on to her mental illness or let it go and try to Live. Scary decision.
Well, did I ever say it would be easy? I cannot make you well against your own wishes. If you fight with all the strength and patience you have, we will make it together.

And what if I don't?

Well, there are lots of mental hospitals, and they build more every day.

And if I fight, then for what?

For nothing easy or sweet… for your own challenges, for your own mistakes and the punishment for them. For your own definition of love and sanity- for a good strong self with which to begin to live.
That's enough, right? That's all we can ask of ourselves. To allow ourselves to live. Addicts or not.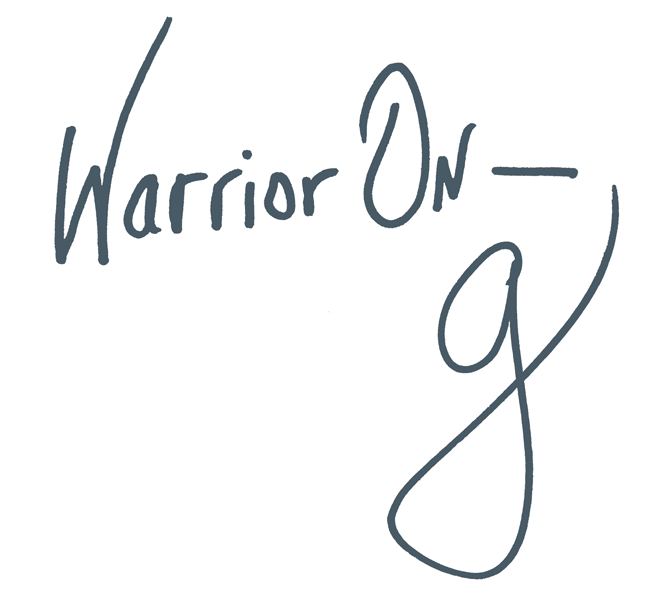 Author of the #1 New York Times Bestseller LOVE WARRIOR — ORDER HERE
Join the Momastery community on Facebook, Twitter, Instagram & Pinterest