I love addicts. I don't want to be around them though, because they remind me of what I used to be and often still am.
Stubborn, stupid, reckless, arrogant, manipulative, mean, untrustworthy, lazy, bitter.
These are the characteristics of the disease, not the characteristics of the person with the disease. The person gets swallowed up by the addiction, like Jonah in the whale. The WHALE is the enemy. Not Jonah. He's lost inside, scared to death, but still alive.Still whole, still himself, just trapped.
I'm often asked if I want to use my recovery experience to counsel addicted people and I always say Hell to the NO.
Mostly because I have no idea how to help addicts. When people ask me how I got sober, the only answer I have is, "I stopped drinking." I can sort of tell them my why – Because Of Chase. I think. But I can never explain how I got sober. How I stopped drugging. How I stopped puking. How I quit smoking.
All on the same day, thank you very much. All on the same day.
Mothers Day. Sunday, May 13, 2002. All done. No more.
I found this poem a few years ago and it's the closest I can possibly come to explaining my how.
The Worm's Waking, Rumi
This is how a human being can change:
there's a worm addicted to eating
grape leaves.
Suddenly, he wakes up,
call it grace, whatever, something
wakes him, and he's no longer
a worm.
He's the entire vineyard,
And the orchard too, the fruit, the trunks,
a growing wisdom and joy
that doesn't need to devour.
That's what it was like for me.
I didn't go through a twelve step program. I went to a few AA meetings and loved them, but then I stopped going for some reason and got busy with life. I started living- for the first time, I guess. And I fell in love with life, mostly, except for when I hated it. But love or hate, I've lived sober for nine years. I hesitate to write that, because staying sober without a twelve step program is supposed to be statistically impossible. But my life has never made a whole lot of logical sense, so. Maybe my success is based upon the fact that my whole existence is sort of a twelve step program. It is, kind of.
Please, if you are addicted and wondering if you should go to a twelve step meeting, the answer is decidedly, yes. Secondly, if you are wondering if you are addicted, the answer is also probably yes. People who are not addicted to anything generally don't spend a lot of time worrying about whether or not they are addicted to things. Addiction seems to be one of those Smoke = Fire sort of situations.
Every once in a while I'll tell someone I'm an alcoholic (usually when a neighbor asks me to drive their kid somewhere and I don't feel like it) and in response she'll say, "Oh. Are you sober now?" And I always say: Yes, Nine years. But to me, a truer answer would be: "I'm working on it."
It's like when people say, "Are you a Christian?"
I'm working on it, I want to respond. Every day, I'm working on it.
Becoming sober and becoming a Christian seem like the same lifelong process to me. Each requires me to decide not to be a jerk one million bazillion different times. When I am a jerk, each insists that I forgive myself immediately.
Each demands that I sit with pain and anxiety and grief and joy and refuse to weasel out of them with booze or food or gossip or consuming.
Each requires faith that Someone Else is in control and that this Someone loves me. Each insists that I constantly rise above my own ego and hover up there long enough to see that BARELY ANYTHING IS EVER ABOUT ME. Each demands that I stop taking people and life so damn personally.
They require me to forgive myself and others for being human. To accept life and people on their own terms. To tell the truth and listen to the truths of others. To seek first to understand. To let the past go. To let the future come.
Sobriety, conversion, marriage . . . they are based on one single decision, but the more important part is making that same decision again every single day, in every single moment.
So am I sober? Are any of us? I'm working on it. I'm getting sober-er each day. That's good news. I am very, very pleased with that. That is my life's work.
Jonah Part Two coming soon.
Love, G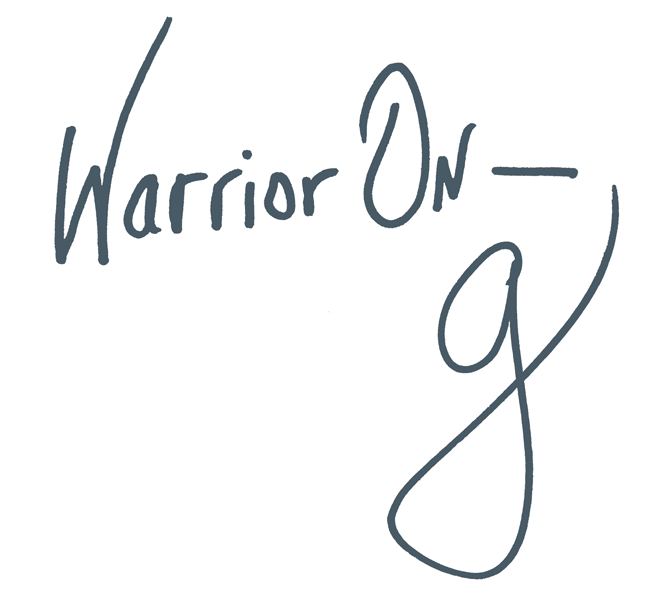 Author of the #1 New York Times Bestseller LOVE WARRIOR — ORDER HERE
Join the Momastery community on Facebook, Twitter, Instagram & Pinterest