Hello, Lovies.
So sorry for the lapse in writing. I've been trying to write – trying pretty hard, actually. But I think my Lyme has damaged the half of my brain that is usually in working order, the writing part of my brain. It's a dilemma.
The last two weeks have been weird. I've been exhausted and a little (a lot) depressed. When I found out that my Lyme was back, I developed a brilliant plan which I shared with my friends and family. My plan was to refuse to have Lyme, and to carry on with my regular life. I thought that this plan would work, because honestly, I am just too peppy and spastic and optimistic and rebellious to really be sick.
My body is rejecting my plan. It is insisting that I do, in fact have Lyme. And along with all kinds of other fantastic symptoms, Lyme makes one sort of…well, stupid. Stupid-er, in my case.
I once went to a Lyme symposium at which several experts spoke about the disease. One of the experts actually had Lyme herself… and she was brilliant, but it became clear during the first minute of her speech that she couldn't remember any words. I'm not kidding. She'd say . . . "I'm here today…to…to…to….hmmmm." And then she'd look down at her notes and say "Oh, yes! To discuss LYME DISEASE. Lyme disease is caused by …by…by….by….hmmmmm. OH YES! A TICK!" And this sort of thing went on for thirty minutes. At one point she was trying to describe her life on her family's farm and she actually had to describe horses to us, because she couldn't remember the word horse. "I love to ride large . . . tall . . . brown . . . animals. That gallop. And say 'neigh.' And I brush them." Like that. This woman was a doctor. I can't say that this particular symposium was very comforting.
Anyway. Like the sweet doctor, I can't remember any words right now. Or where I am, quite often. Truly. Also, when Craig is talking to me, I don't have any idea what he's talking about. Which is not new. At all. But usually I don't know what he's talking about because I am thinking about writing, or the sky, or paint colors. But now when he's talking, I'm not thinking about anything else. I just can't process. He talks. And I stare. And then when it becomes clear that it's my turn to talk, I keep staring. And then he says, "Okay. Never mind." And I say, "Okay. Sounds good. " And then I try to remember what I was doing before he started talking.
You can imagine that due to my brain deadness, whipping up any sort of essay for you all each morning has become problematic. Mostly since I can't usually even remember what our little blog is about. Something about monasteries, right? Are we monks??? I can't find any robes lying around anywhere and I apparently have several children which seems odd for a monk. Hm.
This whole brain issue has been stressing me out. Stressing me right out. Because we need each other here. And I thought…man. I don't know how to keep this going. I have nothing to say. I have nothing to say, other than: WHERE ON GOD'S GREEN EARTH ARE MY KEYS, PEOPLE? Damn.
But yesterday I was laying in the bathtub thinking about my sister, who is coming home for good tomorrow. For good. Tomorrow. She and John will arrive on my doorstep at 8am. The whole family will be here waiting. At this point in time I can't really remember who the whole family is, but I am assured that they will all be here and that several of them are lovely.
Amazing. She's coming home.
And then I started thinking about Christmas, which is also approaching fast. This Christmas thing, it's a big deal for us Christians. God coming to Earth to live and love and die for us is a pretty big deal.
And I was thinking that even though I might be pretty stupid these days . . . I can still recognize holy ground when I see it.
The next few weeks are Holy Ground. For lots of us.
And so I thought. Hm. Maybe I'm not supposed to be fighting my way through this haze – grabbing desperately for something, anything to say. Maybe I'm supposed to shut up for awhile. Maybe God wants me to be quiet and soak in the arrival of my Sister, and of His son. Maybe He wants me to make some room for them.
Maybe God actually has to render me catatonic to get me to hush. To rest. To Be Still. Because that's what this season is about, isn't it? It's about slowing down. Making room at the Inn. Practicing our faith that He makes the world spin, we don't. So if we just stop for awhile, it'll be okay. It's about marveling at miracles. It's about getting very, very small, and very, very cozy. Halting production. Quitting consumption. Worshipping. It's about gratitude, worship and awe.
Come, Let Us Adore Him.
And so that's what I'm going to do. I am going to get very quiet for awhile. At least for a month, I think. I am going to soak up the arrival of my Sister and my Jesus. I am going to spend my usual writing time curled up on the couch with my coffee and my Bible. Reading, listening, thinking, praying. They're all the same things, really. For a good long while, I am going to stop pouring myself out and start soaking Him in. Because when I start to feel drained, it's time to stop and fill myself back up. So I am going to create some silence and space. That's where creativity starts, anyway. Not through struggle, but through space. I never, ever, get more accomplished in my creative life than when I commit to doing nothing. All creation starts from nothingness, right? That's how God started creating, anyway. I could take a lesson.
And so, I am leaving you for a bit, to prepare for Christmas. Not to decorate prepare or mall prepare. To really prepare.
I love you all so much. I am crying right now, that's how much I love you. You make my life fuller and truer and more magical. And I want us to do 2011 together. Let's rock it out, together. I'll meet you back here at the end of January. Don't forget about me.
Happy Holidays and Merry Christmas, Monkees.
Love, G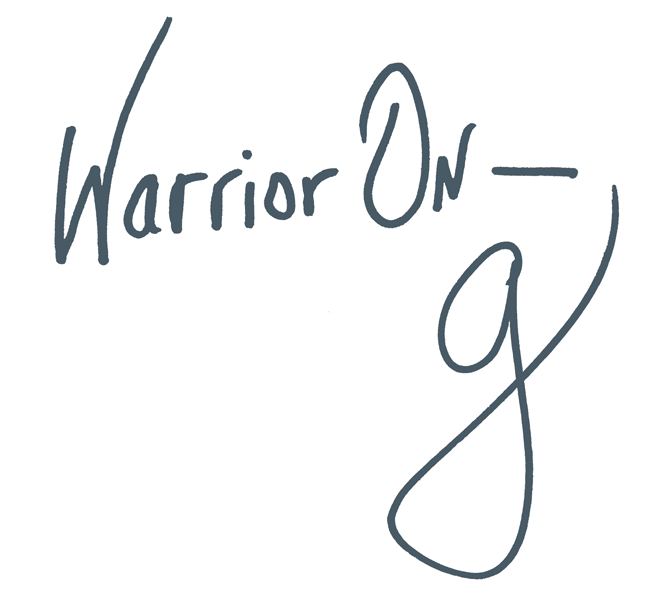 Author of the #1 New York Times Bestseller LOVE WARRIOR — ORDER HERE
Join the Momastery community on Facebook, Twitter, Instagram & Pinterest