Monkees.
Our auction was a ludicrous success. Andrea and I put three checks in the mail this week.We sent $1863 to Sarah and $1863 to Rocky. I actually took pictures of the checks to show you, but right before I posted them, Craig suggested it might be better not to post onto the world wide web our account and routing numbers. Oooooh, I said. Yes, I see your point. Smarty pants! We are a good team.
Those are Chase's hands. My fingers are actually even stubbier and my nails are dirtier.
The third check was written for $500 and was sent to Jill to spoil the heck out of Evy and Stella this Christmas.
A very special businessmonkee dedicated a portion of all of her November sales to the Carrolls this Christmas, and this $500 gift was from her. She specifically asked me not to mention her business' name, because she didn't want there to be any confusion about her motives.
Amazing, huh?
But hold on, Lovies. Our Lovefestivus is not over yet . . .we have one last trick up our collective sleeve.
Monkees…meet my precious, brave, huge-hearted friend . . . Leigha.
Dear Monkees,
In mid-October my daughters (ages 2 and 4) and I made Halloween cards for their grandparents who all live out of town and mailed them off. The grandparents were so touched that each set mailed either a card or a letter back to the girls. Their Nona even included two pairs of Halloween socks which they wore proudly for a somewhat disgusting number of days before they would take them off to let me wash them. It soon became a daily adventure to run to the mailbox everyday. "Why are we getting so much mail?" Anna asked one day. "Because you did something that made them feel special and now they want to do something to make you feel special," I told her.
A few days later I read Andie's post and I wanted to do something to help. My first thought was I am going to get that mother a "We Can Do Hard Things" plaque but another Monkee was already taking care of that. Then I started thinking about Sarah and Skylar; what could I do to make their day brighter? My mind wandered back to my own children being thrilled with receiving mail. I thought, "My girls and I could do that! We could make cards and send little surprises in the mail." My thoughts started snowballing until I arrived at the conclusion that what would really be fantastic would be if I could get lots and lots of creations from lots and lots of kids to send to Sarah and Skylar.
If our children are mirrors, and that they believe what we believe, then we should invite them to be a part of caring about this family when so many grown-up Monkees have stepped up to give the best of themselves?
PROJECT GREEN LIGHT, MONKEES!
My goal is to send the girls little care packages in the mail about twice a month. I hope to be able to include artwork of all types made by children of all ages. Today I would like to ask you and your children to create mail for Sarah and Skylar. The sky's the limit here, so let the creativity soar. Some suggestions to get the juices following include (but would never be limited to) making "Fight Like a Girl" posters, writing about a time you had to be brave and what helped you get through it, pictures making silly faces, pictures of your pets in costume, and anything else that might get a giggle from a two and half year old girl.

Maybe something like this:
You guys, I think those are princesses kicking each other's asses. Fight like a girl. Brilliant. Just brilliant. . .
Let's send Rocky some art. Because everything will look so different to Rocky when she arrives. But kids' art is kids' art, no matter what country it's created in. Hearts and rainbows and stick figures, they translate. Child to child. Heart to heart. Hand to hand. I love it, I just love it.
Please send the artwork to Momastery at 37 Pidgeon Hill Dr. #280 Sterling, Va 20165. Leigha will collect all the artwork and send it on to the girls.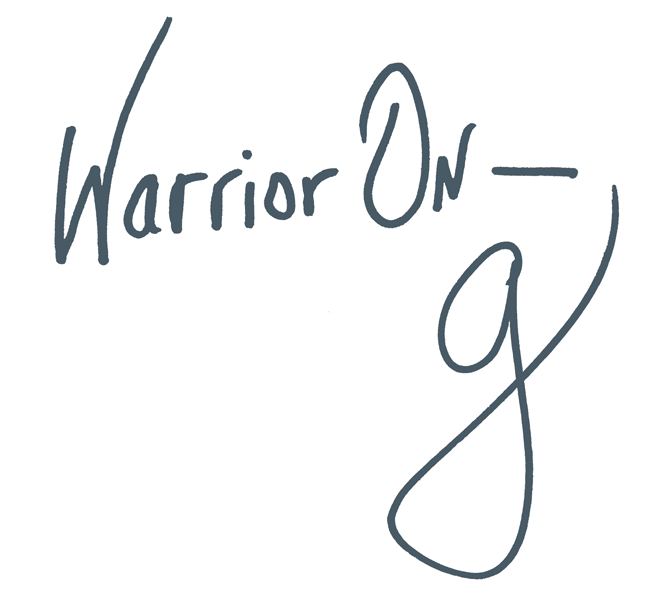 Author of the #1 New York Times Bestseller LOVE WARRIOR — ORDER HERE
Join the Momastery community on Facebook, Twitter, Instagram & Pinterest