I'm not sending out Christmas cards this year. I couple weeks ago I thought to myself, "I should get started on those." But then right after I thought that, I felt a pang of stress. It was just a quick little jolt, but it got my attention. So I immediately decided to tell myself the same thing I'd tell a friend. I said to myself, "It's okay, G. You don't have to send Christmas cards this year. No one's the boss of you. No cards."
And it felt so good. Soooo good. There is stress that is unavoidable and stress that is chosen, and I'm going to try to let go of some of the chosen stress this year. I choose to rest and watch Christmas specials and take baths and trust that even without cards, my friends and family will remember that the Meltons exist.
So Merry Christmas, friends! We all look pretty much the same as we did last year.
Even so, I do have a very special card to share with you today. It's the Christmas card that my best friend, Adrianne, is sending out this year.
Adrianne used to write for Momastery. She was the first Monkee to read the posts each morning. She was part of our heartbeat. But something happened to Adrianne six months ago that knocked her down. Hard. And she has needed to save every bit of her energy to try to stand again. And she has needed to protect her heart for a long while. But she's decided that she's ready to open it again, to us. She's ready to tell us where she's been, and where she's going.
Monkees, My Adrianne.
This is the umpteenth time I have sat down to draft this year's Christmas card letter. Never having suffered from a loss for words, I'm a bit surprised at how difficult it has been for me. I've decided that the most fitting introduction I can come up with is Dickens' line, "It was the best of times, it was the worst of times."
I'll start with the worst of times. Brace yourselves, because this is a doozy.
On Mother's Day, I received a text message from Trent saying that he is no longer in love with me. (I told you it was a doozy.) I am unable to go into specifics regarding the abrupt ending of my marriage because I have upcoming court dates, and discretion is necessary. But to those of you who might be saying to yourselves, "I'm shocked! I thought they were really happy," I reply, "Yah, SO DID I!" Needless to say, it was a lousy Mother's Day.
Without going into the gory details of the past six months, I'll bring you up to date with where I am now. Trent and I have been separated since May 10th, and I am hoping to be officially divorced in March. I am living with the kids in our townhouse, and I am okay. Trent is living in a nearby apartment, and he spends time with the kids regularly, based on a schedule negotiated by our lawyers.
This spring and summer were dismal. I've tried to write descriptions of the pain this sort of thing causes, but I simply do not have the vocabulary to explain it. I feel like I would have to create an entire new language to accurately portray this experience.
The most difficult part of the entire situation, by far, has been watching Paige suffer. She has been seeing a therapist regularly since the split, and she has come a long way. Thankfully, she has a wonderful first grade teacher this year, and she is doing well in school. She is also enjoying Tae Kwon Do classes.
Even though the Grinch stole Mother's Day, I decided that he would NOT steal Christmas. So Paige and I recently took a girls-only trip to New York City with a dear friend and her daughter. We had a marvelous time! Paige's favorite part of the trip was the Radio City Music Hall Christmas Spectacular. It was a magical start to the Christmas season.
Grey has truly been the light of both my life and Paige's during this difficult year. Although he displays some confusion after transitioning from one parent's home to the other, he is too young to understand what has happened to us. He is concerned mostly with cars, trains, airplanes, and anything that moves. He remains a jolly, happy soul.
Dear ones, my heart is full and truly grateful as I sit here and type. After my world collapsed and the dust began to settle, I learned some beautiful truths. I learned that I have a family who loves me fiercely. I learned that I have an army of friends ready to come to my rescue. Friends, new and old, came out of the woodwork to cheer me on, laugh and cry, and commiserate. I feel more loved today than I ever have.
At the risk of sounding overly Jesusy, I must also give a shout-out to my best friend, who was born in a manger. In the midst of my panic and sadness, I felt the warmth and calm of God's loving arms holding me tightly. There is no doubt, friends. God heard my cries for help, and He answered me.
At this moment, our house is warm and lit by a beautiful Christmas tree and a whole lot of love. My children are upstairs sleeping under peaceful skies. I am optimistic about the coming year. I am a lucky woman.
Love,
Adrianne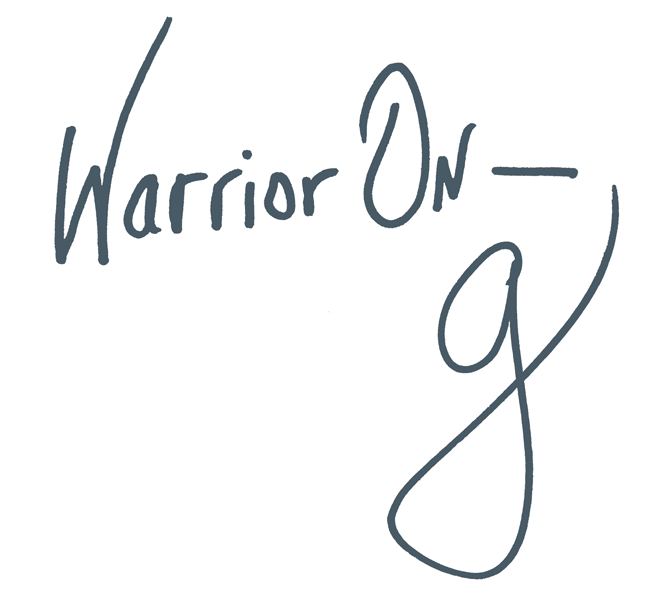 Author of the #1 New York Times Bestseller LOVE WARRIOR — ORDER HERE
Join the Momastery community on Facebook, Twitter, Instagram & Pinterest