So, the problem is that I don't know how to begin.
I'm just . . . I don't even know what I am.
I'm sitting here alone in my chilly kitchen this morning. It's dark and quiet and all I hear is the sound of the coffee machine bubbling behind me. Hurry up, coffee.
Every so often I also hear the stairs creak and I pray it's not one of the kids. Not yet, not yet! I' m not ready. I need some time to talk to my Monkees.
I'm tired. We three (Chase, Andrea and I) were up late into the night counting bids and crying and celebrating.
The auction was a success beyond what we'd allowed ourselves to imagine. When all is said and done, we will have raised close to $4000 for our friends, Evy and Rocky. Crazy, right? Crazy love.
But we all know it's not about the money. For me, it's not even really about Evy and Rocky. Those girls are gonna be all right . . . I know it. For me, it was about Jill and Tova. It was about taking care of mamas. About proving to them that people will show up. It was about creating balance. When something awful happens, so will something wonderful. Keep watching. It was about being Sisters. And Brothers. That's what it's always about here.
Six months ago, I got some world shattering, faith shaking news from a friend. And I was in my car at a stop light and I was crying and I was really, really angry at God and the whole world. And in my head, I spat at God, "What the hell?? Is this the deal down here, then? Does love even really win? EVER?"
And I am telling you that I sensed Him answering: "I don't know, G. Does it?"
And so today, I can finally answer Him.
Yeah. It does.
Yes. It does.
Love wins.
On Earth as it is in Heaven.
Listen, I'm just a mess this morning. When I first got to the computer, I was okay. I had a writing plan. But then I opened up an email from a new Monkee who loves us and whom you will love that was so honest and beautiful that it knocked the wind out of me.
She closed with this:
There is a song by Bebo Norman, called "Borrow Mine." It is a song he wrote about a conversation heard between two friends; one, who was going through deep personal troubles, told the other, "I just don't know if I have faith anymore." The other fried replied by saying, "Then, you can borrow mine. I'll have enough faith for both of us."
I know.
My favorite part is that the friend didn't say, "I have enough for both of us." He said "I'll have enough for both of us." Because love is an act of will, isn't it? It's a choice. Always a choice. Love is a stubborn, willful act of hope. Loving is saying I believe. And the only thing that matters is faith expressing itself as love. Nothing else. Absolutely nothing else.
Here, we are making the choice to believe and behave like We Belong To Each Other. We believe that Love Wins. We believe that at any given point in time, some of us will have enough faith in that to carry the others through. We have decided. That's what God meant, I think, when he said, "I don't know G, is it?"
He meant: "It's really up to you, honey. What do you think? And what will you do about it?"
It was up to us to take care of Tova and Jill this week. And we did it. With our art and our money and our enthusiasm and our time and tears and keyboards and prayers, we loved them. We had enough faith for each other.
You listen to me. Don't be afraid. You can rest and relax. Just breathe. Because if you lose your faith, we'll have enough for both of us. We will carry you through. You belong to us. It's True.
This thanksgiving, I am so, very, incredibly thankful that Love Wins. And I am so thankful that we are helping each other prove it.
A million blessings to the Whole Monkee Family, immediate and extended. When I take my first bite of thanksgiving dinner, (which obviously I will have had zero part in preparing) I am going to think of you, and of us, and of all the Monkee Miracles.
Love, Love, Love forever.
G
PS. Please head over the auction page, when you get a chance, to check out the results and next steps.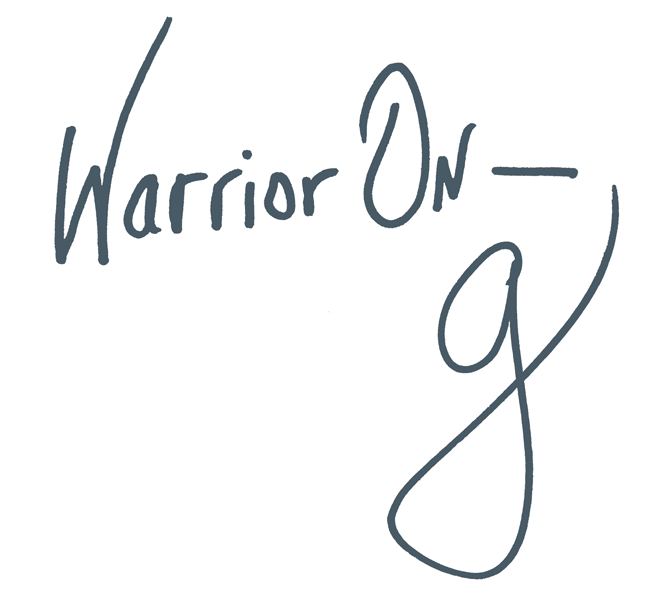 Author of the #1 New York Times Bestseller LOVE WARRIOR — ORDER HERE
Join the Momastery community on Facebook, Twitter, Instagram & Pinterest