There is a woman named Anne Lamott, and she lives in California and writes down big beautiful stories and ideas that God gives her. She, together with Sister and husband and Jesus, convinced me that I could just go ahead and be myself already.
Before I met Anne Lamott, I thought I had to choose between God and myself. I'm not going to explain that right now, but the important thing is that her stories and ideas taught me that I didn't have to make that choice. She taught me that those two things were the same choice, actually. When I read Anne Lamott, I feel like maybe I'm okay. I also feel like maybe she's said it all, and I shouldn't bother adding anything else. But then I remember that she would probably tell me otherwise, so I keep writing.
If my children don't end up with enough money to go to college, it will be because I bought so many books by Anne Lamott. And I'll be fine with that. I have given Traveling Mercies to one friend four different times. She didn't have the heart to tell me until the fourth time, when she asked me if I was joking. I just want my friends to feel as free and kind and calm and understood as I do when I read her. I also like to buy her books repeatedly because each time I buy one, she gets a few bucks. So when I hand my money to the Borders cashier I imagine that I'm buying a coffee for one of her funny friends, or a flower to put in that beautiful hair that helped make her who she is. And I feel like I'm sending her a thank you card, without bothering her by actually sending her a thank you card.
Last week Krystal wrote on the Momastery fan page that Anne Lamott was going to be speaking and signing copies of her new book, Imperfect Birds, at a book store in Northern Virginia. I started sweating when I read that. But there was nothing I could do about it, because I don't live there anymore. I was so relieved that there was nothing I could do about it. But then one of my best friends, Joanna, wrote on the wall that she would go. That she would Go Meet Anne Lamott For Me. And then I just shut the computer because I couldn't take it anymore.
I don't know how to tell you about Joanna. Maybe if Sister and I had another sister, in between us, it would be Joanna. She would be the artsy one who is always trying to make our lives more like art, more colorful and open for interpretation and outside the lines. And we would be like book ends for her.
So I wrote to Joanna and said don't go, hoping that she would ignore that, and I spent the whole evening trying not to wonder if Joanna was listening to Anne Lamott for me. I ate a lot of popcorn.
The next morning, Joanna wrote me an email and told me that she was not going to tell me anything about what happened at the reading unless I called her. Joanna is always trying to turn me into a better friend by insisting I speak to her instead of just write to her. I find this annoying and unsettling and wise and brave. So I lied and told her I couldn't call. Because of some phone problems. And she knew I was lying, but she gave in and wrote to me anyway. She wrote all of the beautiful things Anne Lamott said. And she told me that she had written a card to Anne Lamott. And that she had smiled and accepted the card with both hands and hugged the card to her chest and said, "Yay! I'll take it home and read it tonight!" This is the card Joanna wrote to Anne Lamott. For me. For her friend.
When I saw these pictures, I sat at my computer and cried for a long time. Because I always thought that if Anne Lamott ever actually read my writing, my life would somehow be different. That it would be magical. But as I looked at the card Joanna made, and imagined her dragging her pregnant, tired self to that book store to make contact with a woman she'd never read, simply because I loved her, and she loved me, I realized suddenly that I didn't need Anne Lamott to read my writing. Because she wasn't the magical part of the moment at all. The magical part was Joanna. The magical part was that I have a friend who loves me so much that she wanted to thank the woman who helped me have the courage to be myself.
I don't know how to get over that. I'm just so full about that.
Life's magic is never on its way. It's always already arrived. Joy is catching a glimpse of something extra-ordinary that we were lulled into thinking was ordinary for awhile. Like when we remember that each sun beam is actually a rainbow, because one hit the window at just the right angle. So we stop to look closer, and our eyes widen.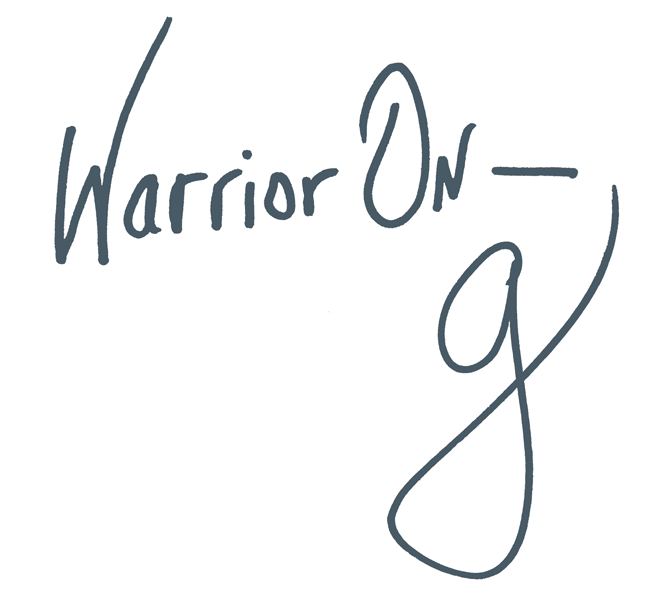 Author of the #1 New York Times Bestseller LOVE WARRIOR — ORDER HERE
Join the Momastery community on Facebook, Twitter, Instagram & Pinterest