Some days are just too hard to write about. Like today. Today's my baby Sister's birthday. Tomorrow she leaves me for Rwanda for 9 months. Where she'll use her law degree, her courage, and her faith to fight to protect brutalized little girls for whom noone has ever fought before.
So instead of writing, I sit here and think. Or try not to, rather. And I stare at pictures of her on my computer and I swallow hard. I have no clue where to start, or what to say, or how to even pray. So I think, I'll just write nothing. It's too hard. Everyone will understand. Sister will understand. And so I close up the blog. Nothing today, friends.
And I open my email, and this message is waiting from Lou. My Lou, your Lou. The Lou we all met through Momastery. And she writes this:
I've been thinking about Sister too. I hope you are posting the prayer for Sister this week. I still like that prayer, G. Usually whenever I go back and read something I wrote, I want to edit it. But I don't have that feeling with that prayer.
Here's Lou's prayer. It's by my bed. I am going to pray it every morning and every night until my baby sister is back in my kitchen. Cooking, preferably. I would love it if you would pray it once too. Just reading it today counts as praying, of course. Everything counts as praying.
Dear God,
I'm scared. About Sister. I don't want her and her family to be scared all the time. I want them to be able to sleep at night. And wake up with hope and faith and excitement. And have peaceful hearts throughout the day. I lay all my fears down at your feet. Pick them up and take them away from me. So I can be strong and fierce and continue to pray for her work in Rwanda. Where they need her. Those who are oppressed. Who live in fear daily. Hourly. Those who have been treated unfairly. For Sooooooo Loooong. Thank you for all the experiences in Sister's life that prepared her for this time in this place. Rwanda. Protect her and keep her safe. And healthy.
Provide her just-in-time emotional, physical and spiritual rest, energy, and stamina. Sufficient and abundant preparation in all aspects. Safe travels. Safe shelter. And MORE SAFETY for God's sake. Not too many bugs! Good companions… relational and professional. Someone who makes her laugh! Someone particularly blessed with whom she can share her burdens! All the expertise needed. God-given slip ups on the part of the oppressors and God-given contacts from the oppressed with people at IJM. A flannel pillow or some other cozy thing. Bravery and courageousness for her and all those working with her and for all justice seekers and for all the oppressed. Sunlight, stars, and the beauty of God's creation! That the right people will be placed in the government and in power to do the right thing. That the laws are in place and changed as needed to rescue the oppressed. The sound of children laughing and singing! That hearts will be touched and changed because of the truth and light God shines through her on these situations in Rwanda. Beautiful hearts and good memories! That those who are rescued will be healed and comforted with bandages, and people, and rest, and the Lord. The smell of coffee or tea or some other lovely thing! That oppressors hearts would also be rescued and redeemed. Some justice here on earth! Just the right amount and kind of contact from home that she requires and desires. Powerful prayers continually being lifted up for her. Seeing and feeling God's presence powerfully every day! Did I mention safety, Lord? Keep her safe and secure, not only in your love and faithfulness, but in one piece, because G needs her back home here when she's done. Amen.
Amen.
I love you, Baby Sister.
I'm glad I still have a little Amanda to hold while you're gone.
She can't cook, though, Sister.
Hurry.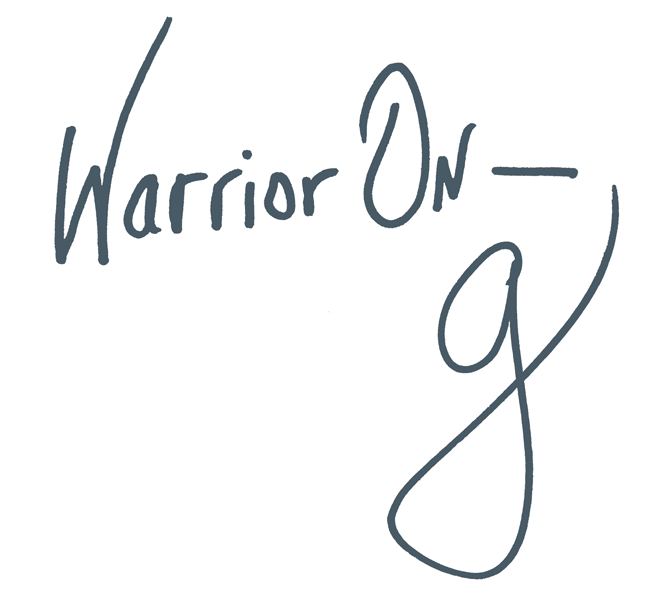 Author of the #1 New York Times Bestseller LOVE WARRIOR — ORDER HERE
Join the Momastery community on Facebook, Twitter, Instagram & Pinterest