I've decided to continue writing about my mother's side of the family. Their eccentric ways have given me so much material, it would be criminal not to share more with you.
My grandmother's name was Ozella Maud Spencer Cox. Family members and close friends called her Zell. If you think that just might be the most awful, countrified name you've ever heard, check out her sisters' names: Mattie Lou, Annie Mae, Edna Dora, and Fanny Leona. Ozella married my grandfather, Willie Mack (Mack to friends and family), when she was 13 because it was a way for her to get out of the cotton fields. Can a girl get more country than that?
My grandmother Zell was a tiger! She was bossy, aggressive, and loud, especially when she was drunk. And she was drunk a lot of the time. They lived in a tiny Texas town where everyone knew everybody else's business, and my mother was constantly embarrassed by her parents' alcoholism. Ozella and Mack always fought while drinking, and Ozella often won. They had their fair share of vicious verbal arguments, but they also had knock-down, drag-out fist fights. Zell was a strong, large-framed woman, and poor old Mack weighed about a buck thirty dripping wet, so the fights were pretty fair. One time, she stabbed him. According to my mother's account of the story, Ozella "gutted Daddy pretty good," but Mattie Lou managed to "tie his stomach up" until the doctor arrived. I'm not entirely sure what that stomach tying procedure entailed, but it sounds gruesome. Another time, Ozella shot him in the leg. Don't feel too sorry for old Willie Mack, though. He got his licks in. On weekend mornings, Ozella could sometimes be found sitting at the kitchen table holding a raw fleshy steak to a fresh shiner.
One of my favorite Ozella stories is one in which she loses her temper. Truth be told, the vast majority of Ozella stories involve her losing her temper, but this is a goodun.
My mother was the child of drunkards, but she was a well-dressed child of drunkards. Zell like to drink, and she also liked to shop. (My kind of gal.) So my mother wore stylish clothing while attending the podunk town's little elementary school. One day, she went to school decked out in a brand new skirt that was flared and fancy. There was a large sitting rock on the schoolhouse play yard, and she and her friends used to sit on it during recess. That particular day, my mother sat on the rock and spread out her new skirt. She was proud of it and wanted to show it off to her classmates. She was holding her baton, one of her favorite toys, which she used to bring to school and play with during recess. Her friend Joanna came over to sit on the rock with her and accidentally sat on the edge of the skirt. When the bell rang to tell the children it was time to line up and go back inside, my mom jumped up off the rock before Joanna, and her new skirt ripped all the way to the top. My mother was devastated that her new skirt was ripped, and she was also embarrassed. The rip was so large that her undies were showing. My mom didn't line up with the other kids. The teacher on playground duty, Mrs. Smith, walked over and told her through clenched teeth to GET IN LINE. My mom was carrying her baton while trying to holding her skirt together, and she refused. As punishment for not following directions, Mrs. Smith grabbed the baton out of my mother's hand and wacked her on the back of the legs with it several times. Hard. My mom was crying and left school right then and there. Her legs were already black and blue by the time she walked home.
Oh, Lord, Ozella hit the ceiling when my mother came home in tears and told her what happened. She flew into a rage. She grabbed the baton out of my mother's hand and they both got in the car immediately. Together, they drove to the school and marched into the principal's office. Ozella stormed in with baton in hand and loudly explained to the principal, Mr. Jones, how Mrs. Smith hit her daughter with a baton and left marks, so she was on her way down the hall to show that teacher what it felt like to be beaten black and blue with a baton.
Now, here is the sad part of the story. The principal was able to talk Ozella out of beating the crap out of the teacher that left bruises on her daughter. It took some smooth talking, but Mr. Jones managed to do it. The abusive teacher didn't return the following year, so she probably got what she deserved in the end. But still…I sorta wish old Zell had left a few bruises on the back of that teacher's legs.
I think the reason I love this story so much is because it shows my grandmother fiercely defending her child, my mother. Most of my mom's childhood memories are ones in which her own mother is the one doing harm. In this story, Ozella comes to my mother's defense. In spite of her outrageous flaws, Ozella loved my mother and wanted to protect her.
Now, those Monkees who know me in real life are probably busy listing all the similarities between me and my grandmother. There are a lot of them, I know. When I get my Ozella up, bad things usually happen. But I haven't stabbed or shot anyone. Yet.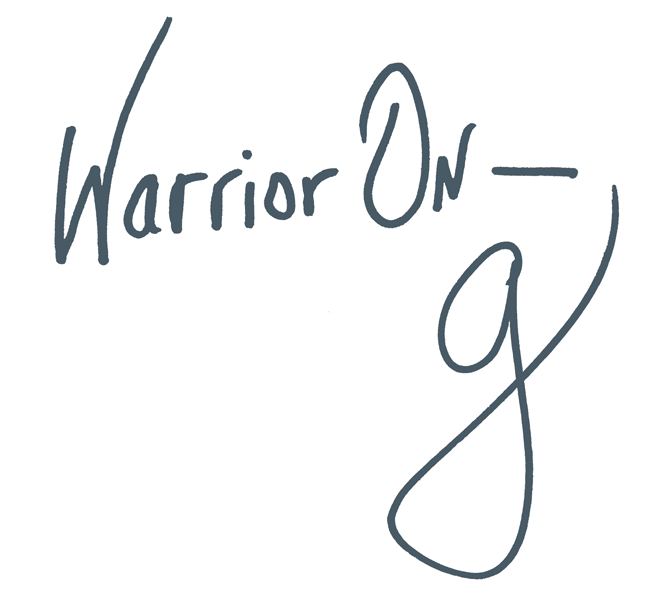 Author of the #1 New York Times Bestseller LOVE WARRIOR — ORDER HERE
Join the Momastery community on Facebook, Twitter, Instagram & Pinterest