As promised, today I'd like to introduce you to the first best friends Sister and I ever had, our cousins.
Meet Lindsay, who always looks like she just stepped out of a magazine. Her beauty is so dramatic that it almost feels like an act of aggression. She lives in Arizona and I'm pretty sure she runs the place. She and her b-fri Jonathan have hearts as big as their bar tabs. Just like her parents do, Lindsay takes special care of the littlest ones in our family. She makes them gifts and plays with them when no one else is watching. I always notice and appreciate her for that. My kids do, too. Children are good judges of character, and they'll tell you that Lindsay is their favorite. This could be because Lindsay makes them practice saying "Lindsay is my favorite" over and over, but for whatever reason, they love her. I do, too.
Here is Allison. Allison stepped into a few big dreams this year. Her life love, Troy, who is definitely a Monkee at heart, asked her to marry him several months ago. They are planning their wedding, with the help of their little girl, Audrey. Allison and Audrey are living proof that biology is not necessary to motherhood. Allison has stepped into her role as a mother to Audrey with as much excitement and ease as I put on my yoga pants each day. It's a miracle, really, their little family. They are going to take good care of each other, and I'm grateful. Thank you, Troy. We really like you. Although apparently not enough to take a picture of you. Sorry, buddy.
Meet Bill William Football. This is what he used to make us call him when he was little. Now he's big, and kind and hilarious and a super star in our family. Bill is the younger brother of Lindsay and Allison. When he was smaller, Bill used to have an imaginary friend named Jake, whom Bill made us acknowledge and feed and play with. Now he has a realer, much more attractive friend named Erin. If you meet Erin, you will be tempted to put her in your pocket so you can pull her out when you get sad. Bill and Erin are both studying to be elementary school teachers. I feel happy for the world about that.
This is Lauren, our resident genius, with her boyfriend, Justin. Lauren takes after our grandfather and is studying to be a surgeon. She's in podiatry school right now and
while examining a cadaver
, she identified a previously undiscovered condition, and she won awards for an article she published about it. Every once in awhile Lauren sends Sister and me doctory essays to "edit," and we spend ten minutes trying to read all the six syllable words and then we give up and send it back with a smiley face and a GREAT JOB! So we feel partly responsible for Lauren's medical success.
Sister and I used to call Kathleen
, the best we've got
. No offense to the rest of the cousins, but you know it's true. Kathleen is smart and kind and has always been wise and mature far beyond her years. Which is why none of us really understood much of what she was talking about for a long while. But now we do, and she makes us so proud. If we had to send a representative of ourselves somewhere, we'd send Kat. Kathleen is interning with a non-profit this summer and I would vote her most likely to change the world.
Here is Sister and Colleen. Colleen is our baby, although she'll probably be annoyed that I described her that way. Colleen is SASSY. She likes dancing and fashion and cheerleading … and just when you think you've got her pegged in a nice little high school category, you catch a glimpse of her report card on the fridge and notice that she has a 4.3 GPA and is taking classes like AP genetics. So I don't know. That girl is something. Lauren, Kathleen, and Colleen are sisters, and best friends. Their mama raised them right.
Here is Christine, the only cousin I might describe as quiet. Which really just means that she is not constantly screaming, like the rest of us. She is elegant, that Christine. Actually she's the only one of us whom I'd even consider describing as elegant. Christine is studying to be a pharmacist and I imagine she looks really hot in that white coat. I also imagine that being raised in our family encouraged her belief that prescription drugs can be very, very important. She is a good listener, which is hard to be in our family because of the unbelievable din. Christine is a gentle, bright soul.
Natalia is a singer and really, besides Lindsay, the only one of us who can really dance. Her mother and father are both career dancers, and they passed on their genius and gracefulness to Natalia. Natalia is a little fancier than the rest of us. Even her name is a little fancier. And she has the best laugh, for sure. I love trying to make Natalia laugh. She and her sweet and very tall husband, Chris, are expecting their first child in a few months. So our party next year will be plus one. We just found out that our plus one will be a little boy. Joy.
This is Frankie with his classy, beautiful girlfriend. I don't know where to start with him. Frankie's the biggest cousin, with the biggest heart. When Frankie sees me and his face lights up and he picks me up a little off the floor and keeps hugging me longer than he has to, it always makes me tear up. Frankie makes everyone feel special, like each of us is his favorite. Just like his daddy used to do. Frankie is just like his daddy, who is another post all together. I'll get to Uncle Frank when I can figure out how to do justice to someone whose personality was larger than words
Here is Ali –the spiciest one we've got. If you'd like to know where Ali got her spice, please see this post about her mom, Judy. Ali is a hair stylist, so she always looks this cool. That's her b-fri Josh. If you ever come visit us in Ohio, you're gonna want to find a seat next to Ali so you can be sure to hear everything she says. You won't be disappointed. Ali never disappoints.
And finally, here is my Caren. This picture was taken after Sister asked us to show her our "best sides" for a picture. I grew up a little bit in awe of Caren. A lot in awe, I guess. She was my brave pioneer, always experiencing life a few steps ahead of me. When we were little we spent hours in my grandma's attic making up dances, and then held the whole family hostage watching us perform. I remember once performing "Like a Virgin" for all the aunts and uncles and my grandma and grandpa. That had to be a little awkward, but I don't remember anybody letting on. As we got older, Caren taught me how to do my hair and make-up and even took me to high school with her once to teach me how to walk the halls and talk to boys. I never learned to do either one without terror, but she tried. Now we both have babies and husbands and we're learning how to navigate those waters together, too. I wish everyone had a Caren of their very own. If you don't, you can share mine, because she comments here almost everyday which fills my heart to bursting.
This is how every Kishman New Year's Eve party ends. I know, weird, right? I'll explain tomorrow.
Thank you for meeting my family. Wow, it means a whole lot to me.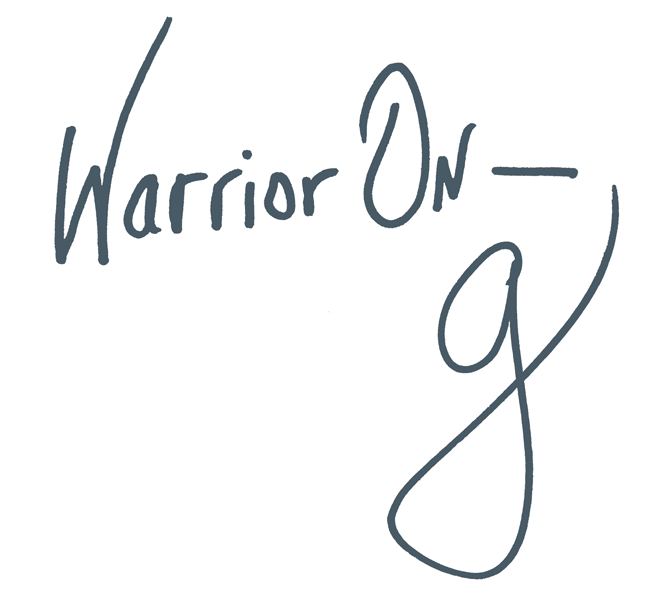 Author of the #1 New York Times Bestseller LOVE WARRIOR — ORDER HERE
Join the Momastery community on Facebook, Twitter, Instagram & Pinterest