Lobsters, soon after they're born, find one partner, lock claws, and walk together for the rest of their lives.
*I learned this lobster fact from Phoebe on Friends, so verify before sharing at a dinner party to avoid potential embarrassment.
Monkees, meet my Lobster, Amanda.

A Song She Can Sing In Her Own Company
I believe in believing in just a few, simple things.I believe that the beauty of believing is in your beliefs' longevity and longsuffering and loyalty – that the greatest blessing is to live long enough, and open enough, to see your simple, few beliefs made real in the adventure of your life.
So, I have decided share my key beliefs with you.
[You will note that I have exerted much effort to avoid discussing many of my other, let's say less-fundamental, beliefs with you.Sometime, it might be appropriate for us to discuss these.They include my unyielding belief that most people are doing the best that they can.That nothing is sexier than when a man stands up from the table when you come to the table and leave it.That refusing to ever say something about someone that you wouldn't say in front of them is the highest form of living.That if you need to drink Coke with your bourbon, you're not drinking proper bourbon, and that if you are drinking proper bourbon, it is a crime against humanity to drink it with anything other than ice.That it is not charity, but reward, to look for the goodness in others, because when you find it you can catch a glimpse of God.That people are unspeakably brave.That in this stormy, harrowing life –full of joy and miracles and suffering and nonsensical tragedy and struggles – maybe the key is not to decry the sun's absence, but to cling gratefully to the few, rare souls who will stand in the rain with you for as long as it takes for the skies to clear.Perhaps we can discuss a little later.]
Mostly, though, I try to hold the idea that a few infallible beliefs are all we need, and exactly what we need, to sustain us and help us keep the most important things the only important things.So, these few beliefs are the center of me:
I believe in God and my family and the reality that you have to lose your life to find it.
And I believe that you have found your life when you find
A song that you can sing in your own company.
I believe in God and my family.I believe in God with the certainty that I believe that Sister loves me – even though you could never prove she does – because of the way she shows up, everyday, to save my life.I believe in God because he held me the morning I was curled up and broken on the couch on my porch – the morning I realized my dreams were crushed, every promise worth keeping was shattered, and the life, home and marriage I had built were gone.I believe in God because He stood watch at the bedside of my sorrow, nursed me to health, and restored me to a life that I could have not imagined before my suffering began.I believe in God because He is as present and real to me as the breeze that moves my hair and the leaves crunching under my feet – as He shows up, everyday, with a small miracle to let me know we're boys, and where He wants us to take this adventuresome life.Just as some people pursue money because they have faith that it will afford them a life of security and comfort, peace and excitement, I pursue God because I can't imagine a life more exciting, peaceful and adventuresome than the life we will have together.I believe in God because God shows up, everyday, to save my life.
I believe you have to lose your life to find it.I believe we spend a lot of our lives trying desperately to get what we don't really need.And the trouble with that is we can never get enough of what we don't really need – so we are constantly salivating and struggling but we remain hungry and empty.But when we finally break free from the belief that we need the things we don't – when we give up on the standards of success and normalcy and progress that don't come from within us but have been hoisted upon us – when we lose that life, we gain the possibility of living the life we were meant to live."For what good is it for a man to gain the whole world, yet forfeit his soul?"Mark 8:36.
I believe that you have found your life when you find a decent melody; a song that you can sing in your own company.Ernest Becker wrote:"Most of our life is in large part a rationalization of our failure to find out who we really are, what our basic strength is, what thing it is that we were meant to work upon the world."I think we learn our basic strength, that thing we were meant to work upon the world, when we find what breaks our heart.Or when we find what makes our heart hum.Or when we identify something that energizes and inspires us more than anything else on the planet.When we find that thing, that when we look upon it, we recognize ourselves.
You know that certain, specific feeling you have when you are somewhere new and strange and alone and you scan the room frantically for some familiar anything, and your anxious eyes suddenly rest on a smile you know and the foreign place is suddenly home, and a wave of warmth and comfort sweep over you?Just as our eyes scan for recognition of home in a strange place, I think our hearts do the same thing in this confusing world, overcrowded with so much that we don't recognize in ourselves.And for each of us, there is a unique place where our heart's gaze rests, and it is home – because it breaks our heart, or because it makes every fiber resonate with the joy of recognizing ourselves.Where our heart's gaze rests, this is the thing that reveals the unedited version of ourselves – the raw, one-of-a-kind dreams and desires and passions that compose our souls.
I believe that we all crave to know and to respond to this thing – this thing where our heart's gaze alone rests.To listen to this still small voice that whispers:I know the puzzle of your heart, and this is the piece that is your fit; this is the melody that is more beautiful to you than anyone else in the world.This is the song that you would sing over and over in your own company, if you never had to worry about what anyone else wanted to hear.
My dear friend Joanna is never more herself than when she is painting something that only exists in her exquisite brain, and because she is brave enough to create, the world sees colors and forms that would have never exist without her.The world needs Joanna's thing.
My dear friend Allison was specifically crafted to be a friend.She will stand by her friends through anything – even when they are wrong, even when she shouldn't – and she does it with every possible means of avoiding credit.Allison doesn't feel her friends' pain.She feels the pain her friends feel as if it were happening to her – because it is.I am convinced that Allison would rather burn up with me than leave me in a fire of my own making.The world, I, need Allison's thing.
My dear friend Bill's mind was made to mesmerize on Renaissance literature – he is brilliant at that thing – and students of the discipline for years to come will read his scholarship, and be fascinated and energized and full.The world needs Bill's thing.
A beautiful, strong woman I know, Karishma, after attending elite undergraduate and law schools, left her fancy law firm job to become a Yoga instructor.I can only imagine she made this leap because practicing yoga makes her feel whole and integrated and calm and strong.And now she is delivering to stressed-out New Yorkers a place of tranquility and empowerment.The world needs Karishma's thing.
I have a dear friend in New York, Michael, who loves to analyze stocks.He worked and prayed for years to land the position he is in now, projecting the viability and profitability of stocks.He is very happy, and he is helping lots of investors who don't have his gift.The world needs Michael's thing.
I met a woman last week – brilliant and beautiful – who wanted more than anything to use her law and business degrees to empower people to obtain better health care, but she had no idea whether this was possible or where to start.The world needs Kelly's thing.
The world needs each of our things – each of our things we were meant to work upon the world.And each monkee deserves to walk this world to the hum of a decent melody – even if it sounds decent to her alone.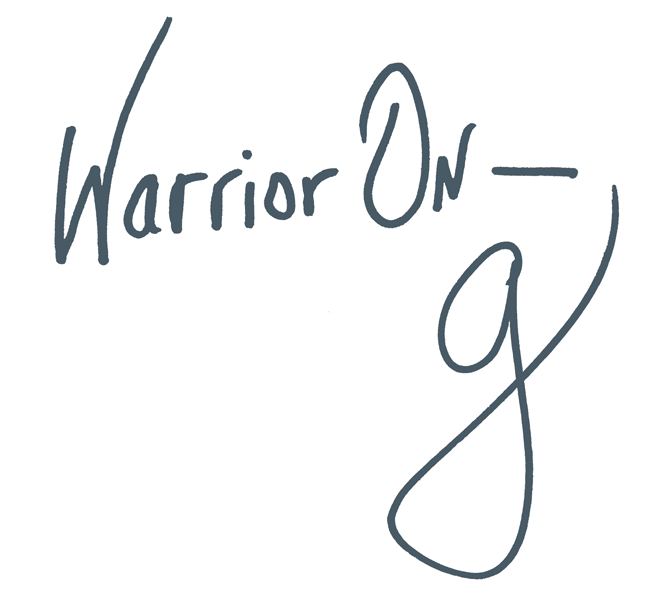 Author of the #1 New York Times Bestseller LOVE WARRIOR — ORDER HERE
Join the Momastery community on Facebook, Twitter, Instagram & Pinterest