"…Max said "BE STILL!" and tamed them with the magic trick of staring into all their yellow eyes without blinking once and they were frightened and called him the most wild thing of all and made him the king of all wild things."
-Where the Wild Things Are
This post is dedicated to the redhead who's like fire and water.
Krystal, a new blog friend, posted this comment a few days ago:
"I really don't understand how anyone could not LOVELOVELOVE food because I wake up thinking of what I'll eat all day, but maybe it's your faith and your wicked smartness that keep you full rather than food? I donno."
Krystal, to answer your question, I didn't know how to fill myself up for a very long time.
I've avoided writing about food because my obsession with eating and weight has always seemed like a raging fire that I narrowly and inexplicably escaped, and I was NOT heading back into that fire. Not even to save someone else who was burning. But now, with fear and trembling, I'm ready to return to the fire, because I've finally learned how to feed myself. And that is the most exciting sentence I've ever written.
I became a bulimic when I was very young, and I binged and purged several times a day for twenty years. My life revolved around what to eat, how much to eat, and finding the nearest bathroom to get rid of it all. Binging was something I did to surrender to life and descend into my own madness.I binged to numb the anxiety and fear that believers in scarcity experience. I binged because I was panicked that there would not be enough wonderful things for me. I was sure I'd be overlooked, left out, because there could not possibly be enough love or acceptance or time or money or food or attention or joy for me to get what I needed.Binging was like grabbing, hoarding. I remember bursting into my house after school and feeling like I couldn't breathe until I downed every leftover in the fridge, and purged it all out. The moment between the binge and the purge was excruciating, terrifying…that feeling of being so FULL. I would have done ANYTHING to get rid of that full feeling. It felt like hell. Probably because I was full of the wrong things.
But after reading Krystal's comment it struck me that lately I have felt filled with the right things. And I'd like to spend this week acknowledging and exploring this miracle in my life. Because when you finally start winning, it's a good idea to review the game tapes and find out what you're doing right, so you can try to keep doing those things.
This week, Momastery is dedicated to how I learned to feed myself.
The first thing I had to do was get quiet enough to learn what I was really hungry for.
I am extremely sensitive to voices. I tend to listen closely, believe, and obey. In order to start making this tendency work for instead of against me, I had to decide which voices to allow into my head and which voices to silence.
Right now there are teams of experts all over the world determining how to make you and me feel needy enough to buy their clients' jeans, homes, diet pills, what have you. They have degrees in psychology and they are paid to use them to make us anxious and insecure. Since I get anxious and insecure easily, it is crucial to my peace to silence some of the media's noise. Because even the noise that's not a direct lie is still a distraction from the truth. The media noise waves its arms and says LOOK! LOOK OVER HERE! SOMETHING SHINY!SOMEONE SKINNY! SOMETHING UGLY! because it doesn't want me to rest in silence. The noise has ulterior motives, and it needs to convince me of things that it knows the silence will refute. The noise does not want me to be filled, to be satisfied. It needs me to keep binging, and purging, so I'll binge again, literally or figuratively. The noise knows that in the silence I might hear that still, small voice- the one who will tell me what I'm really hungry for. If the voices of the media are making you crave the wrong things like they did me, shut them out, a little at a time. Because we must practice taking care of ourselves.
Maybe you are less vulnerable to the media's noise than I am. Maybe it's the voice of a toxic friendship that's making you anxious. I've been there, too.It is said that each person enters our lives for a reason, and while I suspect this is true, I also suspect that the reason some enter is so that we can practice politely requesting that they exit. This is an important survival skill. We must practice taking care of ourselves.
Sometimes, in the hardest cases, the poisonous noise comes from family. I've heard from many women who explain that it's their families that make them anxious and insecure. They have parents or spouses who are abusive or siblings who are dangerously competitive or adult children who are sucking them dry. But they don't protect themselves because of the guilt that accompanies silencing family. I get it, but this Chinese proverb rings true to me: "It is said not to bite the hand that feeds you, but maybe you should, if that hand keeps you from feeding yourself." We must practice taking care of ourselves.
Shutting out the malignant, and even the benign voices is how I learned who I really am and what I'm really hungry for.And each day I need to find that stillness again in order to remember.Silence to me means no television, no radio, no magazines, no people. No input. Just God and me. Mother Teresa once told a reporter that she prayed for several hours a day and the reporter said "What do you say to God during all that time?" and she said "Not much, I just listen." And he said "Well, then what does God say?" and she said "Not much, He just listens." And that is my favorite description of prayer, ever. For me it's not hours, my silence is sometimes a matter of minutes. God works with whatever I offer.
I'm not interested in offering or receiving advice. Whenever I share something with someone and they offer advice, I end up wishing I never shared at all. So I'm not trying to tell you what to do. I'm just suggesting you get quiet enough, somehow, so you can hear God's advice. Give God the time and space to tell you who you are and what you're hungry for – just in case you have the wrong idea about yourself and your hunger, like I did.
When I finally got quiet enough, here's what happened. Over time, I heard God tell me that the love, appreciation, intimacy, comfort, truth, and freedom that I was hungry for were unlimited and mine for the taking. But I would never find them in a bar or refrigerator or mall. He promised that if I decided to remain in those places He would love me exactly the same, but that I would never feel filled. He told me that if I wanted to feel filled, I could try hearing and telling the truth. So now when I get insecure or anxious because I have forgotten that there is enough and I am enough…instead of hitting the fridge or bottle or mall, I quickly get quiet and breathe deeply. And I try to remember what I'm really hungry for. Then I come here, to the keyboard, and make my fingers move. And I dance with the monsters in my head. And when they gnash their terrible teeth and roar their terrible roars, I stand up tall, hold my scepter high, and secure my crown. Then I stare my monsters down without blinking once and I say,
"Awww…look at you. You were never really that scary at all, were you? Stop bossing me. I am the boss of YOU.
BE STILL! Now Line Up. And DANCE! "
In the quiet, I am Queen of the Wild Things. And that is enough.
"And now, cried Max, "let the wild rumpus start!"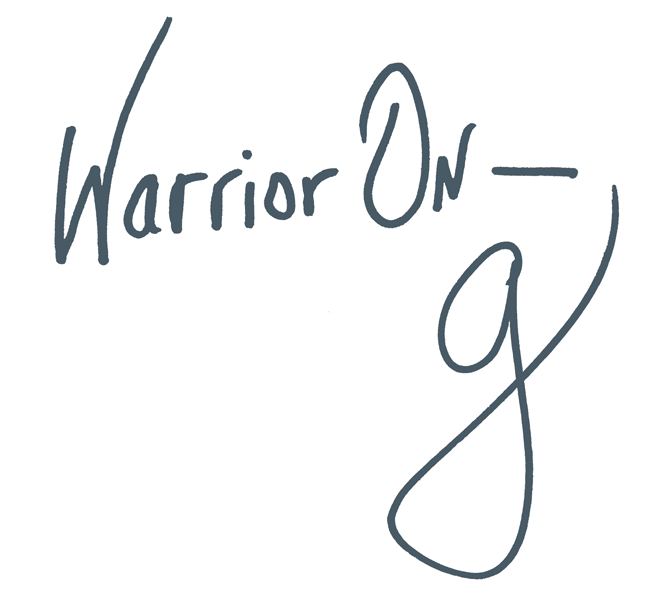 Author of the #1 New York Times Bestseller LOVE WARRIOR — ORDER HERE
Join the Momastery community on Facebook, Twitter, Instagram & Pinterest