About 2 weeks ago, on the evening we were marveling in the miracle of our community and Holiday Hands, I got this message from one of our sister Warriors:
Dearest Glennon:
I am a late-comer to the Momastery revolution. I only just started following you a few months ago, so I had no idea what Holiday Hands was when it popped up in my Facebook news feed today. Within a few minutes, I found myself scrolling through the pages of listings, clicking on some to find them already taken, looking for one that seemed right for me. And then I found one. A mom of two kids, one six-year-old girl and one four-year-old boy. Their dad lost his job earlier this year, and although he's employed again now, they are still trying hard to catch up on a lot of bills. For whatever reason, this one fit me, and I emailed the mom. We corresponded about a few things, and then I set about finding the right gifts for her kids.
It wasn't until I Googled "best books for six-year-old girls" that I realized that I hadn't chosen this listing. It had chosen me. It wasn't until I Googled that phrase that I remembered that I shouldn't have to Google this topic, because I should already know all the good books for six-year-old girls. You see, my oldest daughter, Hudson Lily, died in May 2010 from a sudden and very aggressive bacterial infection. She was only 17 months old. Her sixth birthday is coming up on December 1, and every year at this time, I always think about what she would be like, what kinds of things she'd be into now, what would I be getting her for her birthday or for Christmas.
One of the many things I do to honor Hudson's life is try, in whatever small ways I can, to help others. In fact, every year on her birthday, we invite everyone we know (and everyone they know, and everyone they know) to do One Good Thing in honor of her. So although I hadn't actually been thinking about Hudson when I first started perusing the listings, I realized immediately that it was her sweet spirit guiding me to do so. She is why that listing chose me. And as soon as I realized it, I began to cry. I emailed that wonderful mom again to tell her how grateful I was to her for giving me an opportunity to keep my precious girl's spirit alive by sharing with her daughter the things that I might have been buying for my own daughter if she were still with me.
And after I thanked her, I wanted to thank you, too. Embracing gratitude and serving others and making sure Hudson's life still has meaning in the world she loved so much are the only things that give me any consolation whatsoever in the darkest moments of this life without her. Thank you for giving me the opportunity to do all three of those things through Holiday Hands. I'm grateful to you.
With love and gratitude,
Mandy
*******************************************************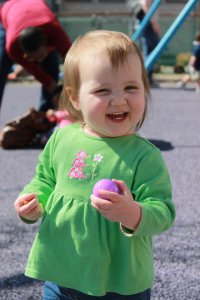 Today is the day, my friends. Today is the day Mandy and her friends and her family celebrate One Good Thing, in honor of sweet Hudson's 6th birthday. Let's celebrate precious Hudson and Mandy by doing ONE GOOD THING.
Today, let us be Together Rising.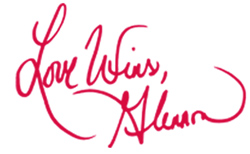 Author of the New York Times Bestselling Memoir CARRY ON, WARRIOR
Join the Momastery community on Facebook, Twitter, Instagram & Pinterest