"When I was a boy and I would see scary things in the news, my mother would say to me, 'Look for the helpers. You will always find people who are helping.' To this day, especially in times of disaster, I remember my mother's words and I am always comforted by realizing that there are still so many helpers – so many caring people in this world."  – Fred Rogers
I have no idea what the future of immigration should look like.
I do know that if we are Americans, we should probably be mindful of the original plan:
And that we if we are Christians, we should probably also be mindful that the Bible speaks frequently about caring for sojourners and strangers in our midst. And that Jesus himself was an immigrant when he was a child.
And I know that this is happening right now:
CWS is receiving troubling reports that, in some instances, DHS is dealing with the developing crisis by dropping off women and children after initial screening in potentially vulnerable spaces, such as parking lots and bus stops. As one recent example, there have been reports of more than 50 children and women being dropped off at shopping center parking lots in Yuma, Ariz.

"Women and children are being dropped off with a notice to appear in court, and nothing else; no food, no water, no diapers, no money and without Identification or a phone to call their relatives. We have a responsibility to respond, if we don't stand up for justice and peace, who will?" said Rev. Alberta Wallace of Yuma United Church of Christ.



Funds are urgently required to meet immediate needs including food, water, clothing, diapers, medical care, housing and bus tickets. The interfaith effort has been volunteer-based and although it has received wide community support, the effort needs additional resources to further organize this relief effort, which should include case management and volunteer coordination.



In several cases, CWS member communions are actively organizing responses to similar situations by coordinating hospitality, shelter, donations and mobilizing local congregations to advocate for policies that defend humanitarian protections.

–Excerpted from our partner CWS's initial appeal in response to the Unaccompanied Children Crisis
It's awful- but Instead of Looking Away, We Can Look For the Helpers. There are folks who are not just TALKING about immigration and right and wrong and who's in and who's out. They are on the ground, rolling up their sleeves and HELPING these children and families.
Thank you for helping instead of just talking, CWS. Thank you for rolling up your sleeves and getting to work. Thank you for being such incredible helpers.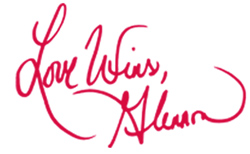 Author of the New York Times Bestselling Memoir CARRY ON, WARRIOR
Join the Momastery community on Facebook, Twitter, Instagram & Pinterest