My Sister walked onto a big silver airplane and flew back to Rwanda last night. I felt myself getting very sad on Friday afternoon, and I knew I had to do something to ward off a full-on-funk. I have this tendency to fall into a strange state of mind that they used to call "melancholy." Now they call it depression, but I still prefer melancholy. Makes me feel very Emily Dickinson-y. Either way, what helps me fight off the funk is to hold a little meeting with myself and demand that I pay close attention to the Little Beautiful things in my life. To look for them, notice them, and insist upon being dazzled by them.
I now present to you my weekend of Little Beautiful Things.
The Melton weekend always starts with a Friday Night Dance Party. After dinner, Chase sneaks over to the IPod and busts out some Miley Cyrus. I don't know
who
can possibly remain seated during
P
arty In The USA
., but it's nobody at this house. The only Dance Party Rules are:
everybody dances
and
last song is always Man in the Mirror.
When I tell my friends that Amma has been break dancing since she was fifteen months old, I'm never sure they believe me. So here's proof.
Every single time
I give him the camera.
Saturday morning, mommy works on her hair while daddy makes breakfast. Blueberry pancakes.
Since mommy's still doing her hair after everyone's done with their pancakes, daddy does the dishes too. My mom used to have a sign on our kitchen wall that said, "No woman ever shot a man while he was doing the dishes." I liked that sign.
Then we headed off to a Fall Pumpkin Festival to celebrate the beginning of Fall. Because
there is just nothing cozier or more comforting than Fall.
Next stop: Hay ride. Which we climbed onto
before
remembering that Craig is allergic to hay.
This is when I modeled for Amma how to be brave and touch the goats.
Go ahead honey,
touch the nice goats. it's okay.
You'll notice that I never actually
touch the goats though
. Because eeewww, goats.
Craig took this picture right after I said,
Make sure you get my watch in the shot.
This is my new watch. My mom and I bought it last weekend. After I'd been wearing it for a few hours, Tisha looked down and said, "Are you going to set it?" And I said, "What? I never thought of that." Because I always just think of watches as bracelets, really. I once wore a watch for two years without setting it, and when people asked me what time it was I just looked apologetic at them and said, Oh, I'm sorry, it
just
broke.

But when Tisha suggested
really
setting this one, I thought the idea might really match my new and improved organized self, So I did! I set it! And then I spent all day at the farm hoping someone would ask me what time it was. So I could
tell them
and appear to be the type of mom who
totally knows what time it is
. But nobody asked. Not even this goat, who was like six inches away from my watch and
had
to have seen it. I mean it's
bedazzled.
I'm just saying that
I thought ignoring my new snazzy watch was a little passive aggressive of him.
Whatever, goat.
Here are two of my best friends on the whole Earth, Manal and Lida, with their little beautiful things.
One of the things Momastery readers often say to me in emails is
I wish we were friends in real life
. And I always think…..
Eh. You'd be disappointed
. I'm actually not a great friend. I don't stay in touch. I don't remember birthdays, I don't don't really understand how to
keep track of people
. But I've promised myself that this is the year I'm going to learn. I'm going to take better care of my friendships. And I'll be watching Manal to learn how it's done. She doesn't know it yet, but she's going to tutor me, so I can learn from the best.
Oh, also, Happy Birthday, Manal.
I remembered.
When Lida hugs me, she always holds on for a little bit longer than necessary. She just squeezes and squeezes with blatant disregard for basic human hug timing etiquette. She hugs me like she trying to send me a message . . . like she's saying,
all is forgiven, you are loved
. She hugs me like she's recently heard that I'm in a tough place. And
every single time
, even though I know those extra few seconds are coming, I get choked up during my Lida hugs. Because Lida knows that we're
always
in some type of tough place. And so Lida's not in a rush to let go, even when she knows it's probably time. And that is why we're still friends.
I wanted to slip an index card with the Momastery link to this Mama Pig. I just felt like she needed us.
Right after this extreme feat of bravery, Amma turned around and screamed, "I TOUCHED THE COW!" Oh well, third kid, not as much time for farm animal lessons.
I live for little beautiful moments like these. When a hundred kids are running, running, running up the hill to take their coveted place in the long slide line. And suddenly you notice that your boy is letting them all pass. So he can help his baby sister make it up the hill too.
And you think, well, we certainly don't have this parenting thing all figured out. But
something
is going
very
right.
Then off to baseball practice. We are doing it, guys. We are showing up at practice, and sometimes (not often, but sometimes) we are actually
hitting balls!
Home again, home again, jiggety jig, and while the girls eat a vegetarian, protein packed lunch (what can I say, I'm a choosy mom) . . .
. . . Craig works on prying open the bathroom door that Tish locked and then
shut
. For fun.
Craig thought that this was a big problem. I thought it was a nice opportunity to keep the bathroom clean.
Until I realized that my zit cream and hairdryer were in that bathroom
. At which point I said
Husband don't you stop 'till that door is OPEN.
Three hours later . . .
hairdryer rescued.
Then off to dinner at Leigha and Pablo's. For dinner with friends.
Dinner with friends
. Love that. So grown up.
Pablo and Craig doing what they do. Discussing walkways and stuff.
This is Anna, who belongs to Leigha and Pablo. Last year, she was eating with us and asked if she could say grace. She said, "Dear Gosh, Thank you for our food." Then, on Halloween, she dressed up as Cinderella and introduced Leigha as her "Fairy Goshmother." I have never known a person who goes to such great lengths to avoid taking the Lord's name in vain. Anna is one of the beautifulest little things I know.

Here's Lexi. She's Anna's little Sis and stays busy being too cute for anyone's good. She and Amma are Best Friends Forever and Leigha and I pray that one day they will begin using their two year old powers for good. Let's just say it's gonna be a long year for Leigha and me.
This shiny blondie is Kerstin, and she belongs to my Angel Friend, Karen and her hubby, Eric. Karen and Eric managed to avoid my camera all evening. But
they cannot hide forever.
Jeesh, it's like they think I'm going to publish their pictures for the whole world to see.
Paranoid.
And then it was down to the fire pit for Smore's in Leigha's driveway. And it was little glowing faces covered in marshmallows and the warmth of the fire on our outstretched hands and then staying a little too long into the night just to squeeze out a little more
little beauty.
And then it was into the van and
we're home
and up the stairs and into bed without brushing their teeth. And it was tucking my little beauties into their warm beds and kissing them goodnight and remembering to silently say
Thank you, God, for good friends and sticky little cheeks and warm beds.
And then it was a good night's sleep.
And we woke up on a lazy, lovely Sunday and made breakfast and started saying to each other…
you know, maybe we should start going to church again
Next
Sunday
.
Yeah. That'd be good.
Which was okay. Because we're fairly certain that God is at the Farmers' Market, too.
And then home with our peaches for
MOMMY, MANDY AND JOHN ARE HERE!
And then it was
Sweeties…Faith is believing what we can't see. Which is why we're still Redski
ns fans. Get your jersies on.
And then out to the front yard for baseball with John at half-time. And watching John with Sister and the kids and listening to him teach Chase to throw the ball with three fingers, buddy. And realizing that he brought his own glove just so he could teach Chase how to throw. And thinking, I LOVE this guy. He is one of Us, this guy.
And Goodbyes that weren't fit for shooting.
But left us feeling like this:
It was staying up late and putting together this post and looking at all of this little beauty. And then it was laying my head down on my cool pillow and realizing with amusement that the weekend's final score was:
Melancholy: 0
Here's to a beautiful little week.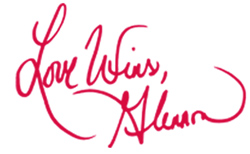 Author of the New York Times Bestselling Memoir CARRY ON, WARRIOR
Join the Momastery community on Facebook, Twitter, Instagram & Pinterest