Our family lives in a small town on the bay now.
So far, it feels exactly liked I dreamed it would.
We go on picnics, swing on the front porch, drive around town in Bubba and Tisha's golf cart, play with the neighbor's elderly lab, wave to passers by, and sit on the dock dangling our toes in the bay. It took me two weeks, but I think I have stopped rushing. Why rush when there's nothing next?
We get dressed up and walk to church on Sunday mornings. Amma pushes her baby stroller and leaves it on the front lawn of the church during service. Tish carries her hot pink purse and trips over her silver glittery slippers the whole way there. Fancy purses and shoes are Tish's favorite part of God.
On Easter Sunday we sat beside a teeny old lady who looked like she'd been getting ready for service since Good Friday. I admired her sculpted white curls, her tailored suit, her pale pink fingernails and her delicate hands, which were wrapped around a snazzy pink plaid clutch. She wore a pearl necklace with matching earrings and perfectly applied cotton candy lipstick. During the service I looked down at her teeny little ankles and noticed a tattoo of a blue crab peeking through her nude hose. She saw me looking down at her ankle and she winked at me. I was thrilled. Monkees can recognize their own. I've decided that dainty tattooed elderly ladies in church pews are my favorite kind of people ever. I can't wait to be one.
My favorite thing about our new town is the church bells. The first bells chime at nine, and then every three hours for the rest of the day. We can hear them from the front yard, from the dock, from the living room. From anywhere we are. I love them because they're beautiful, and because they remind me all day to wake up and say thank you. Hearing the church bells makes me feel like God's got His eye on our little town. Or at the very least, our town's got its little eye on Him. It feels cozy, like we're all in this together.
There is a glass door at the back of our house that frames the bay inside of it, and during the past two weeks, I've watched each person in my family stop at that door, look out at the water and sigh. Even Tish sighs a bit at that door. It's like our bodies are designed to stop, relax and appreciate the water. At least my family's bodies are. So there's a lot of sighing going on here lately. Tish lays on the dock and when she feels the breeze on her face she says "Ahhh…This is my YIFE." We think she means "This is the life." But of course, we don't correct her.
Sometimes, after I finish writing in the early morning, if the kids haven't woken yet, I sneak out to the back porch with my coffee and C.S. Lewis and listen to the bay wake up. I never get much reading done, because I find myself silently repeating "thank you, thank you, thank you, thank you."
I have no idea what it is about the water that helps me be grateful. It helps me whether it's in a glass with ice, a tub, or the bay. And today, I'm just grateful to have found a place where I can breathe easy for now. That's all we can do, right? Try to find that place, and those people. For now.
Speaking of those people…this guy:
He's loving it here. His wife is less agitated. His Corona matches his afternoon. He gets scruffier and saltier and in my opinion, more gorgeous with each passing day in this fishing town. I love him a little more, somehow, than I did before we left. One night several months ago, Craig and I were standing in the kitchen, listening to this song and dreaming about moving to the water. And now we're here. We did it. That's the best part. That he and I wanted something a little different and we did it. I am starting to wonder dangerous things, like Maybe There's Nothing He And I Can't Do Together.
Truly, the only lesson I've really learned during these past three weeks, and God willing, plan to keep learning for the rest of my life. . . is that it doesn't matter a lick where this family lives. Where he is, where they are, is Home.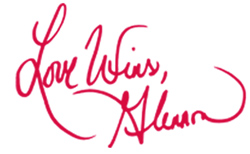 Author of the New York Times Bestselling Memoir CARRY ON, WARRIOR
Join the Momastery community on Facebook, Twitter, Instagram & Pinterest