Glennon has mentioned her collection of wooden word signs in several Momastery posts. Her signs say things like, Simplify, Love is patient, love is kind, and Prayer changes things. What she didn't tell you is that I'm responsible for a fair portion of her collection. It all started when I and two other friends had a sign made for Glennon as a birthday gift several years ago. She went on and on about how much she liked the gift. After that, whenever I spotted a board sign that reminded me of Glennon, I'd buy it for her and leave it on her porch. Every time I took a trip to Homegoods, both of our wooden word sign collections grew. And since the mounting hardware on most Homegoods items is just a touch off-center, none of them are level.
I have decided to stop cluttering up Glennon's house with word signs. (I can take a hint.) Instead, I've been concentrating on cluttering up my own property a bit more. The inside of our house has at least one sign in every room, so I had to take my habit outside. My most recent purchase is a big wooden Life is Good sign to hang in our back yard this spring. It will be placed directly underneath the wooden plaque already hanging back there that says, Welcome to our Deck. There is plenty of room left back there for more, so I really don't see an end to all this.
I'm not sure why so many of us enjoy hanging word signs in our homes, but we do. Maybe we like them because they are a way for us to come right out and say what is important to us. We can let certain values be known, loud and clear. (I know a LOT of people who firmly believe we should all Live well, Laugh often, Love much.) Or maybe we're just drawn to them because we grew up in homes with signs and quotes, and they make us feel nostalgic. Glennon grew up reading Bubba's sign that said, Don't be so humble – you are not that great. Something about that sign must have stuck with Glennon because she really is one the most courteously respectful people I know. She has lots of reasons to be arrogant, but she isn't. I especially love how she humbly offers her heart to us on this blog.
I grew up with signs too. The one that I remember most vividly hung in our dining room. It was a quote by Carl Schurz that said, My country, right or wrong; if right, to be kept right; and if wrong, to be set right. I cannot imagine how many times I must have read that sign over the course of my life. Its message must have stuck with me and my big brother because we both are passionate today about our beliefs about this country and what is best for it. The funny part is that we are polar opposites regarding our political views. So even though we were raised together in a house where political ideas and opinions were discussed at the dinner table, my brother and I avoid the topic these days in order to keep peace in the family. The fact that he lives on one side of the country and I live on the other is also helpful. (Note that I followed the rules and managed to write that paragraph without actually telling you my political views…or explaining in great detail why I am right and my brother is so very wrong.)
So if wooden word signs helped make Glennon humble and turned me into a political big-mouth, perhaps I ought to put more thought into the signs currently adorning my home and influencing my kids' behavior. I'm thinking that some of our signs might be too vague. There is one hanging above my daughter's bedroom doorway that says, Live a good life. That signs leaves a bit too much room for interpretation for my liking. After all, she and I could have two very different definitions of the term good life. Maybe I should take that sign down and replace it with a clearer directive, like Earn a Full College Scholarship.
My favorite sign in our house is hanging in our playroom. Before I tell you what it says, I need to point out one of the signs hanging in Glennon's house. It will be another fun comparison of her sweet to my spicy, my yin to her yang. You can make your own conclusions about what effects these signs are having on our children. In Glennon's basement, which is decorated in a style I like to call preschool-meets-toy-store-awesomeness, she has a Dr. Seuss quote on the wall that reads, A person's a person, no matter how small. Isn't that sweet? No wonder kids feel loved and valued at the Melton house. Whenever my daughter's play time at the Melton's house comes to an end, she never ever wants to leave. Perhaps going home to play does not appeal to her because the sign in our playroom is less sweet than the one in Glennon's. Hanging directly above a rack of toy bins at a child's eye level is a sign that reads, BE NICE OR GO AWAY.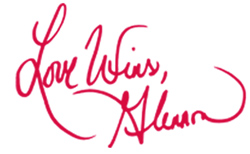 Author of the New York Times Bestselling Memoir CARRY ON, WARRIOR
Join the Momastery on-line community on Facebook, Twitter & Pinterest