With the obvious exceptions of everything that Chimmy and Diane write, this is my favorite poem.
Saint Francis and the Sow
By Galway Kinnell
The bud
stands for all things,
even for those things that don't flower,
for everything flowers, from within, of self-blessing;
though sometimes it is necessary
to reteach a thing its loveliness,
to put a hand on the brow
of the flower
and retell it in words and in touch
it is lovely
until it flowers again from within, of self-blessing;
as Saint Francis
put his hand on the creased forehead
of the sow, and told her in words and in touch
blessings of the earth on the sow, and the sow
began remembering all down her thick length,
from the earthen snout all the way
through the fodder and slops to the spiritual curl of the tail,
from the hard spininess spiked out from the spine
down through the great broken heart
to the blue milken dreaminess spurting and shuddering
from the fourteen teats into the fourteen mouths sucking
and blowing beneath them:
the long, perfect loveliness of sow.
Excerpts from Roger Housden's review of Saint Francis and the Sow
"If you have the genuine feeling that everyone, yourself as well as your lover, your child, your parents, even your enemies-everyone in your life- is already flowering from within, then the person you are with may feel that too and begin to remember for themselves their own truth and beauty. You cannot "re-teach a thing its loveliness" if your motive is to change another person. This would suggest that how they are is not good enough, and you can do something about it. It is not in your power to enlighten another, make them better, or even bless them. All you can do is remind them, by your presence, of the flowering that they already are. Love is an environment more than a set of principles. An environment that, simply by existing, draws out another into his or her own fullness….However good your principles and intentions may be, they won't reach far unless it is love that places your hand upon their brow."
"Like many of us, she (the sow) has a great broken heart. Broken, perhaps, by the weight of the curses heaped upon her since time began, by the lowliness that others have foisted upon her, by the feelings of ugliness and self loathing that cling to her like second skin. Some of us know how the sow feels. She comes, despite all of this, and through the blessing of St. Francis and the earth to remember
The long, perfect loveliness of sow.
She remembers, not just in the sense of memory recall, but "all down her thick length" – in all the cells of her body- that she is perfect exactly as she is, slops and all. Not that she is better than anyone else, or that she measures up to some external measure of perfection, but that her very existence is enough in itself to validate fully her being here.
This poem itself is a hand on our brow."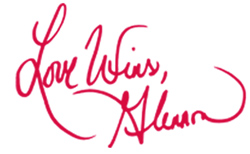 Author of the New York Times Bestselling Memoir CARRY ON, WARRIOR
Join the Momastery community on Facebook, Twitter, Instagram & Pinterest