A guest post, from our Mike.
I love it when an artist finds a creative way to take something that has become worn or broken and make it like new, but better. Easter has become one of those worn out things in my life, despite my growing faith in God. While I can tell you all about the religious significance of Easter, for me personally, it has signified brokenness. Broken dreams, broken promises, and a broken family.
Twenty years ago. During some frantic holiday preparations, and argument erupted between my parents. It was one of those epic arguments that only ended when infidelity was confirmed and a separation planned. The marriage had been weakening for years as they each chased after their own definition of the American Dream, so why shouldn't the "dream" end like most? Because we were that "religious" family everyone had in their neighborhood. We even had a pillar at the front of the driveway reading: The Clarke Family, "See Ye the Kingdom of God." And the holiday they were preparing to host was Easter Sunrise Service…in my front yeard. Thankfully, the service rained out that morning but I would have been a no-show either way. If my family was the best that God could do for me, I decided to pass.
Insert and fast forward past 10 years of cliché'debauchery, where I tried to run from the Truth that my parents talked better than they walked. Years of putting hope in other things and other people, and being disappointed when reality didn't measure up. My last ten years have been a crawl, walk, and recently a sprint back to my perfect Father. He and I have gotten to be quite close as I've been asking Him…OK, begging him…to let me be a father and to give my wife and I a family. After we answered his call to adopt, wewatched our projected six month wait turn to twenty-six and counting. I struggled with how a "Perfect Father" could hold out on me.
But He, being the ultimate Dad, had something better than we could ever imagine. He took this time to grow our relationship with Him (and each other). He blessed us with friends with the same heart for Him and His heart for orphans. Friendships so tight that late night prayer or praise conferences are a common occurrence. Most importantly, He took this time to demonstrate that He is more that we could ever want.
A couple of weeks ago, the circumstances of our adoption journey led us for the first time to pray for peace in the reality that maybe kids weren't in the plan and for the strength and joy that comes from knowing that He is more than enough.
The next week we received an from our orphanage in Uganda, asking us to come meet our kids (that "s" ain't a typo). With less than three weeks of notice, preparations have been a bit frantic. Since our travel dates were picked by the orphanage and the flights by their travel agent, you can understand why it took me a while to realize the significance of tickets reading, Arrival: 0700, 4APR10.
Our dreams and His promise will come true in the Easter sunrise service of a lifetime.
He makes all things new.
Happy Easter, Monkees. Kiss your babies for us, Mike and Megan.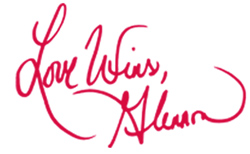 Author of the New York Times Bestselling Memoir CARRY ON, WARRIOR
Join the Momastery on-line community on Facebook, Twitter & Pinterest