My dear friend Christy took me to get my first tattoo the year before I got all sober and suburban and normal. Just in the nick of time, thank God. I love my tattoo. When I'm in my mini-van it reminds me of my bad good old days and when I'm at church it signals to others that maybe I'm not as safe as you think, there, Missy. I like that.
The only problem is that I'm not at all sure what my tattoo says. When Christy and I went to get it, I was either completely wasted or royally hung over. I don't remember which one. But based on the way I spent my time those days, there is a 100% chance that I was one or the other. Likely, both. So I didn't do any homework. I just stumbled into the tattoo parlor with my Britney bleached hair and sequinced tube top and low rise frayed jeans and plastic neon green heels and asked for…you'll never guess…Japanese characters on my lower back. Clearly, originality was not my main concern. It was either the Japanese characters or something tribal. I don't even know what something tribal means, to tell you the truth. Regardless, I'm just grateful that I didn't go with my third choice, which was a barbed wire arm band in honor of Pam Anderson. Not that there's anything wrong with that.
Come to think of it, I actually remember purposefully applying a fake barbed wire arm tattoo to wear to a friend's wedding one time. Lilly. Oh Lord, I think it was your wedding. Are you there, Lilly? Are you reading? So sorry, Lilly. Really sorry. Also, I'm pretty sure I forgot to get you a wedding present. I'm really sorry about that, too. I know it's been like twelve years but I'll send you something soon. Who else do I owe gifts to? Email me privately, please. Also Lilly, I think I was poorly behaved at your wedding. I'm sorry about that, too. I was grossly and recklessly overserved. I've been told that it was a lovely wedding. Just lovely, Lilly.
Anyway.
So I teetered into that DC parlor in those neon green heels and announced that I wanted "teacher, sister, friend" written on my back in Japanese characters. The artist looked me up and down and smirked a little and said "Cool." And then he took me into the back room and Christy held my hand while he buzzed away. But the thing is that I don't remember him, like, looking at a book or anything. And I don't remember him looking Japanese either. So I'm not really sure how he knew what he was writing. I don't remember caring that day because, really, all I wanted was a cool tattoo. I just thought of it like a fun new accessory to wear to clubs between my Wet Seal halter top and feloniously low jeans. And I worried much less about details back then. Now, however, I sort of wish I would have taken a moment to Google what I was preparing to permanently add to my body. Oh well.
Here it is.
I assume it really says something like "Drunk Fake Blonde Who Sleeps in a Tanning Bed." That's what it says if the dude was paying attention, anyway. Regardless, some things are better left unknown.
I'm getting a new tattoo soon. Bubba, just joking. Everybody else, I'm really not. Lou and Tattoo Tom voted for "Here I am" from Isaiah and I like them and trust their judgment, so I might go ahead with that. Plus, I get lost a lot so that tattoo would be especially helpful to me. This time I'm gonna get it in English though, just to be safe.
Are you Inked? If not, what would you get?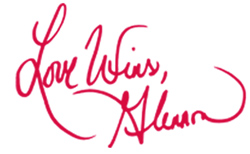 Author of the New York Times Bestselling Memoir CARRY ON, WARRIOR
Join the Momastery on-line community on Facebook, Twitter & Pinterest