Except for
the point, the still point,
There would be no dance.
and there is only the dance.
T.S. Eliot
SO. My Still Time didn't happen exactly as I thought it would. I planned to spend long hours staring at the bay in deep mediation and communion with God. What I actually did was spend long seconds staring at the water and communing with God. But then I got hungry. Every time. So in case He wasn't done with me yet, I asked Him to please hold on till the commercial breaks of the Kardashians, and I listened really hard then. It all worked out. The thing about God is that He knows what we're capable of and He rocks it out. He made me a Monkee, not a monk after all.
One of the things God and I decided together was that the Monkees certainly have some work to do together in Rwanda. But that can't be done right now, so we're heading over to Uganda first. There are people dancing there and I think we'd be wise to join them.
On Wednesday, you'll be introduced to some very special Ugandan children, and on Friday you'll be invited to dance with them.
Now. I heard from countless Monkees last week who explained that they've always been afraid to get involved with service projects because they don't think they're the charity type, or they worry they might become involved for the wrong reasons.
Well, that's just great. I can't believe you're making me tell this story. Here we go.
One spring break during college, I traveled to an Indian Reservation in Louisiana with a Spiritual Do-Gooding group. I had never met anyone in this group before because they hung out in churches and I hung out on top of bars. The group was traveling because they wanted to teach nutrition classes to a group of extremely poor Native Americans, many of whom were suffering from diabetes. That's why the others in the group went. I went because I didn't have enough money to fly to Cancun with my sorority, and I didn't want to look like a loser with nowhere to go but home. I figured if I wasn't going to be able to party in Mexico, I could at least get some "Surprise! It turns out I am deep and spiritual and unbelievably selfless!" points from my friends. So I signed up with this group and spent the next two weeks telling everyone I knew that I was choosing not to go to Cancun because I was doing charity work instead. I don't remember anyone being especially interested except for one frat guy who kept asking me if I would try to score him some peyote. I rolled my eyes and sighed in a patronizing, long suffering manner, but I made a mental note to keep my eyes peeled.
The trip to Louisiana was so long and difficult and chardonnayless that I was shocked and horrified when we arrived at the reservation and it became clear that this group still intended to WORK during our stay. My intentions were quite different. My intentions were to wait this one out. So while they went to work, I hid behind our trailer and chain smoked all day. Although I'll have you know that whenever an Indian walked by and caught me hiding, I smiled sweetly and offered him or her a cigarette. Which I understand now may not have been completely helpful toward our building healthy habits goal. It really is impossible to get everything right.
On our last day in Louisiana, I decided that I needed a souvenir from my Indian Reservation trip. Not because I wanted to remember the trip, no thank you, but because for the life of me I couldn't imagine a single reason for all this do-gooding if not to take something home, place it in a prominent spot, and wait for guests to notice it – thus creating the perfect opportunity to tell my guests, shyly and humbly of course, all about my do-gooding, deeply selfless self. So I stopped in the reservation's community center and saw a little bucket filled with magnet crosses made out of little blue shells. The sign on the bucket said "Made by Our Children. . . $5." I didn't have any money, but I decided that because of all of my hard work, it would be okay to go ahead and borrow one forever. So I did. I pocketed a cross. Made, with love, by some poor Native Americans. By some poor Native American CHILDREN. If one were to get nitpicky, one might even call it stealing, but I'm not on trial here, people.
About that little permanently borrowed blue shell cross. It's been on my refrigerator for ten years. I've lost a lot of things in my life. I lost an entire conversion van once. For eight months. True story. But that little blue stolen shell cross has followed me for ten moves and found its way to the top of my fridge again and again. It's a reminder to me that no matter what I offer God, He turns it into something good. It also says to me each day, "Stay humble, honey, because you really are an idiot. Even so, I am completely wild about you."
This is a very important thing to remember each day.
Back to the point.
Maybe waiting till you're the right type of person with the right reasons before throwing your hat into the service ring is putting the cart before the horse. For me, deciding whether or not to serve is a little like deciding whether or not to dance. It's like we are all scared middle school girls at the Spring Dance, afraid we'll be left against the wall forever. Afraid no one will ask us to dance, and even more afraid that someone will. And then again and again, He singles us out. He crosses the room, offers His hand, and pulls us out onto the dance floor. And for a few minutes, we stop worrying about our zits and hand-me-down dress and frizzy hair. We just let ourselves feel beautiful, because He's looking at us like we might just be. And He twirls us around and changes us, a teeny bit, each time we are brave enough to Say Yes and Twirl. I think the changing happens on the dance floor, not against the wall. For me, after each dance I seem to care a little more, suck a little less. Granted, as I re-read that spring break story, I realize it would be tough for me to suck any more. But you see my point.
And I'm not sure you have to worry too much about whether you're dancing for the right reasons. Even if it should be, my motive for loving people I don't know is not to save the world from its pain. Maybe someday I'll get there. But for now, my primary goal is to save myself and my family from triviality. I'm beginning to understand that the point is not that I serve others because they need me. The point is that I serve others because I need them. Because they have something to give me. A little cross. A new perspective. Deepened faith. Gratitude, connectedness, a miracle or two thrown in for good measure. And I am a selfish, selfish girl. I want all the world has to offer. And I've learned that when God asks me to dance, it's best to quit worrying about my zits and what the popular girls are wearing and just dance. He'll handle the rest.
So anyway. Like Rumi said, there are a milllion different ways to kneel and kiss the ground. Let's dance today. Love somebody extraordinarily. And if you're looking for a dance team to join, head on back here on Wednesday. Don't be afraid to dance with us, for whatever reasons you might have. You can't screw this up. If you say Yes, if you dance with any goals in mind more noble than:
a) -Scoring hallucinogens
b) – Increasing yourself and others' lung cancer risk or
c) -Stealing from children
….you'll have gotten yourself off to a better start than I did. And I got invited back. This God of ours has incredibly low standards.
Lovelovelove,
G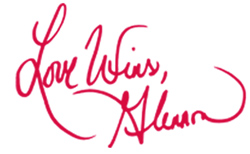 Author of the New York Times Bestselling Memoir CARRY ON, WARRIOR
Join the Momastery on-line community on Facebook, Twitter & Pinterest