For M, Who is Starting Down a New Road…
As you know, I had a rough go at life for a while. I spent a couple of decades lying and cheating and fighting and scowling and hiding and chugging and eating unbelievably huge amounts of food and then throwing it up.
These things might be hard for you to read, but they're not hard for me to write. I think that's because while I'm a different girl these days, I don't judge the girl I used to be. I don't think it makes much sense to judge other people or my past self with the ideas I have about life today.
Addiction is a funny thing. You seem to find yourself living one big lie, and nobody can, or should, trust a word you say. But that's not how it starts. There's something about addiction's beginning that's about truth telling. When my bulimia, which eventually morphed into alcoholism began, I sometimes had this feeling that there was something very wrong with the world, and that wrong thing was hurting my feelings and scaring me and making me feel like crawling out of my own skin forever. I had to tell the truth about how I felt somehow, so the truth came out like puke and booze. I may have been acting out, but at least when I was binging or purging or drinking, I wasn't acting. I was saying…something's wrong.
I know that addiction always ends badly, with lots of innocent and semi-involved bystanders getting hurt. That's how mine ended. But that's not how it started. It didn't start with the intention to hurt anyone else. It started with a little girl who hadn't found her words yet. A girl who didn't yet have the courage to say, or write out loud, "Something's wrong with me. Or maybe with everybody, actually." So she just said those things by herself, secretly. But at least she said it. A girl has to tell the truth somewhere, if she's going to keep a tender soul. If she's going to be able to keep thinking and feeling and trying to understand things.
Now that I've found my words, things are better. When I feel like crumbling, or numbing myself because the world is so mean, I come here and use my words. Not to write about how mean the world is, but to write about how beautiful it is too, because that's also true. Now when I feel like crawling out of my skin in the world I'm in, I come and create my own world in my writing, where things are better and more beautiful and often make sense. And it's still an escape, but it's a less lonely and scary escape than all those bathrooms and bottles of wine. Still, here in this world, I'm sure I'll accidentally hurt people, too. Telling the truth seems to do that occasionally. But it's healthy for me. And that's what's most important to me these days.
I understand what the girl I used to be did and why she did it. I love her . . . I'm proud of her, even. And the woman I am today is grateful to her. Because she walked that lonely road, I learned to forgive myself and be forgiven. And to be gentle, always, because everyone is just as fragile as those little hand- blown glass swans. Actually people are more fragile than those.
Most importantly, she taught me that a girl can be an ugly, scary mess, and still be doing her best, and still be capable of and worthy of saving. She taught me that nobody is so far gone into the darkness that love can't sneak in and shed a little light.
So really, I think that little girl taught me everything I need to know, ever. I think she was sort of brilliant, to tell you the God's honest truth. If I could take her for a walk I would tell her, Hang in there, little one. You will find your words.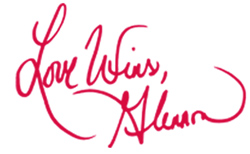 Author of the New York Times Bestselling Memoir CARRY ON, WARRIOR
Join the Momastery on-line community on Facebook, Twitter & Pinterest