A letter from Bubba to Craig, written the week before Chase was born.
***************************
You will never accomplish any other thing that will afford you the stature and esteem that your baby brings. Nothing you do, no honor, no promotion, no financial reward, no goal you meet will ever compare with the simple joy of holding your newborn baby. No one will lift you higher and no one will touch you deeper. Because of this child you will never measure your worth in the same way. Things that seemed of much value and previously held such importance will drift to a smoky second as this baby's helplessness focuses your attention and becomes the purpose of your every effort. This child will dominate your thoughts, your attention and your time. You will tire to a degree that you had previously not thought possible and that you cannot now comprehend. In that exhausted fog you will eat, dress, converse, complete tasks and even do your job. That will not matter. You are the father of this child and to be the father is to be the head coach, the sergeant major, the king, the boss, the field marshall and the man. You will know this the moment you touch this child's hand and from that instant you will need no other identity but father.
Love, Bubba, Tisha, Sister, Craig and Glennon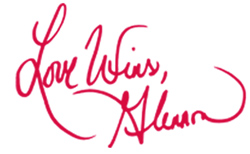 Author of the New York Times Bestselling Memoir CARRY ON, WARRIOR
Join the Momastery on-line community on Facebook, Twitter & Pinterest