Wild Geese
by Mary Oliver
You do not have to be good.
You do not have to walk on your knees
for a hundred miles through the desert, repenting.
You only have to let the soft animal of your body
love what it loves.
Tell me about despair, yours, and I will tell you mine.
Meanwhile the world goes on.
Meanwhile the sun and the clear pebbles of the rain
are moving across the landscapes,
over the prairies and the deep trees,
the mountains and the rivers.
Meanwhile the wild geese, high in the clean blue air,
are heading home again.
Whoever you are, no matter how lonely,
the world offers itself to your imagination,
calls to you like the wild geese, harsh and exciting–
over and over announcing your place
in the family of things.
At the risk of being obvious, I'd like to remind everyone that she is fine. Better than fine…brilliant, divine, crucial to the rest of us. Now, today, just as she is. With all her fear and anger and jealousy and regrets and secrets. With all of those parts.
You don't have to be good. You don't need to be better. You just have to accept, each moment again, that you are good enough already. If you wait to start living and loving until you are ready, I'm afraid you'll die first. It's a beautiful world, and it wants you to play.
You belong in the world's family of things. And if you do not show up, no one will take your place. Life is not a game of musical chairs. If you do not sit down with us, your place in our circle will be empty forever. So there is no need to rush, no need to grab, no need to panic, and no need to perform. Your place is yours, not because you are funny, or pretty, or stylish, or good. But because your place was created for you before you were anything at all. In light of this, let us relax, be glad, and calmly and gratefully, take our places.
And let us remind the others in our circle today that we're happy they took theirs.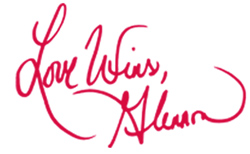 Author of the New York Times Bestselling Memoir CARRY ON, WARRIOR
Join the Momastery on-line community on Facebook, Twitter & Pinterest