Monkees, Our Heather needs us.
I woke up to this email Friday morning:
Glennon,
You've seen my comments periodically about my struggles with God and Faith and Prayer, so I hope you'll forgive me if I'm being presumptuous. I have been laying here awake since 5 AM terrified and wanting someone to say something to help me feel more calm. I need not to be stressed, but I'm finding it more and more difficult.
You see Wednesday, I went into early labor with my twins. I am only 32 weeks and we need to make it to 36 weeks. I spent several hours at the hospital Wednesday night and they were able to get the contractions to stop by giving me IV fluids and 3 shots of a medication. Thursday morning I went for my regular ultrasound appt and started have contractions again. I was given two more shots to stop them again and a prescription for the medication to take 4 times a day until the babies are born. I was also given the first of two steroid injections to speed up the lung development, in case we don't make it another month.
I don't know what to do. The medication makes me jittery and anxious and I can't sleep. It has potentially terrible side effects for the babies (bleeding on the brain, etc.), so I am trying to weigh the pros and cons of the known issues with delivering so early and the potential issues of side effects. I didn't want to post in a comment, but I wondered if there were other Monkees who had dealt with bed rest and pre-term labor and all the anxiety that goes along with it. More than anything I am hoping to find someone to give me hope.
Heather M
I wrote this back:
Well, my goodness Heather.
Okay. All is going to be well. I can feel it, I know it. Those babies are going to be just fine. But we need to get you through this.
I was on bed rest and that horrible terbutaline for weeks with two of my babies. Once, I went in for my 26 appt and they told me Amma was coming right then. Actually her name was Tess back then, but that's not really the point.
They rushed me into ultrasound on a stretcher, and I was all alone…Sister and Craig were at work. When I got to the ultrasound room, the young technician was so kind and calm looking and he said "Hello, my name is Emmanuel." And of course, I started crying because Emmanuel means God is with us. And so I always wonder if he thought I just hated his name, because i was too blubbery to explain myself. I now think that all ultrasound technicians should introduce themselves as Emmanuel, even if they're really Fred.

It never ceases to amaze me what is expected of us as mothers, even before those babies arrive. It's terrifying to love something so much. Nonsensical really, in this risky world. But Emmanuel, Heather.
Absolutely and 100 percent and a million times over. I wish I could sit with you and hold your hand and remind you of that myself. And we could talk about God and what these babies are going to look like and
smell like and also, hopefully, we could talk about Heidi and Spencer from the Hills because I'm quite concerned about some developments there.
Anyway, talk to me. We are going to make it to fourth of july week. I know it.
I'm thinking of you and praying for you and those babies every single hour. I have an H written in marker on my hand so I don't forget.
You tell me if you want me to do a monkee call, ill do it in a heartbeat.
And Heather wrote back.
I'm sorry I didn't get a chance to respond to you sooner. I left this morning to go and get the second steroid shot for boosting the babies lung function (just in case) and ended up in the hospital again for a couple of hours with contractions. They were able to stop them again, so they let me come home.
I'm trying so hard not to be stressed, because that is, of course, the worst possible thing for the babies. But, I feel guilty that I'm not able to engage fully with my son (his 2nd birthday was yesterday and his party is tomorrow). I'm having to hand over control of everything to other people
and that is soooo not comfortable for me.
I'm worried about these medications; the steroids and the terbutaline. The terb is AWFUL. I'm jittery and can't sleep, it makes me anxious, gives me heartburn and makes me want to run in circles like a madwoman, but I have to stay still. Maddening. I'd love to hear about your experience with it; especially the it was horrible, but worth it ones.
I know the saying is we are only given what we can handle, but truly I don't know how much more I can take. I'm trying to be calm and rational, but it is getting harder and harder.
You offered to make a Monkee call and I'd love that. I'm feeling so isolated and alone, but my husband needs to be with my son. He comes to check on me regularly, but it's still hard to have to lay up here and listen to all the laughter without me. I just need to be reminded that we can do hard things, because this feels pretty darn hard. Thank you for being there for me and for offering to marshal the Monkees. I feel better just knowing that's coming in the next few days.
And that brings us to today. I am awed and grateful that Heather came to us when she needed love and hope and support. Isn't that incredible? It's real, this Monkee zoo.
We can't make it all better for Heather. . .but we can do what we were put here to do. We can remind her she's not alone. Ladies, start your engines.
Love, G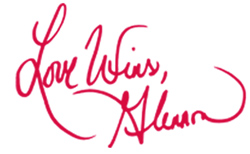 Author of the New York Times Bestselling Memoir CARRY ON, WARRIOR
Join the Momastery on-line community on Facebook, Twitter & Pinterest