For teachers everywhere, especially those who call Annandale Terrace Elementary home. I love you beautiful people. Here's to another year of world changing, one early morning and late afternoon at a time.
With Love and Admiration,
G and Bubba
Christmas 1997
Dear Glennon,
Last year I shared a number of hopes that I hold for you. Among them were; that you would stay close to your sister, love yourself as much as your friends and family do, and have a life's work that is about helping others. Events this year suggest that some of my hopes are coming true. As I listen to you talk about and to Mandy, I can hear a warmth and love that was well masked by rivalry in the past. Your love and respect for her is more obvious than ever and your intention to watch over her is evident. You seem much more at ease with yourself. You are less anxious and more confident about relationships at home, at work, and hopefully with your peers. That is a sign of being more centered. Getting there is a life- long process. It seems to me that I was in my mid forties before I became completely aware of who I was. Believe me, that was a relief. It occurred to me about the time I stopped blaming people and circumstances for my problems.
It is good to see you settled on teaching as a career. It is even better to see you excited and enthusiastic about it. It is better yet to see you defend its importance. If you continue your pursuit of this career, and I believe you will, you will find yourself involved in some mind boggling contradictions. People who tell you that the most important person in their lives was a teacher will also ask you why you do it for a living. People who work with no goal in mind but to accumulate money will pity you for wasting your talent in teaching. People who tell you that your efforts are crucial to the future of the country will resent you for making a decent living at it. It is uniquely American to be uncomfortable with teachers. Especially those who teach the very young. Whether because of their subconscious or some other involuntary reaction, all of them will ultimately respect you for what you do. But their reactions can serve to diminish your beliefs and sense of self. So Never, But Never, allow yourself to become defensive about being a teacher. Take'em on whenever and wherever. When you confirm your choice to teach by defending that choice, you are affirming yourself, your dignity, your pride, those you most admire, and even your ancestors. A few days ago I realized that you will be a third generation educator. Your grandmother taught in the 20's, which means that, should you hang around the classroom for a few years, we will cover a century of influencing the lives of children which will include four generations.
It is a good feeling to know that this Christmas morning finds you with your family, happy with yourself, and growing towards your dreams.
I LOVE YOU,
Dad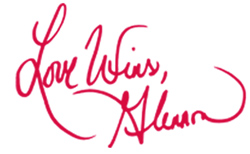 Author of the New York Times Bestselling Memoir CARRY ON, WARRIOR
Join the Momastery on-line community on Facebook, Twitter & Pinterest