The following events occurred yesterday:
As I was getting out of the shower,Tish burst in the bathroom and stared at me rather critically. I gave her the evil eye.Undeterred, she said the following:
Mommy, what are those dangly things on your belly called again?
I nervously looked down to find out what foreign objects had attached themselves to my person during my shower without my knowledge. I located nothing.
What are you talking about? There's nothing on my belly.
Eye roll from Tish.Yes there is, moooom. Those dangly things you used to feed Amma with.
I double check.
Wait. Are you talking about my breasts?
OH YEAH. Breaaaasssasts. You got Belly Breasts, Mom.
Go to your room, I said.
It's two hours later. I have completely forgotten where I put Tish, which is far from my main concern. My main concern is that I also can't find my book and I'm dying. It was a really, really good book, and it's been lost for three days now.I finally find it.
In the washing machine.
This is the third book I've washed. I washed Barbara Kingsolver's Bean Trees, (please read) David Sedaris'Me Talk Pretty One Day, (please read) and now I've washed Howard Zinn. (Yes, Sister, I know I also washed Bird by Bird but four book washings might suggest that I have some sort of problem, so I thought I'd stick with just the three for this particular post.)
This book washing issue might not be so weird, especially for me, who once had to call the sweet fire department three times in one week to rescue my children from cars into which I'd locked them nice and tight.
Unless, as my now repentant husband pointed out yesterday… it's just that you hardly ever even wash our clothes…so how does this keep happening?
Go to your room, I said.
I must find a way to start paying attention while doing things. I don't understand how people do it. I mean all the time? A girl has to pay attention all the time? That's ridiculous. I think I'd rather just pay for new books.
Love you Monkees. Really, really do. Have a fantasic weekend. Try to pay attention.

Kive,
G
P.S. Yes, the book reeks of mildew. It was in there at least three days. I have come to the conclusion that while I may be able to do hard things, I am incapable of doing easy things. Whatevs.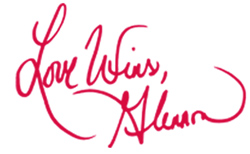 Author of the New York Times Bestselling Memoir CARRY ON, WARRIOR
Join the Momastery on-line community on Facebook, Twitter & Pinterest