Next week all three of my beloved kiddos will head back to school, where they belong.
For the first time, I'll have six hours a week of empty house, and I've decided to spend these hours writing. I am thrilled and delighted and committed. I have promised myself that I will let nothing encroach on my writing time. I will not volunteer, I will not clean, I will not shop, I will not visit, I will not facebook, I will not, not, not. I will write, as a gift to myself.
I just finished re-reading Virginia Woolf's A Room of One's Own. She says, "If a woman is going to write, she will have to step on a few toes." * Yes. Ma'am. I shall step, step, step away. I shall take my time. Just take it, since it belong to me. Love that woman. Love that woman. I so wish she hadn't killed herself, so she could have told us even more. I'm grateful she gave what she could.
Monkee-ville seems to grow and then rest – grow and then rest. Lately, we've been growing like mad. I'm receiving more emails than ever before. I love your emails. They feel like love letters. If I ever stopped writing this blog, the love letters are what I would miss the most.
I love getting to know you by reading your stories. I've mostly stopped responding, but I read every single email, and when a Monkee asks for prayer I write her name on a little piece of paper and put it on my bedside table. Honestly, I don't always remember to say a prayer. But I consider writing the name with love to be a prayer, since my heart always flutters a teeny bit as I write. I believe that flutter to be the triangular connection between God, the Monkee, and me.
Many of the Monkees who write ask me the same questions. . . so I'm going to answer a few FAQs.
During the past month, I've received twenty-one of these requests: "G, will you promote my cause on the blog?"
These requests thrill me. The beauty of this blog is that it attracts people who want to spread hope and help and light. And that is a good, good thing. So here is what I've decided: I will promote each and every one of your causes on the Momastery Facebook Page. I will link to your project with lots of exclamation points!!!! and thousands of people will read about your cause and celebrate your efforts and those who are particularly touched by it will have an opportunity to become involved.
But for now, this blog's cause is simple and clear and one. After much thinking over the past month, it has become clear to me that Momastery's cause is you. Which means that my cause is you. The Monkees -as a group and individually. So you Lovies go ahead and take care of the world and your partners and kiddos and neighbors and enemies and while you are doing so, my job will be to help care for you. Because you're bound to get tired, and I want this to be a place for you to refuel and fill up. You gotta fill up if your gonna pour yourself out.
And so – the efforts I'll support here at Momastery will be Love Projects that benefit Monkees.We are a group of people who will be known by how uniquely and completely we love each other. Yes, please.
If your family needs help, you tell us. We will help. I'm not sure how it'll work, I just know that it will work. In real life, I have no idea what I'm doing. But when it comes to this blog, I know exactly what I'm doing. I just know. And I assure you that we can expect miracles here. God will provide.
Speaking of miracles . . . let's talk back to school. For the next few weeks, let's keep this in mind. It's all going to be okay. They're going to be okay. They already are.
*And as Beth so wisely suggested – remind your child to find the new student and ask him to play. The best way to overcome nervousness is to help another little one overcome hers. That's the important stuff.
Love You,
G
*That's not the exact quote. Went back through my book and can't find it. But it's the jist. Love.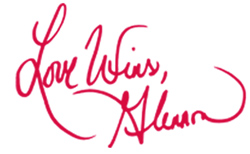 Author of the New York Times Bestselling Memoir CARRY ON, WARRIOR
Join the Momastery community on Facebook, Twitter, Instagram & Pinterest