*This one's for Christy, whose little laugh and big heart I love so very much. You're gonna like this one, C.
In my house, nobody wants to bathe, even though everybody stinks.
Admittedly, it is mostly my fault that my people stink, but still. My people must learn to compensate.
Every few days, when I announce that it's bath-time, all hell breaks loose. Tish hides and stomps and cries and Amma screams like a banshee. Now I am not exactly sure what a banshee is, I just know that Amma screams like one.
I have actually invited several neighbors into my home to witness this banshee screaming firsthand, just to prove that Amma makes these noises without being beaten. That is a true story.
This anti-bath banshee screaming continues once the two girls are caught and stripped and thrown into the tub, because inevitably one of them wants the VIP tub spot that the other is currently occupying. A Battle Royale ensues. Then, as I begin to pour lukewarm water over Amma's head, the banshee screaming intensifies. Amma reacts as if I have just poured battery acid into her eyes. She screams at the top of her lungs… "IT'S BURNING COLD!!!" or "IT'S FREEZING HOT!!!!" Which makes it quite difficult to know how to correctly adjust the temperature.
It looks a lot like this:
Then, usually about ten minutes into bath time, the girls calm down. They start mellowing, start playing with their bath toys, even giggle a bit. And then, of course, it's time to get out of the tub.
You can imagine how that goes. I actually don't want to talk about it anymore.
Except to say that all of this just reminded me of an evening a couple years back when my friend Jen called and said, "What did you and the kids do today?" And I said, "We bathed." And she said, "Uh-huh, for what?" And I said," What do you mean, for what?" And Jen said, "Well, I mean, were you getting ready for something special?" And I said, "Um. No. I don't mean we bathed in preparation for an activity, I mean, bathing WAS our activity. That's it. We've been resting ever since. And honestly, I'm still totally exhausted."
The bonus here was that Jen called the following week and invited the kids to a concert.
I have always depended on the kindness of concerned friends and strangers.
But anyway, you guys. Here's the point of this post. My bath time woes are OVER. DONE.
I have discovered a miracle. I can hardly believe it myself. Because the miracle I am about to present to you means that I will NEVER be forced to bathe a child of mine again.
On the way home from my parents house yesterday, I passed this billboard. I couldn't believe my eyes. So I turned the van around to verify and frantically jot down the number.
HALLELUJAH! HALLELUJAH!!
I'm calling tonight to inquire about three-for-one deals. Joy. Thank you, world. You sweet, helpful world.


Love, G
If you're not completely offended by now, go on over and vote.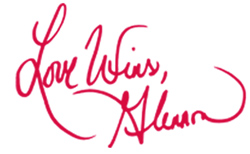 Author of the New York Times Bestselling Memoir CARRY ON, WARRIOR
Join the Momastery community on Facebook, Twitter, Instagram & Pinterest