When we are asked what we want out of life, we say:  I want to make a difference. I want joy. I want peace.
But when we're asked how we're going to get these things- we say we don't know. Our paths aren't clear, we insist. We don't know what to do next. We don't know how to find our calling.  We feel a little lost.
Last year, I sat in church thinking about the gap between what we know we want and what we actually have, and how to bridge that gap. As I was thinking, I was singing along in my hymn book, and my eyes fell upon the word compassion. I love the word compassion. I tell my children that when they feel the familiar ache of compassion in their hearts- they are to assume that God is saying, "HELP! One of my children needs you. Do something!" I ask my children to ACT when they feel compassion.  I explain that compassion is NOT your heart's pain in my heart. That's pity. Compassion is YOUR HEART'S PAIN INTO MY HEART AND THEN OUT THROUGH MY HANDS. Real compassion demands action.
And then I noticed something special. Look at the first part of the word compassion.
We all wonder – what should I do next? Where do I turn? What step do I take? How do I find what my peace, my joy, my connectedness? What if the voice of compassion IS OUR INTERNAL COMPASS? What if all we have to do to get what we need down here is run towards the very things and people and places that break our hearts? And when we get there…what if all we have to do is reach out our arms, open our hands and hold space?
Tomorrow I am going to ask you to RUN TOWARDS SOME PRECIOUS FAMILIES. I need you to read their stories and look at their pictures. And while you do, please pay close attention to your own body. Please notice how you feel. If you feel that familiar tug of compassion, let it be your compass. Let it be the voice that says- TRY IT. GIVE THIS FAMILY WHAT THEY NEED, AND THEN SEE IF THAT OFFERING RETURNS TO YOU WHAT YOU NEED. See, if just for tomorrow, ­offering a stranger radical love provides you with the senses of peace, belonging, joy, and empowerment you're searching for. Let compassion be your compass tomorrow.
LOVE FLASH MOB RULES:
We can't do great things. We can only do small things with great love. And so NO ONE IS ALLOWED TO DONATE MORE THAN $25. EVERY DONATION MATTERS.
Because Monkee See- Monkee Do is an official 501(c)3, every penny of your donation is tax deductible.
Any money we collect beyond what these families need will go to Monkee See – Monkee Do as we continue to meet the needs of families throughout the year. Every recipient of your generosity is thoroughly vetted by our board.
Because the members of your Monkee See- Monkee Do Board work for free – WE HAVE NO OVERHEAD. EVERY PENNY YOU DONATE GOES DIRECTLY TO FAMILIES IN NEED.
While we wait with GREAT HOPE AND ANTICIPATION for tomorrow- please look back on the magic that has been made by our previous four Love Flash Mobs. On those sacred days, we followed our internal compasses and we offered these families what they needed – and then we learned that what we really needed was to believe that we live in a world where LOVE WINS and WHERE STRANGERS BELONG TO EACH OTHER. And the way we make that true is that we MAKE THAT TRUE.
Our first Love Flash Mob was held on 2/9/2012 in order to raise money for a precious mama, Kristen – who was dying of cancer and wanted to take her family of ten on their first and last vacation together.
You raised $25,100 in ten hours to send the family on a vacation of a lifetime.  Kristin Croyle has since passed away, and her family tells us they continue to cherish the sacred memories of that week together. Kristen's husband came to visit me recently at a book signing in Ohio. It was brutiful.
Our second Love Flash Mob was held on 5/9/12 in honor of Mother's Day. In that LFM, we raised over $83,000 in 51 hours in order to buy two vans for ill mothers who needed equipped vehicles to care for themselves and their families. Precious Claudia was one of the van recipients. Mindy was the other. I got to meet Mindy several months later at the PHI fundraiser. By then her hair was all gone, but she was smiling. Mindy is brutiful and these ladies have become heroes of mine.
The LFM held on 3/5/13 was MSMD's third LFM.  We raised $85,000 in five and a half hours in increments of $25 or less, so that Project Home Indy could bring a teenage mom and her young son without a home into PHI to live and thrive.  More than 15 people gave greater than $250 cumulatively per minute for 5 ½ hours in order to reach our goal.  All told, more than 4,500 people from 14 different countries gave toward the effort.

When people were still so moved to give after the initial goal had been met, we kept the LFM open until midnight to collect additional resources for MSMD families that had been waiting for help.  By midnight, we had raised $110,000.  In total, more than 6,000 people contributed.
Here are some examples of what we did (and continue to do) with the funds that were raised in excess of the $85k needed for PHI:
We sent household items to a single mom with young son who left an abusive relationship and just got a job to support her son.
We sent funds to an 8th grade group of Girl Scouts making fleece blankets and hygiene kits for a local domestic violence center (they wanted to give something to folks who are at a crossroads in their life and to give each child who enters the shelter a warm fuzzy blanket that they can call their own).
Sent a vacuum to a mom whose toddler son has several respiratory issues and their vacuum just died;
Sent funds to the family of a little boy born with severe heart disease, has had several surgeries and whose father lost job due to being out of work for all the travel; and
Sent funds to support an organization that provides a weighted teddy bear to families who have lost a child at a late stage in utero.  The bears are weighted to the child's "birth" weight.
The LFM held on 9/17/13 was our fourth LFM. The goal was to raise enough to provide four alert dogs as guardian angels and companions for children desperately in need of canine companions.  Two children suffered from Type 1 Diabetes and needed diabetic alert dogs in order to participate in life in ways we take for granted – go to school, visit a friend's home, sleep through the night.  The two other children posed high risks for wandering away into dangerous situations – one as a result of autism and the other as a result of Down Syndrome.  MSMD exceeded the goals of the LFM by a landslide:  One hundred thousand dollars was raised in six hours – with maximum donations of $25 each.  In total, $120,288 was raised in just twelve hours.
Here is Piper and her Raven.
You guys. You know I started sweating as soon as this Love Flash Mob began to form- which was a month ago. BECAUSE THIS IS A VERY CAREFUL PROCESS- THE FAMILIES WE ARE MOBBING KNOW THAT TOMORROW IS THE DAY. THEY WILL BE WATCHING AND WAITING AND PRAYING THAT WE CARE ENOUGH TO PULL THROUGH.
Please show up. Show up tomorrow, friends. With small offerings and big love.
Hopeful and Sacred Scared and Grateful That Sister Flew to Florida To Hold My Hand for the Next 48 Hours,
G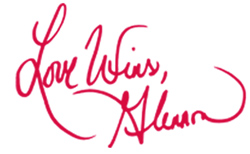 Author of the New York Times Bestselling Memoir CARRY ON, WARRIOR
Join the Momastery on-line community on Facebook, Twitter & Pinterest