You guys. You did it. Together, We Did Hard Things.  
$100,000 in 6.5 hours.  $150,000 in 13 hours.  Total in 24 hours:  $162,952.53.  
More than 8,000 donations. Average donation: roughly $20.
All five families will get what they needed from us.
So here's the truth: We live in a world where people believe that We Belong To Each Other. We live in a world where people give away hard-earned money to strangers. We live in a world where Love Wins. And we have PROOF. Right here.
I still cannot stop crying and I will never, ever forget this day for as long as I live and I love you. I LOVE YOU.  Liz gets to call the five families from yesterday's essay and tell them that YOU CAME THROUGH for them. She gets to call them and tell them that Help is Coming.
You guys. THANK YOU. I cannot believe I get to do this life with you. I CANNOT BELIEVE IT. HOW DID WE GET SO LUCKY???? TO FALL TOGETHER AND THEN WALK THROUGH LIFE TOGETHER?? TO BECOME MEMBERS OF THIS CRAZY, UNBELIEVABLE, GRACE-FILLED CREW?? All the tears. I cannot believe I have any tears LEFT.
When I e-mailed Amy about the Love Flash Mob results, she wrote back this: "G, I have no words. Actually, I have one word: Mindy."
Yes. That's the word: Mindy. Thanks for your help today, Min.
Yours Forever and Ever and Ever and Ever-
G and Sister and Allison and Amy and Liz
The love that you pour out in these Love Flash Mobs continues year-round through the life-giving work of Monkee See – Monkee Do. Because MSMD is run by an all-volunteer Board, we have no overhead so all of your donations go directly to families.  If you would like to to the MSMD general fund that supports families throughout the year, you may do so by clicking the button below.  Your gifts help us sprinkle more of your radical, wild love all over other warrior families. As always, we will tell you ALL ABOUT IT. Because, of course, you ARE it. We can do hard things, Monkees. Together, We Can Do Hard Things. We DID hard things.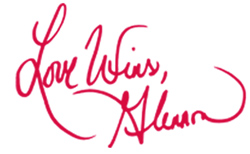 Author of the New York Times Bestselling Memoir CARRY ON, WARRIOR
Join the Momastery on-line community on Facebook, Twitter & Pinterest