One of my favorite strategies to add magic to my life is remembering to Go Off-Script with people. Sometimes I feel like I'm walking around in The Truman Show—like somewhere along the line, we've all agreed to stick to the script, to choose one of  six approved lines to throw at each other (Great weather we're having! Love the scarf! I'm fine, and you?) and never, ever say what we're really thinking. It's like we have two voices: a juicy one in the back of our heads saying interesting, true, dangerous, delightful things and the other voice that shushes the juicy voice and sticks to the Script. That voice is safe, but she's also kind of a yawn-fest. And she doesn't unlock people. She doesn't wake anybody up. When we stay on script, so does everybody else. When we jump off script, others do, too—and things get interesting.
Yesterday I was waiting for the lady behind the post office counter to help me. It was taking awhile. I felt like saying something, so I invited my juicy voice forward. Instead of saying "nice weather," I said, "That little girl in your locket is beautiful. Who is she?" And the woman stopped working and looked up at me. She grabbed onto her necklace as if she'd forgotten it was there. Her eyes lit up and her body language softened. And time seemed to stop as she explained that the little girl was Laura, her daughter, and that Laura had passed away seventeen years ago. I said, "I'm so sorry. Laura was beautiful. Laura's eyes are so bright." And she said "It's good to hear her name. "
There you go. We were not just customer and post office employee after all. We were two mothers. Two women. Human connection made. I'm so glad we didn't miss each other. Meeting her put my whole day in perspective. Life Off-Script is just another way to live AWAKE, to remember that each person who crosses our path is a teacher.

It just makes everyday life a great adventure. Here's another example of some Off-Script Magic.
Several weeks ago, I sent this email to Tish's teacher:
Dear Mrs. B,
I am writing to regretfully explain that Tish's homework folder has somehow disappeared into the black hole that is our family home. Since you know my baby girl you might understand that this occurrence is: The Official End of The World. THE END, Mrs. B. It is over. I am trying to contain the weeping and gnashing of teeth, but Tish has decided that since her folder is missing, it is time for her to finally give up on making something of herself. This is quite sad for our whole family. We really thought this one had potential. Thank God we still have two more.
Please accept this mama's humble plea for a new homework packet. As for the original packet, I am certain I will find it somewhere in our mini-van right before Tish graduates from college. IF we recover from Foldergate, that is. If not, it has been wonderful knowing you.
If it is against the rules to provide another packet, we accept our fate. I simply ask that if this is the case: please don't return Tishy to us. Consider taking her home with you. She just needs a couple grilled cheeses a day. I have done my best with her but we can't win them all. I really do wish the two of you great joy and success in all your future endeavors.
Mrs. B—all my continued gratitude and awe to you. Thank you for showing up day after day to give your all to our kids. Thanks for doing the most important work in the world. You are one of our family's heroes.
Love,
The Messy Meltons
PS. FOR THE LOVE OF GOD PLEASE GIVE US ANOTHER PACKET.
A few hours later, I received this reply:
Hi Glennon,
Well, I guess there goes Tish's chances of getting into an Ivy League college. I put together another packet of homework for Tish. I didn't have an extra copy of  the article on George Washington, so I replaced it with one on Abe Lincoln. Swapping one famous president for another should work in a situation like this. She also had her dad email me about the missing extra credit packet. I guess she was worried I wouldn't believe her! The reward for completing the extra credit was only two Chips Ahoy cookies, but they were the chewy ones. Who would want to miss out on that!
Since Tish didn't have a yellow folder to put her homework in (lost, too) I had to come up with a way she wouldn't lose the new copy. I've attached a picture. She's such a good sport. Carry on.
Have a great day!
Mrs.  B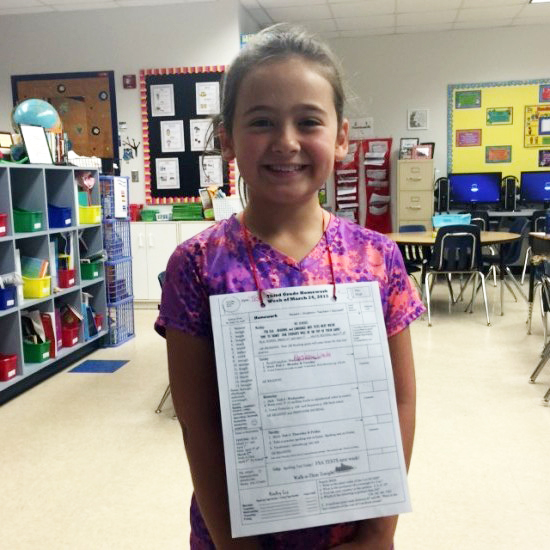 God Bless the teachers, every one. 
GO OFF-SCRIPT TODAY, FRIENDS! Everybody is such a great adventure.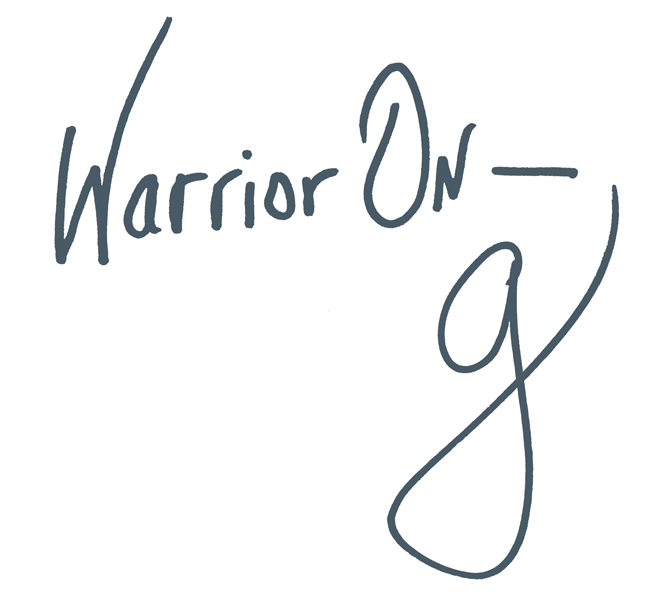 Author of the #1 New York Times Bestseller LOVE WARRIOR — ORDER HERE
Join the Momastery community on Facebook, Twitter, Instagram & Pinterest