Yesterday I got home from Storyline. Storyline is a conference about how to transform your life into a beautiful story- or how to recognize that your life already is a beautiful story.  It was created by Donald Miller, and now he runs it alongside Bob Goff and Shauna Niequest and this whole team of ridiculously creative, loving people -all of whom are my heroes. Don Miller asked me to speak at Storyline this year with all of these folks I've admired from afar for years.  There are no words for the gratitude and holy terror I felt about this invitation. Zero. None. I won't even try.
I prepared my speech for seven million hours and I showed up at Storyline in Chicago. I was scared but kept smiling. Straightaway- a woman I'd never seen before came up to me and handed me a bracelet. It said courage on it. I thanked her and put it on and stared at it and felt comforted by this message, but also kind of tired. I keep having to have courage. I really truly feel sometimes that I might just run out of courage like a car runs out of gas. I wished the message on the bracelet said: just go ahead and chill for a while.
A few minutes later, a very strange thing happened. A different lady walked up to me and handed me another bracelet that looked exactly like the courage bracelet – except that it said: Today. My eyes widened. I put it on and it sat right under the first bracelet so that the message became "Courage Today." This message clicked.  Just today. Just have courage today, Glennon. One day at a time. Today is all that matters.
I met a woman at a book signing once who told me that she has a sign in her kitchen that says: "Feel free to use up every bit of courage you have today- you'll get a fresh refill tomorrow."
Like that.
I loved my bracelets. They helped me through the day. I climbed up on stage and told those two thousand people ALL the things. I told them all the things you already know about me. I told them that even though parts of my life look shiny these days- the truth is that I'm still messy and lonely and confused often but I'm showing up BIG ANYWAY. I told them that this showing up messy and scared thing was actually going sort of fabulously most of the time. I felt courageous on stage. I felt like I did my best for the Storyline team. That's what I really wanted – just to do my best for these people I respect so hugely – and to truly serve that audience well. I always think of myself as a servant with fun shoes.
On my flight home I was in the aisle seat. There was an older man in a cardigan reading the newspaper in the middle and next to him there was a woman staring out the window. When the plane took off there was lots of turbulence and the window lady leaned over and put her head in her hands. This is the international symbol for: I hate flying I hate flying I hate flying I am so scared why the hell did I get on this plane? So I reached over cardigan man and put my hand on window lady's back. She didn't respond and then I remembered physical boundaries so I pulled away and read my book. An hour later I was sitting in my seat wishing that I had brought food. I was hungry. All of a sudden a bag of Cheez-Its landed in my lap out of the clear blue sky. I felt like Katniss. I looked over at window lady and she nodded at me. I told her that she was a Cheez-it Angel. No smile, another nod. When I finished my Cheez-its, she reached over cardigan man again and put a piece of gum in my lap. I had really wanted a piece of gum. It was all quite odd and lovely. I said thank you to this Haymitch Window lady and read more of my book.
A little while later, I heard cardigan man ask window lady what her plans were in Florida. She said, "My dad's in the hospital. My dad had a heart attack." My body stiffened and I looked over at her and she looked terrified. Her face was suddenly WIDE OPEN. Like maybe she'd JUST found out. Her face was asking us questions, like: How can this be happening? What is going to happen next? Do you have any idea what is going to happen? Do you believe this is my DAD I'm talking about????" I realized that maybe her head had been in her hands for different reasons. I said, "Oh God. I am so sorry. I am so, so sorry." I reached over and touched her back again. I felt really helpless and sad and grateful that she had shared. I thought about how everyone is fighting such a hard battle.
I started reading my book again, and as I turned the page I saw my bracelets. Courage Today. I thought about how yesterday I needed big courage and about how today, window lady was going to need big courage. I thought about how two strangers had passed on the courage reminder to me- and so maybe I should pass it on, too. I took my bracelets off and reached over cardigan man again and placed the bracelets in window lady's hand. I said, "Someone gave these to me yesterday. They helped me. They're for you, now. Just today. Just show up for your daddy and be brave today. Today is all anyone can ask of you."
She looked at the bracelets and looked at me and said, "Thank you."
"Thank you, too," I said. "You can do this. This is going to be really, really hard but you can do hard things."
Okay, she said.
I know this essay isn't well written, Sorry about that, I'm kinda tired. But I just wanted to get it down because I think it's about all that matters in the world. Kindness to strangers. The moments that at first glance seem ordinary and suddenly turn into absolutely everything.
How long is forever? Sometimes just one second. – Lewis Carroll, Alice in Wonderland
Jumping off script with people. Touching strangers. Going out on a limb and feeding them. Telling people the truth about your fear. Inviting people in. Passing out courage like Halloween candy. Reminding people to Use It All Up Today. Love. Passing it on. Understanding that that gifts that we're given- whether they are talents or Cheez-Its or bracelets- are for giving away. Living as if our gifts are important and good enough to heal the world.
During Don Miller's speech at Storyline, he said that you can tell a story is good when after it's over, you get the feeling that maybe life is more special than you thought it was – and so you feel grateful just to be alive. That's how I felt when I got off that plane. That flight was a good story. And I'm praying for window lady. I'm asking that Today, Courage will flow toward her and her family like a mighty river. Or maybe more like the ocean waves pounding the sand – powerful and constantly renewed. Never stopping. Never finished.
Courage Today,
Glennon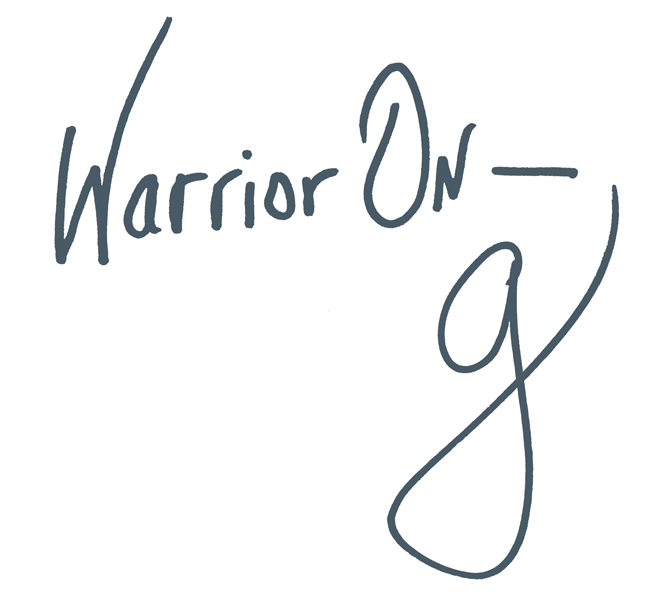 Author of the #1 New York Times Bestseller LOVE WARRIOR — ORDER HERE
Join the Momastery community on Facebook, Twitter, Instagram & Pinterest