Friends, I got home from Tedx last night. Every time I'm away I get a little teeny bit of Mommy Guilt (even though I don't believe in Mommy Guilt, dammit) and so I decide that when I return I am going to be the Best Mommy In The World. Last night I took Tish to buy a new dress for her school concert, and she chose one with a matching doll dress. A little bit ridiculous, but not TOO ridiculous for me because I was still in Best Mother In The World mode, since I'd only been home for an hour.
This is Tish with her baby on our way to school this morning. I mean look at this child. SMILING. HAIR BRUSHED. DRESSED. WITH A DOLL WHO IS ALSO  DRESSED. I mean, seriously. We were rolling. We were on a FAMILY ROLL this morning. All five us in the car, ON TIME for school. Did I mention our hair was brushed???
What comes after pride, folks?
THE FALL. That's what comes.
In the form of a kind but stern police officer who did not even seem to NOTICE that clearly he had just pulled over THE BEST MOMMY IN THE WORLD.
We told the truth when we arrived in the attendance office. Because we might be traffic criminals, but we are HONEST criminals.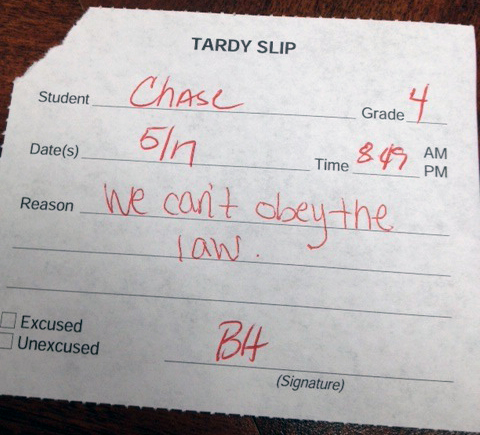 Amma wrote her own slip. I can't do all three, EVERY TIME. I'm proud of her penmanship. It's important to look for the good.
Happy Weekend, Monks.
Love –
G (TBMITW)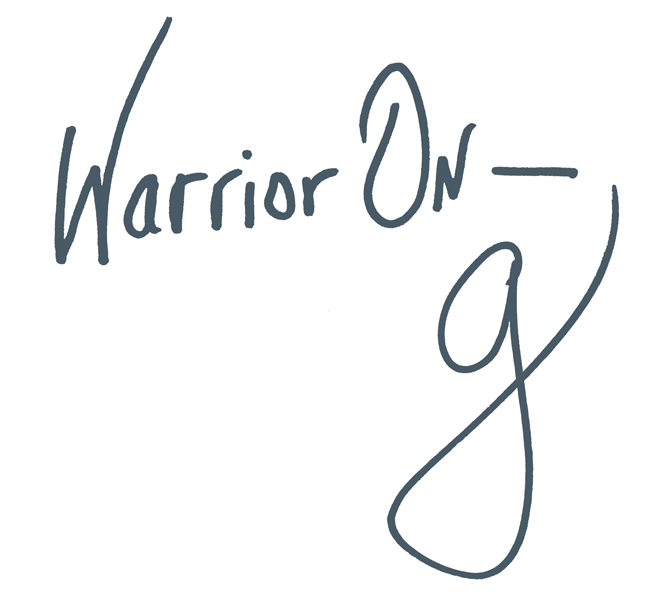 Author of the #1 New York Times Bestseller LOVE WARRIOR — ORDER HERE
Join the Momastery community on Facebook, Twitter, Instagram & Pinterest