This picture was taken at the kids' holiday concert.
I was mesmerized throughout the whole show – I always am when I watch teachers make dozens of kids sit, pay attention, follow complicated instructions and incidentally, create something beautiful. Why do we not give teachers awards? Those things they create…the skits, the dances, the songs? Teachers are magicians. They spend their lives and days creating the beautiful moment of glory for us at the end. The show. And in the end, the end isn't what matters at all. We parents sit and we clap – knowing that the performance isn't even the good stuff.  The good stuff is the hours of practice and focus and togetherness and patience and teamwork and discipline and joy that went into the preparation.  The good stuff is the time in the classroom that changed our children from the folks we dropped off in the fall to the just- a-little-bit- better folks we see standing in front of us at The Show.
We should recast The Oscars this year. The actors should sit out for the night and the 2013 Oscars should be an evening to celebrate teachers. We should sit at home at our Oscar parties and watch classroom highlights. We should witness some of the sweat and time and love that teachers all over the country pour into each precious little one while no one is watching. We should witness the moment where a child learns to read for the first time – next to the teacher who has pointed to the same letters for days, weeks, months – alone with that one child and her relentless hope for him. We should look at that huge golden screen on stage and watch the Shy Child join into the jump rope game for the first time. We should sit on the edge of our seats while we watch her gather all of her courage and pour every drop into that one sentence she's been practicing with her teacher before recess every afternoon.
"Can I play, too?"
Then the excruciating pause. The whole country holds its breath.
"Sure," the other girls say. "Jump in."
They've been coached too, of course. By this teacher. By this conductor of hope.
Shy child looks over at her teacher with bright, terrified eyes. Hope is so terrifying. Teacher flashes her a thumbs up and a teary smile. "JUMP IN!" she calls silently with her eyes. Shy Child jumps in. Permanently.
Oscar worthy.
Who's the boss of the Oscars? I'm going to write to her.
Back to the holiday concert. I sat and watched the children and the parents watching their children with their cameras and pride and babies all bundled around them and tried to contain my love for them inside my body. Containment is impossible for me at moments like these. At moments like these, my love is too big and so it sneaks out, through runaway tears and sighs and stifled cries and way too loud cheers and whoops and hollers which forever embarrass my son and husband. Children making music together. Who can stand it? It's too much to be handled gracefully. Love and hope and joy escape. Can't be contained inside bodies. Shouldn't be.
In between songs, I noticed a mama in front of me on the bleachers struggling with her toddler. Little One was squirming and yelling and I wondered if she was having the same joy-containment problem that I was. I smiled at her and we played peekaboo for a while. Stressed Mama glanced back at me gratefully. Then I looked over and the mother beside me rolled her eyes my way. She was mad. I could feel her panic. Oh my God this baby is going to ruin my baby's moment. Can't I just have one moment of peace?? Just one perfect morning? It's always something. Damnit, it's always something. I understood Mad Mama. I feel that way daily. Because: No, you can't. You cannot have perfect peace. No one can. We'd be less exhausted and angry if we'd accept it. But we can't. Nope. Not me anyway.
I saw Stressed Mama notice Mad Mama's annoyance. I ignored Craig's: "Oh God, Glennon, just stay out of it this once" look, which he has mastered despite its absolute ineffectiveness. I looked into Mad Mama's rolly eyes, gestured toward Little One and said, "Do you remember those days? I sure do." Then I leaned into Stressed Mama's ear and said, "Don't worry about your beautiful baby. She's fine. Look, they're about to start singing again. The music is always louder than the crying."
Then I settled back into the bleachers. And I tasted that last sentence in my mouth.
The music is always louder than the crying.
I turned it over and let it run on repeat through my head and heart and through my veins again and again. It rang true. It was a gift to me, that sentence. My gifts usually come from above in the form of beautiful sentences.
The music started and I watched Little One. She was still squirming. Still babbling away. But I couldn't hear it. Not really. The singing was too loud, too irresistible. It enveloped me. It does, if we let it.
For me, there has been a whole lot of crying this year.
A few months ago, God lifted the curtain and it became clear that what I thought was my real life was actually a carefully rehearsed show. There were all kinds of artificial forces, namely fear and shame, pulling the strings back stage. They were making my precious cast dance and move and say things that weren't real. That weren't true to who they were. It wasn't real, my life. That was a big fat shock. I looked behind me –at the messy, messy backstage and back towards the startled audience and said: "WHAT? My world is BUT A STAGE? I didn't know."
Everything disappeared. Everything.  It all just fell away. And for many, many weeks, each morning and night, it was me and God. Just us. People came. People helped, in the way people can help. But in the quiet it was just God and me. God must love me very much to want me alone so badly. We did good work in the quiet. God told me I had to wait. God promised me that all evidence to the contrary, I was safe. I heard that over and over again. You are safe. You have to wait. Time takes time. There is nothing harder than letting time take time without trying to fix a damn thing. There is nothing harder than making no decision. But that is what was required of me at the time. And I had excellent company with which to wait.
God waited with me. I trusted God and God trusted me. I did not lose my mind. I did not lose my faith. I just moved my faith. I took it back from the folks around me and from my ever changing  feelings and my fickle and broken heart and my bat shit crazy mind and Craig and my kids and my religion and everyone's advice. I took my faith back from all those things and I gave it to time and quiet and breath and rest and water and God and fierce, jagged, solid love. Not the kind of love that hugs and smiles and giggles and bubbles and draws hearts. The kind of love that waits for things to become clearer.
In the end, this year was not about the end. It was not about the big performance, the reveal, the Christmas show, the happily ever after.  It was about the hours I spent with God. It was about the trust we built in each other. The time we passed together – the practice and focus and togetherness and teamwork and discipline and agony and relief. It was about how God dropped me off in 2012 and then visited my just-a-little-bit-better self this morning. This first morning of 2013.
In the end, this year was not about Craig and me at all. It was not about saving my family. This year was about learning that all evidence to the contrary, I am safe. This year was about proving that nothing, but nothing can separate me from the love of God.  Even if we die, we don't die. If our dreams die or our bodies die or our beloved dies – We do not Die. I know this.
"In three words I can sum up all I know about life. It goes on."  – Robert Frost
Life has gone on. And in the end, I have learned this: My peace is not dependent upon anyone else. Not anymore. My peace is God, and God is as close as my decision to sneak away for a moment and find quiet and find my breath and remember that the music is always louder than the crying.
It's gonna be a fierce 2013.
Love you so.
G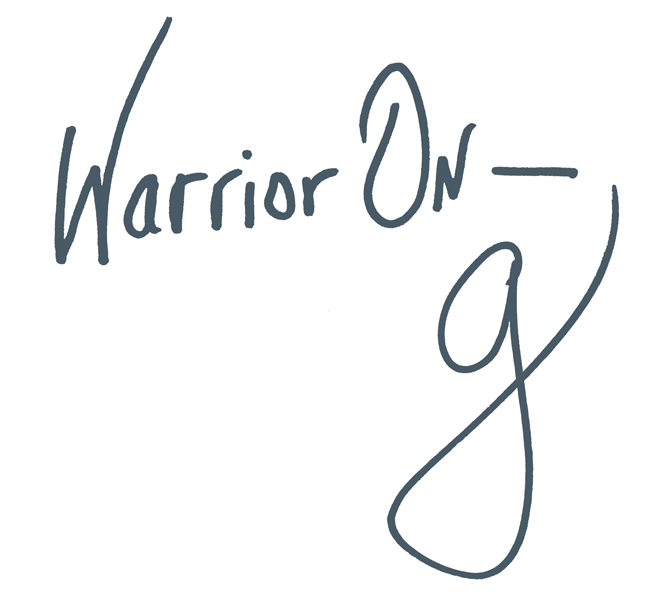 Author of the #1 New York Times Bestseller LOVE WARRIOR — ORDER HERE
Join the Momastery community on Facebook, Twitter, Instagram & Pinterest