Where to start?
This morning I'm exhausted and exhilarated and terrified and peaceful and in a state of utter disbelief. In short, I am just myself.
As you know, Sister and I set out for New York City on Monday morning for a three day whirlwind of meetings with the potential publishers of our Momastery book.
I have been working on my writing and this community for three years, and the most difficult part of the entire journey- by far- has been trying to figure out what to wear to these fancy meetings in NYC. After seven- YES SEVEN  –  trips to the mall . . . I still wound up in jeans. All week, every day. Actually THE SAME jeans all week. Fine. Clothes are like cereal and there are just too many damn choices and flavors and ingredients to consider and it's all overwhelming and I'll just stick to Kashi and jeans, thank you very much.
And no, for you newbies, Kashi is not paying me to say that. No one pays me here, ever. So while we're discussing free product placement I MUST tell you that the most important thing I learned this weekend is THIS.
MITCHUM DEODORANT is THE HOLY GRAIL.
Oooh. Eeem. Geee. I'm a sweater. Sweat-er maybe? Pit stains are my nemeses. The second I get nervous my face turns red like really ripe tomatoes and my armpits start pouring like Niagara. In buckets. It's Just AWFUL. A big life problem, in a first world kind of way. Grey shirts – Never. Patterned shirts- Perhaps.
We had two phone publisher meetings before we left for NYC and after each of those calls I had to CHANGE clothes. I even sweat watching talk shows. I get so nervous for the interviewers and the interviewees and all the awkward moments between them that I just sweat and cringe and duck behind my pillow and Craig says GLENNON: TELEVISION VIEWING IS NOT SUPPOSED TO BE AN ACTION SPORT. And this is one of the million reasons I love Ellen. She NEVER makes me sweat. She always offers her guests a soft place to land and awkwardness is so limited that I never have to change shirts after watching her show. Thank you, Ellen.
My point is that I was VERY nervous about my sweating problem when I considered TWELVE meetings with big time publishers. Then my friend Gena told me about this Mitchum. It's a man's deodorant, of course, because we ladies are supposed to have no sweat glands or at least pink or powder blue sweat glands. We are supposed to sweat pretty, I suppose. But I don't. And you guys: MITCHUM. Go get it. Yesterday I had SIX MEETINGS in a row with very fancy people at very fancy huge tables (could you even see over them? Craig asked) and at the end of the day: no pit stains. I'm just saying, this stuff is a game changer for me.
Kay. Back to the trip.
I was nervous on the train ride up to New York. I mean, here I go…to some of the biggest publishers in the world  . . . to REPRESENT MONKEEDOM  and to attempt to put our magic into SPOKEN (not written!) words. Impossible.
Luckily . . . as they say: We can do hard things. Impossible things just take us a teeny bit longer. Teeny bit.
Still, I was slightly nervous and by that I mean paralyzed with fright.
But when I stepped out of Penn Station and smack dab into to the lights and frenetic energy of NYC, my panicky heart stopped panicking.  Because this is the first thing I saw.
Look at how sad Jesus looks. I think maybe he's cold. That Jesus needs some sauna time.
But when I saw him I thought . . . if there can be a Monastery holding its holy ground in the middle of this city's mayhem, then maybe my quiet, still, strong little heart can hold its ground, too. Maybe I can just carry my quiet around with me, in this noisy place. Maybe I can pack my heart in indestructible quiet like wrapping a treasure with enormous amounts of bubble wrap. Maybe I can Be Still and Know what I know.  And I did, immediately.  I looked at that Monastery and demanded myself to remember that I was in New York to represent love and peace and humor and disarmament and community. That I was just a little representative of those big universal ideas. Nothing new here. So let us begin.
And begin, we did. Sister and I checked into our fancy hotel and then we jumped into a cab and toward the Huffington Post. I was afraid because it appeared that the cab driver was actually trying to murder us, but Sister said that's just the way they drive. Good Lord. No wonder the New York Momastery Jesus looks so concerned.
When we arrived at Huff Post, Farah, who runs the Parents Department met and hugged us like we were family and showed us around the amazing huge office where, as Farah said,  folks  "make the internets."  Farah shares an office with Lisa Belkin. I love her and it turns out that I love her even more in person. She  gives good hugs and tells great stories.
Farah told me that we at Momastery are the heart of Huff Post parents. Yes, she said that to me. She also said she'd love to partner with us to pull off a humungous Love Flash Mob for Mothers Day. Really? I said. Really, she said. I can't wait. Maybe we should have a single mom Flash Mob? Not sure yet. It's just exciting, isn't it? Our passion for caring for strangers is contagious. New York loves it. I heard they were tough up there, but honestly? That's not what I saw. I met a bunch of soft hearted puppy dogs, really. Before we left, Farah asked if we'd like to meet someone and we said yes, of course we would – because that is how one should always answer that question.
Then Farah took us to Arianna Huffington's office. And Ms. Huffington floated out and hugged us and told us that she loves our blog and writing. And she gave us signed books and asked for a picture with us. Unfortunately I said no words at all because she was so tall and beautiful and powerful and Arianna-ish that I was unable to make noises other than tiny squeals. I hope she didn't notice.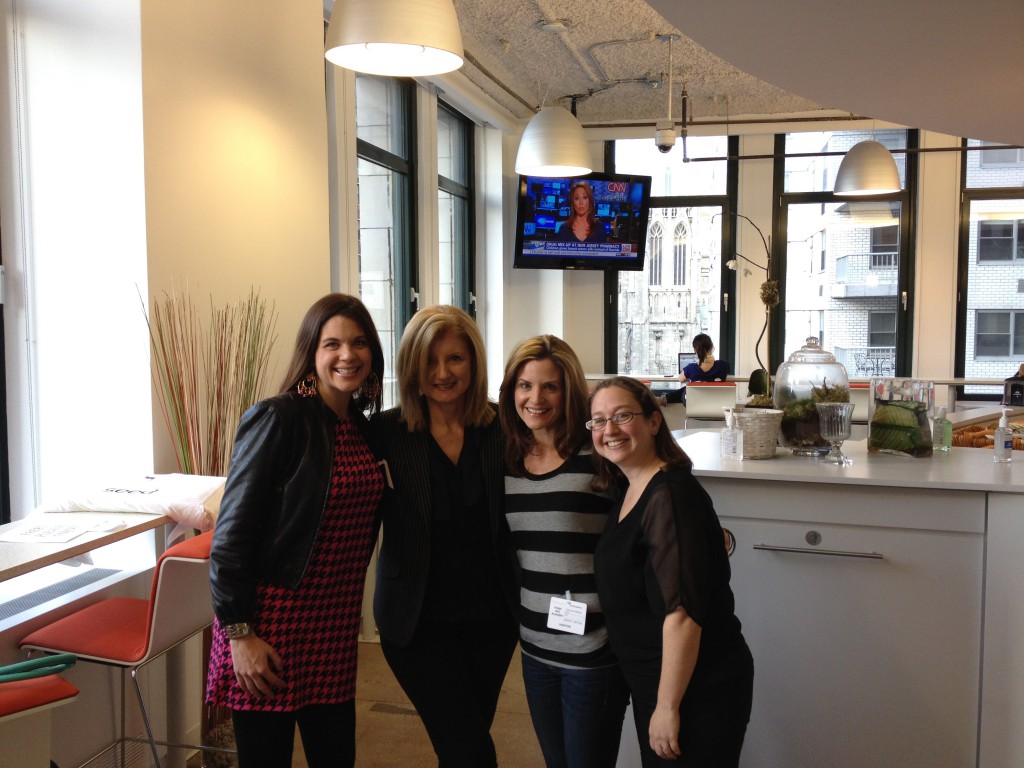 Then Sister and I left the office and walked on air to dinner. Dinner in New York City, just the two of us. We held hands the whole way and she watched where we were going so I could stare straight up in the air because how on Earth do they make buildings that tall? How? People are amazing.
Then we got back into a cab and we hightailed it (NEW YORK IS IN A HURRY LIKE THEY'RE ALL TRYING TO ESCAPE A FIRE) back to the hotel. And we got into our jammies and made hot tea and snuggled into our beds and looked outside our floor to ceiling windows at the lights and the buildings and the energy and it was SO unbelievably and surprisingly comforting. Like listening to the ocean is comforting, but different. Listening to the ocean is wonderful, but always a little bit ominous, because the ocean is a little bit ominous. But listening to oceans of people wasn't ominous at all.  It felt like I could go to sleep and everyone would keep taking care of things out there for me. And also, they'd be right there -still – when I woke up.  So I went to sleep, at eight o clock. This week I disproved the theory that New York City never sleeps. It is actually LOVELY to sleep in NYC. I want to go back immediately, just to look out the window and drink tea and then go to sleep.
But then all of a sudden it was morning and we woke up. And it was time.
To avoid this post becoming the actual length of our book, I will just tell you that the meetings were NOTHING like I expected them to be. The meetings were largely like sitting down with a group of brilliant and passionately interested friends, who would just like you to talk about yourself and your people for a long while. So it was heavenly, really. We didn't talk business much or strategy or other things I don't know about. We talked about writing and life and YOU. We talked SO MUCH about you. About our community and about how it is both magic and common sense. How it is proof that most women are not as competitive and polarized as they are portrayed to be in the media and how most people of faith are not as angry and vicious and close-minded as they are portrayed to be in the media. We talked about how most of us would like to learn from each other, would like to find in each other soft places to land. We talked about truth and love and peace. In one meeting, we talked about how Life is Not Hard Because You are Doing It Wrong, Life is Just Hard. I hadn't really figured that simple thing out, exactly, until the moment it came out of my mouth. But the meetings were like that. The fancy people that I was nervous about all turned out to be Monkees, under all and after all. And you know what? You know what all of these meetings made me ridiculously excited about?
Meeting YOU. That's what Sister and I talked about. How this book is going to be the excuse and vehicle we need to travel around the country (world?) to all of your cities and MEET and hug and look right at you.  I used to be really afraid of that idea, but I'm not anymore. Maybe because of the Mitchum.  I can't wait. I'm ready.  I want to hear your stories in person and see your eyes and your kids and meet your friends. It's going to happen. I can't believe that.
On the way home from the first day of meetings, I realized it was 7:30 and time to call home and sing "You Are My Sunshine" to the girls, because it's their bedtime song. So I had to sing right then and there, in the otherwise silent cab. I did not think that it was possible for that man to drive any faster, but as soon as I started singing, he sure did.
Right now, there is an auction going on for our book. I called it "our book" the whole time, because it is. We don't know with which publisher we will land but the incredible news is that I can say with certainty that we cannot go wrong.  This is due to the diligent and loving and exactly perfect work of our Monkee agents,  Sally and Trena.  I PRAY that you will meet them, too. They deserve their own post, but just know that they are very, very special and will be my dear friends and sisters for as long as they'll have me.
As soon as I know where our book will be born, and I'm allowed to share the news, I will.
For now, I just want to say THANK YOU. Thank you for believing in me and in YOURSELVES and in Love. Thank you for showing up here day after day and volunteering to do the hard work of creating community. The world has noticed your beautiful work. You have built a cathedral, a school, a zoo, a home, a deep, deep well from which thirsty people can draw.
This Momastery we have all created is beautiful, and it is enough. Apparently, it is also just beginning.
I love you.
G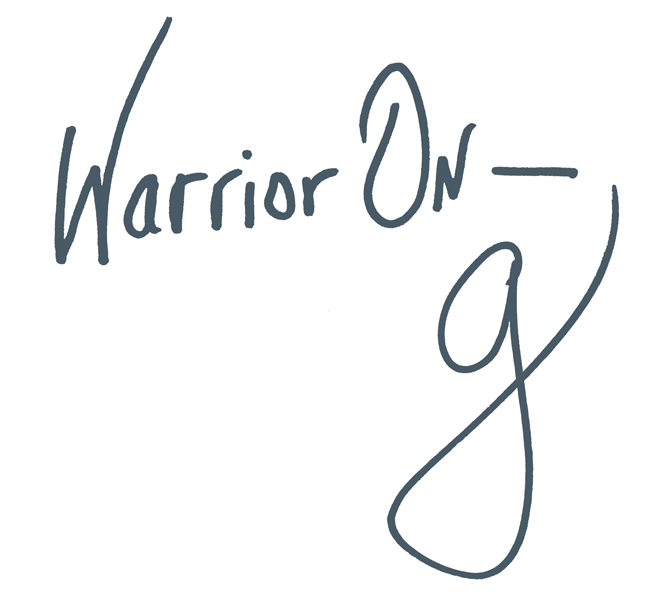 Author of the #1 New York Times Bestseller LOVE WARRIOR — ORDER HERE
Join the Momastery community on Facebook, Twitter, Instagram & Pinterest