We're going to keep this book club meeting going through Thursday…just in case any Monkees arrived late. Traffic's just awful.
Also..if you have a recommendation for our next book club selection, please comment!
I NOW CALL TO ORDER THE THIRD MEETING OF THE HERMIT CRAB BOOK CLUB.
Our name is derived from the fact that we are too tired to attend real book clubs. Also we don't know how to make crepes. So here we are.
Hermit Crab Book Club Rules:
1. Everyone is invited.
2.We will try not to be jerks.
3.We will try to learn more about each other and ourselves.
4. If we've only had time to read the Pottery Barn catalog and would prefer to discuss the Aris Table vs. the Montego, by george, we will do so.
Without further Ado…
Unbelievable book. I find myself hoping, hoping, hoping that this book is the Truth. That this kind of forgiveness, courage and unity are reality, and that the
lines
are make-believe.
Some of my favorite passages:
"She just don't see 'em. The lines. Not between her and me, not between her and Hilly."
Aibeleen takes a long sip of her tea. Finally I look at her. "What you so quiet for? I know you got an opinion bout all this."
"You gone accuse me of philosophizing."
"Go ahead," I say, "I aint afraid a no philosophy."
"It ain't true."
"Say what?"
"You talking about something that don't exist."
I shake my head at my friend. "Not only is they lines, but you know as good as I do where them lines be drawn."
Aibeleen shakes her head. "I used to believe in em. I don't anymore. They in our heads. People like Miss Hilly is always trying to make us believe they there, but they ain't."
"I know they're there cause you get punished for crossing 'em," I say. "Least I do."
"Lot of folks think that if you talk back to you husband, you crossed the line. And that justifies punishment. You believe in that line?"
I scowl at the table. "You know I ain't studying no line like that."
"Cause that line ain't there. Except in Leroy's head. Lines between black and white ain't there neither. Some folks just made those up, long time ago. And that go for the white trash and so-ciety ladies, too."
Thinking of Miss Celia coming out with that fire poker when she could've hid behind the door, I don't know. I get a twinge. I want her to understand how it is with Miss Hilly. But how do you tell a fool like her?
"So you saying there ain't no line between the help and the boss either?"
Aibleleen shakes her head. "They'd just positions, like on a checkerboard. Who works for who don't mean nothing."
"So I ain't crossing no line if I tell Miss Celia the truth, that she ain't good enough for Miss Hilly? I pick my cup up. I'm trying hard to get this, but my cut's thumping against my brain. "But wait, if I tell her Miss Hilly's our of her league…then ain't I sayin' there is a line?"
Aibeleen laughs. She pats my hand. "All I'm saying is, kindness don't have no boundaries."
***********
"Oh I know what people think. They think big, strong Minnie, she sure can stand up for herself. But they don't know what a pathetic mess I turn into when Leroy's beating on me. If afraid to hit back. I'm afraid he'll leave me if I do. I know it makes no sense and I get so mad at myself for being so weak! How can I love a man who beats me raw? Why do I love a fool drinker? One time I asked him, "Why? Why are you hitting me?" He leaned down and looked me right in the face.
"If I didn't hit you, Minny, who knows what you become."
Iwas trapped in the corner of the bedroom, like a dog. He was beating me with his belt. It was the first time I'd ever really thought about it.
Who knows what I could become, if Leroy would stop goddamn hitting me. (413)
******************
I walk out the back door, to the terrible sound a Mae Mobley crying again. I start down the driveway, crying too, knowing how much I'm on miss Mae Mobley, praying her mama can show her more love. But at the same time feeling, in a way, that I'm free, like Minny. Freer than Miss Leefolt, who so locked up in her own head she don't even recognize herself when she read it. And freer than Miss Hilly. That woman gone spend the rest of her life trying to convince people she didn't eat that pie. I think about Yule May setting in jail. Cause Miss Hilly, she in her own jail, but with a life-long term.
***********************
There is so much you don't know about a person. I wonder if I could've made her days a little bit easier, if I'd tried. If I'd treated her a little nicer. Wasn't that the point of the book? For women to realize, We are just two people. Not much that separates us. Not nearly as much as I'd thought.
***************
So what did you think?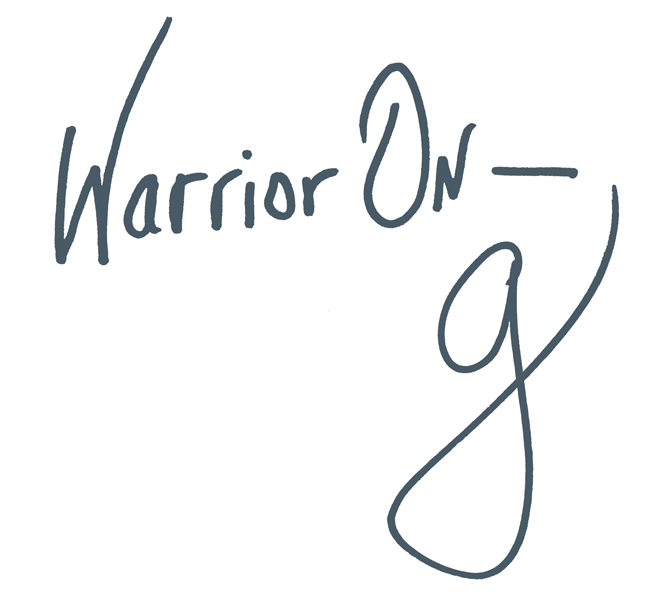 Author of the #1 New York Times Bestseller LOVE WARRIOR — ORDER HERE
Join the Momastery community on Facebook, Twitter, Instagram & Pinterest