Monkees, I love this woman.
The first time I ever heard from Tova, she wrote me an email that said:
I read your blog. You irritate me.
And then she added several other fantastic things.
That email was the odd, honest beginning of a special friendship.
Now Monkees, we've proven we can talk honestly about sex, faith, and money…but if we can talk honestly about
jealousy too
…I'm really gonna start thinking we're on to something here.
Monkees, meet . . Our Tova.
Tova made me promise I'd ask you to look really hard into the flower, so you wouldn't miss the little snail, eating it's way out.
I first found Momastery off of someone else's blog. An adoption blog. Being an adoptive mama, those are pretty much the only blogs I look at. I was captivated by Glennon's writing. Her honesty, candor and skill at writing out the things that most of us feel or experience but can't articulate. But I was also majorly irritated. Like big time. I would read for a bit and then snap the computer off and stomp off to be grumpy on someone. I would come back to read, and experience the same thing. Finally, after a couple of 2 am tossings and turnings, I finally emailed Glennon and told her how I felt. Somehow, just saying that I was irritated with her blog but couldn't stay away seemed to allow me to put the irritation down and see it for what it was: jealousy.
The ugly feeling jealousy. I was appalled at myself. I mean, hadn't I learned to give that emotion up years ago? Hadn't I made myself a good enough person to not have that feeling anymore? Wasn't I mature enough? Surely, we lose some of our flaws as we get older?
Nope. Apparently not. I was surprised at how I had masked it in irritation. Very clever of my brain and emotions. Sneaky even. I hate jealousy. I have lost friendships over jealousy. Jealousy is not something I want to experience.
So I told Glennon, "I am jealous of you." and immediately felt better. My punishment? It appears I am to write about it to all of you. 🙂
It's easy to feel jealous of Glennon. She has supportive and active parents. She has a gorgeous husband who seems to not only love her, but like her. She has gorgeous children that don't sound horrid. She lives in a beautiful place. A place that I would love to go on holiday to. She has a successful blog that she could be making money at if she wanted too. She has built a whole community of women who support each other, love each other, listen and care. My first thought when I read about Monkees was "CULT" and then my next thought was, "cliquey, bitchy, women making yet another group I won't fit into." But I couldn't stop there, because the evidence spoke to the contrary. No one seemed brainwashed, or bitchy (at least not out of my normal) and you all seemed to be genuinely open and caring. Trying so hard to hear each other and understand each others perspectives. To love openly and honestly.
My next impulse was to run away. Again. Not because I had any more reasons to leave you, but because why would you all want me? The person who was jealous and didn't know it? The person who was quick to judge and slow to hear? Nope, you guys wouldn't want someone imperfect like me. And again, the evidence was contrary. You weren't perfect and you didn't try to convince anyone that you were. No one was trying to pretend that they were what they weren't.
I was out of reasons, so here I am. Imperfect, judgmental, opinionated, capable of jealousy and deeply insecure that if you find out all my flaws I will get escorted from the blog premises. I am trying to take a deep breath, slow down, and not be afraid of a group. That is very hard for me. All the fibers of my body and mind tell me 'Run away before you get hurt!' But I am choosing to stick around. Sit down, drink a cup of tea, risk sharing my opinions and thoughts, and see where it goes. Wish me luck!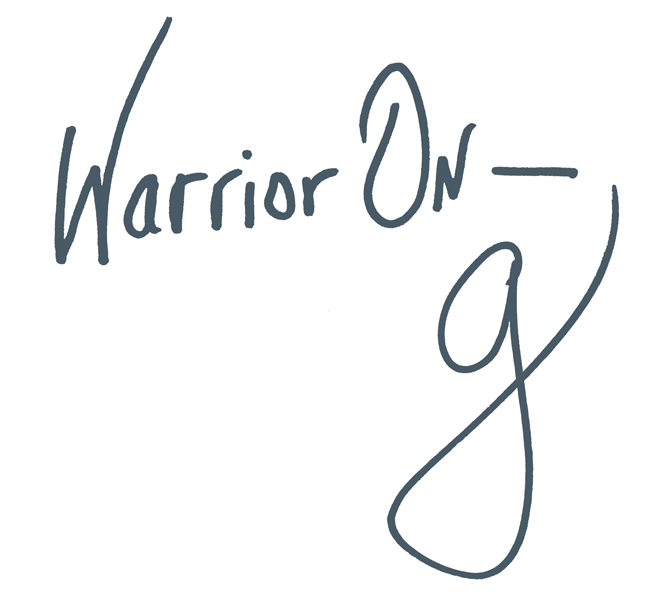 Author of the #1 New York Times Bestseller LOVE WARRIOR — ORDER HERE
Join the Momastery community on Facebook, Twitter, Instagram & Pinterest